Tribal Government & News
Yesteryears -- July 15, 2020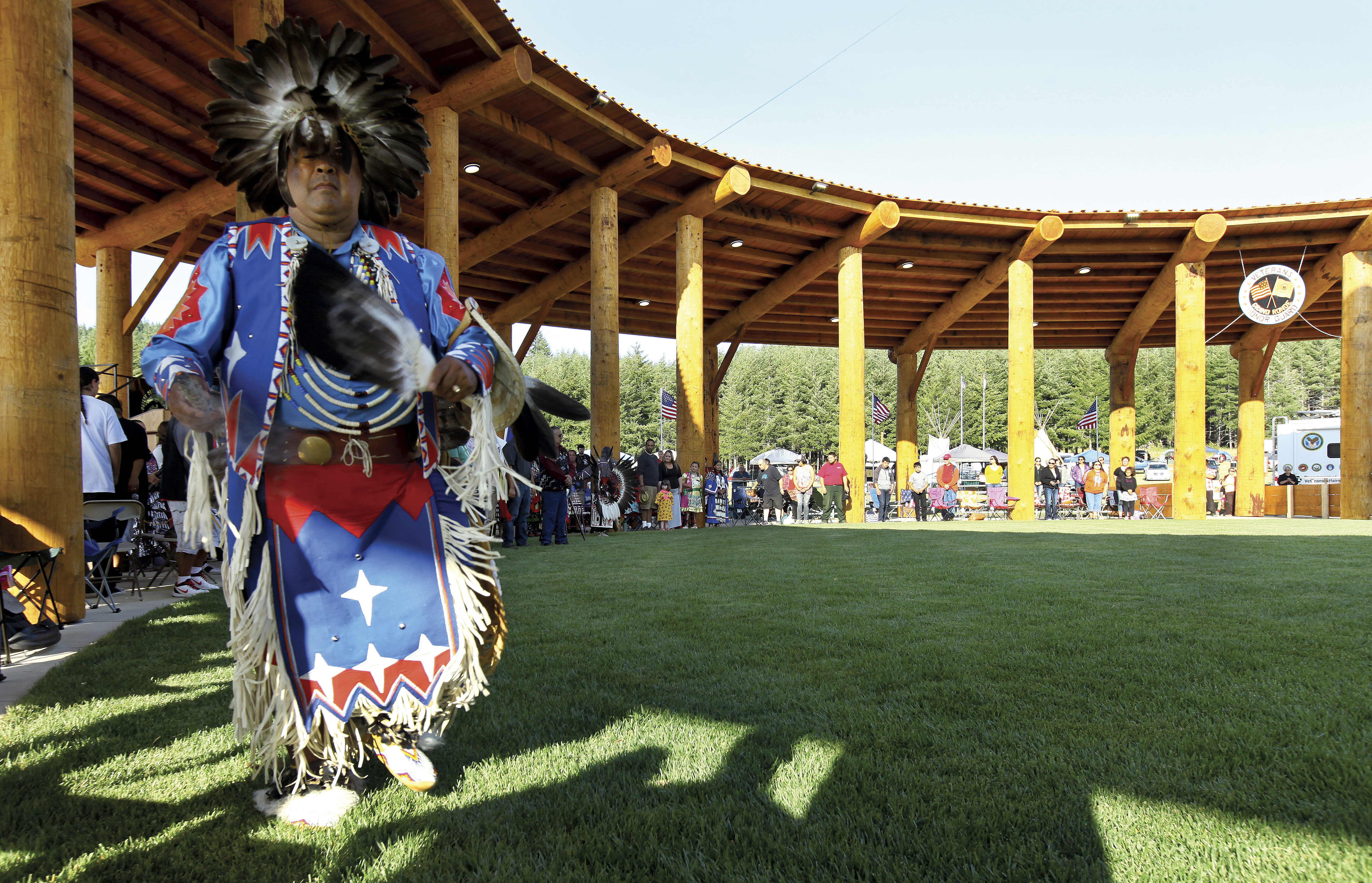 2015 – The new arbor at uyxat Powwow Grounds was the star of the annual Marcellus Norwest Memorial Veterans Powwow held in Grand Ronde. Just before the opening grand entry, Tribal Council Chairman Reyn Leno asked everyone involved with building the new arbor to come out on the powwow grounds to be honored. Leno started with Tribal Engineering and Public Works Manager Jesse White. "Jesse is the guy that council said, 'Build us an arbor, have it ready by Veterans Powwow and make it your number one priority'," Leno said.
2010 – Oregon Tribes were organizing to combat two November ballot measures that would have a "devastating effect" on Indian gaming statewide. Backers of a private casino in Wood Village, which would detrimentally affect revenues at Spirit Mountain Casino and Grand Ronde charitable contributions, collected enough signatures to put the issue before voters. "Obviously, everyone is opposed to this," Tribal lobbyist Justin Martin said. "Beyond Grand Ronde, I think it would have a devastating effect on the Indian gaming industry."
2005 – Tribal member Shelley Hansen was named Spirit Mountain Community Fund's new director. She brought experience in accounting, grant management, small business development and real estate experience to the position. She had previously been employed as grant coordinator for the Salem-Keizer School District.
2000 – The Confederated Tribes of Grand Ronde donated $500,000 to the Portland Art Museum through Spirit Mountain Community Fund. The donation was intended to give visitors a better sense of the museum's Native American collection. With a matching donation of $500,000, the museum planned to begin a two-year remodel of its Hoffman wing and create the Grand Ronde Center for Native American Art. The new center would provide 7,000 square feet of exhibition space for new galleries dedicated to Native art.
1995 – An arts and crafts gallery was planned for Grand Ronde. Sam Henny, development specialist for small business development, was in the first phase of organizing a gallery that would house Tribal member, Native American, and local and regional artwork with both cultural and contemporary themes.
1990 – No edition available.
1985 – Barbara Mercier accepted a job as Tribal receptionist after Candy Robertson resigned to devote more time to Tribal Council. Additionally, the Tribe was looking to fill positions in the Enrollment and Social Services departments. Jim Willis was heading the Housing Department and Diana Stogsdill led Higher Education, Adult Education and Employment Services. "The administration is turning the corner on completing the piles of work needed to close out the last four years of work for accounting records and reports," a Smoke Signals article stated.
Yesteryears is a look back at Tribal history in five-year increments through the pages of Smoke Signals.