Health & Education
Willamina, Sheridan school districts keeping students fed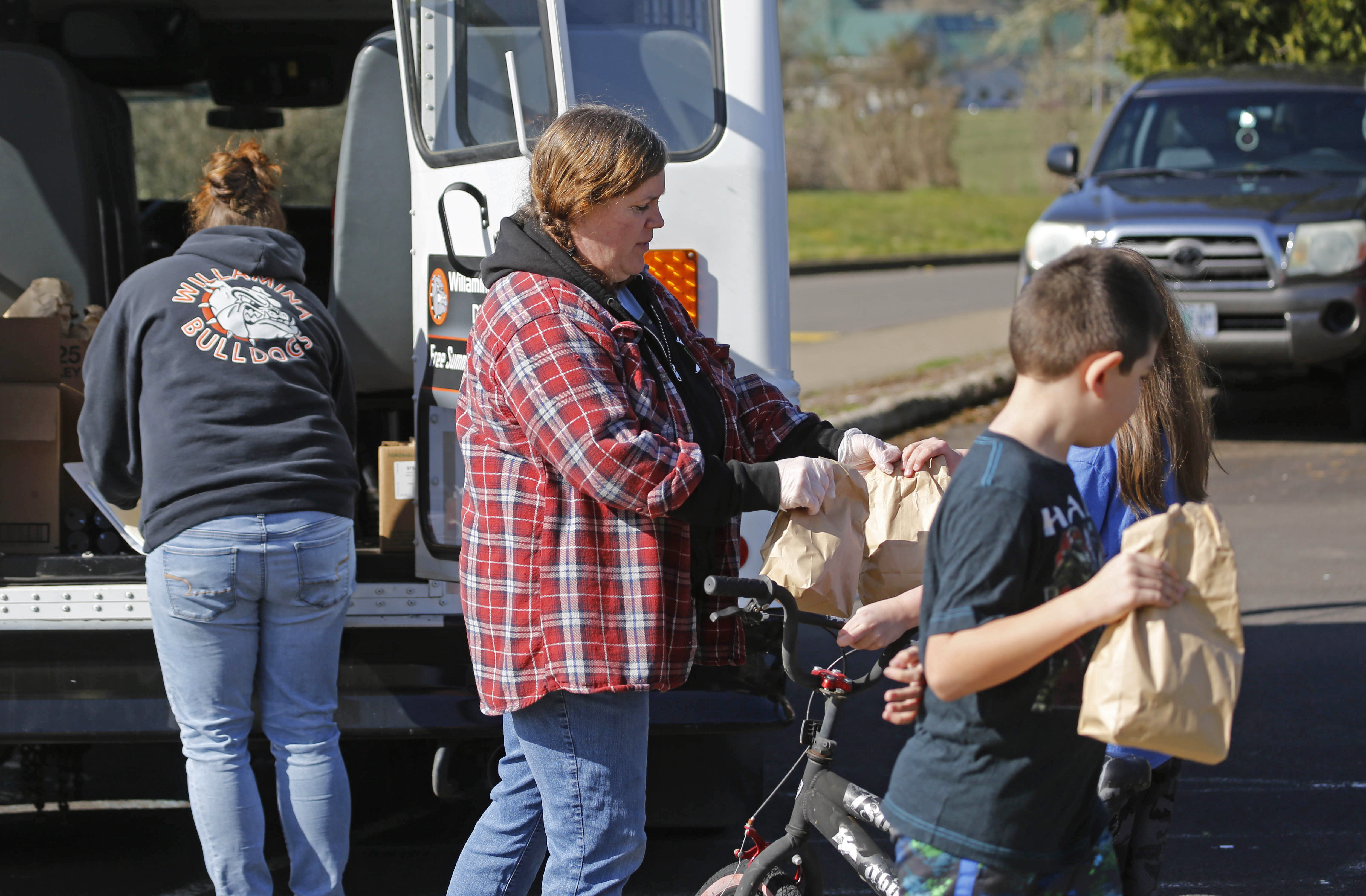 By Danielle Frost
Smoke Signals staff writer
With all schools in Oregon closed until at least Monday, April 27, several districts have implemented a free lunch program to ensure students receive adequate nutrition until classes resume.
The Willamina School District is offering free sack lunches at eight different locations, with four in Grand Ronde. When in session, Willamina schools qualify for a grant that feeds every child for free with no applications process, said Superintendent Carrie Zimbrick.
On Wednesday, March 18, a handful of children were waiting at Raven Loop Park in Tribal Housing for their meals, while some parents chose to drive up and get the lunches to go. Lunch is available there Monday through Friday from 11 to 11:30 a.m.
Willamina School District cook Rebecca Snowden said that more children have been showing up with each passing day since the service started on Monday, March 16.
"We served 96 lunches in Grand Ronde yesterday," she says. "Everyone seems really thankful to be getting these."
Wednesday's sack lunch selections included peanut butter and jelly or ham and cheese sandwiches, celery sticks, fruit, crackers and milk. Everything was pre-bagged to minimize contact and potential spread of the novel coronavirus.
"I love my job and being able to feed kids," Snowden says. "We will continue to do so through the school closure."
Fifth-graders Issac Emery, Kayden Zimmer and Nacoma Liebelt agreed that the extra time away from school was "nice," but that it was also good they live close to their friends.
"We've been playing outside a lot," Emery says. "And going to my grandma's house."
Zimmer says he is required to do two pages of homework every day and then he gets to go outside.
"It's been nice and I enjoy getting the lunches," he says.
Other Grand Ronde locations where lunch is served are River's Edge RV Park from 10:30 to 10:45 a.m., Chachalu Museum & Cultural Center from 11:45 a.m. to 12:15 p.m. and Wandering Spirit RV Park from 12:30 to 12:45 p.m.
Willamina locations are Willamina Elementary School from 10:30 to 11 a.m., Fendall Hall Schoolhouse from 11 to 11:30 a.m., Tina Miller Park from 11 to 11:30 a.m. and the Willamina Post Office 11:45 to 12:15 p.m.
Oregon Gov. Kate Brown ordered all K-12 schools to close for two weeks between Monday, March 16, and Monday, March 30, on Thursday, March 12, to stem the spread of the virus. That was later extended to Monday, April 27.
The 852-student Willamina School District is approximately 40 percent Native American with many of those students either being Grand Ronde Tribal members or descendants.
The Sheridan School District is also serving free lunches during the closure. The lunches can be accessed at Sheridan High School and Faulconer-Chapman School from noon to 12:30 p.m., Sheridan City Park from noon to 12:15 p.m. and the Sheridan City Library from 12:20 to 12:35 p.m.