Tribal Government & News
Center continues feeding Elders during pandemic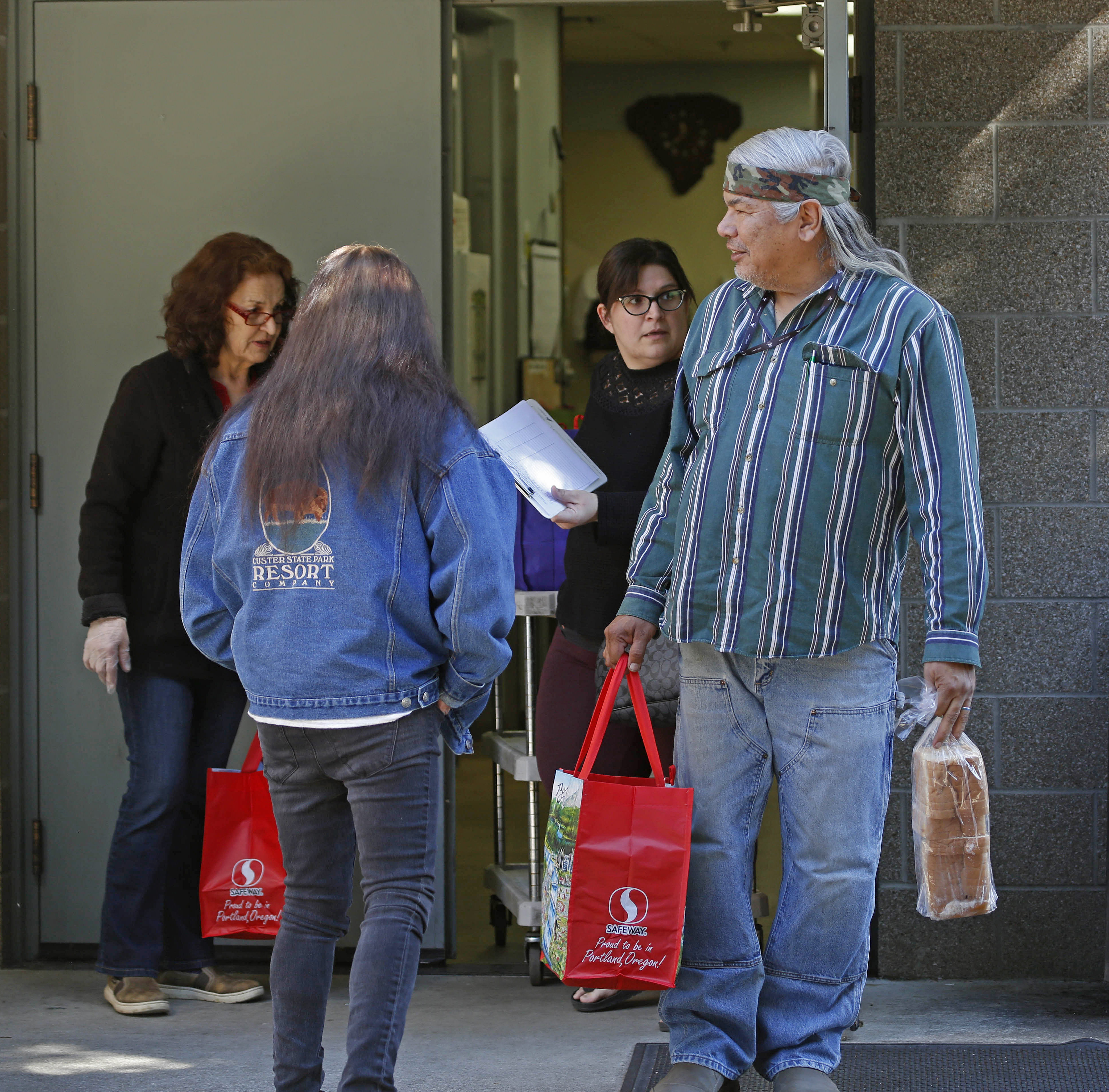 By Danielle Frost
Smoke Signals staff writer
With many larger grocery stores running out of staple items, local Elders are grateful to have free, ready-to-heat lunches for the remainder of the week.
Last week, Nutrition Program Manager Kristy Criss-Lawson announced that the Elders Activity Center would close at 2 p.m. Friday, March 13, and remain shuttered through the end of March, but that Elders would still receive food.
Those who typically receive a home-delivered meal were given four meals on Tuesday to get them through the week and Elders who eat at the center were asked to pull up to the back doors between 10 a.m. and 12:30 p.m. to receive four meals per Elder.
On Tuesday, March 17, Criss-Lawson and a handful of employees assisted Elders who arrived in a steady stream of vehicles.
"We are continually washing our hands and sanitizing the building," Criss-Lawson says. "If anyone feels ill, they are asked to not come to work."
She added that approximately 600 meals were made Tuesday and that the service would continue next week as well.
"But if people do not currently receive home delivery, please don't ask us to do it," Criss-Lawson says. "Pull up to the back entrance and we will bring your meals. Remember the food bank is available, too. We will continue to serve until we can't."
Regina Wheeler, who stopped by Tuesday, says her family would still be fed without the meals, but it was a blessing to have the service available.
"This is a very good thing," she says. "We'd make out OK on our own, but right now we need to stay put, and this really helps."
Laura Mix and Scott Lenaburg appreciated the risk employees were taking to keep Elders fed.
"We are grateful they are doing this," Lenaburg said.
"I'm very thankful for everything," Mix added.
The elderly with underlying health concerns are the most at risk from the coronavirus, which is similar to the flu in causing fever, chills and difficulty breathing. People older than 60 have the highest death rates from contracting the virus.
According to the Oregon Health Authority, people who believe that they have been exposed to or contracted the coronavirus should call their health care provider to discuss whether they need to be seen before going into a clinic and potentially infecting others. The doctor will consult with local public health department staff members to determine if testing for the coronavirus is necessary.
To stay informed about the Tribal government's continued response to the coronavirus outbreak, visit the Tribal government's website at www.grandronde.org or its Facebook page, or continue following Smoke Signals at www.smokesignals.org or on Facebook.