Tribal Government & News
Re-emerging potholes plaguing Grand Ronde Road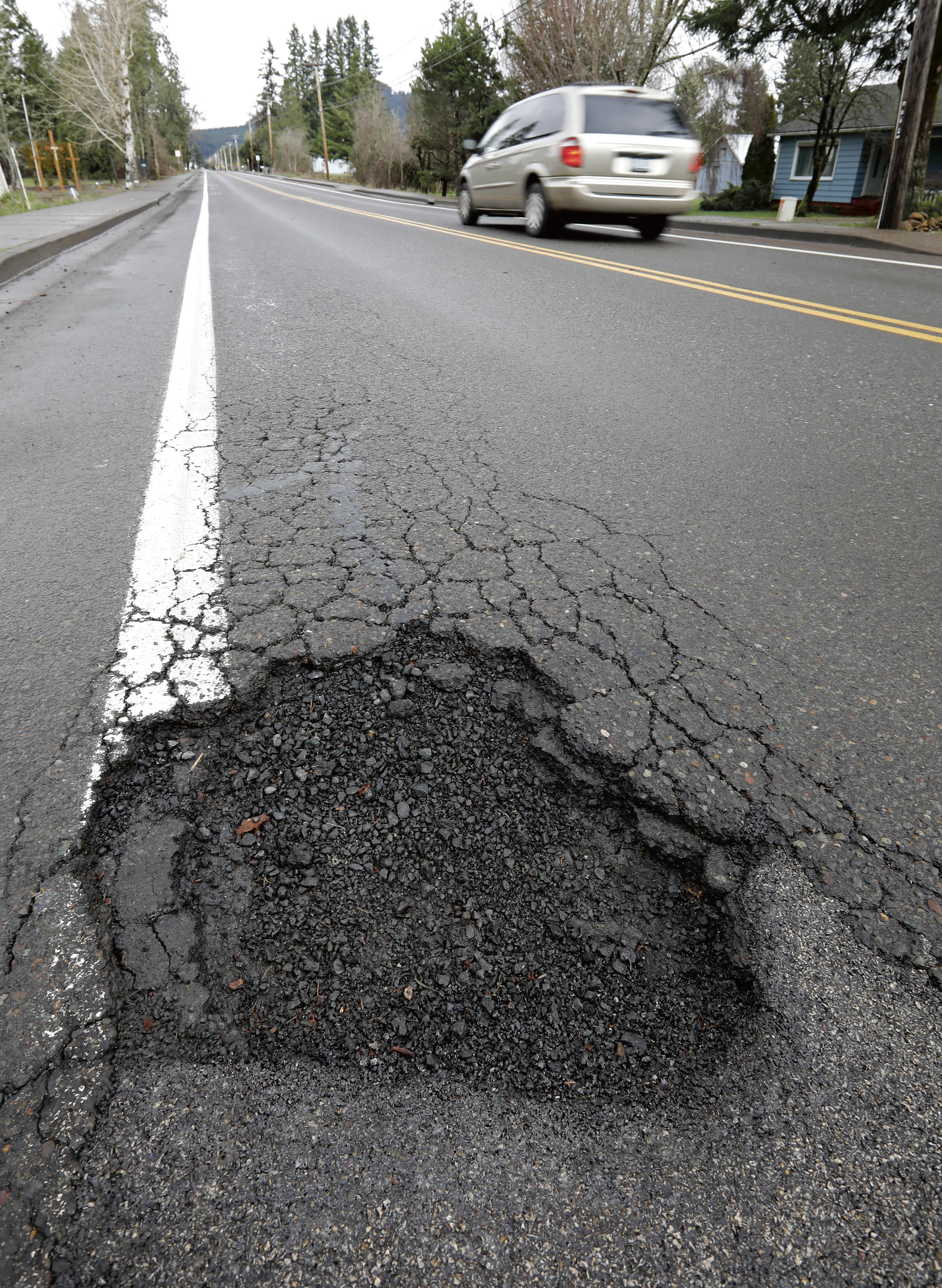 By Danielle Frost
Smoke Signals staff writer
Anyone who's driven Grand Ronde Road on a regular basis is familiar with the increasing number of potholes. Although the Tribal Public Works Department performs regular maintenance before the nuisance becomes a potential hazard, every year the potholes re-emerge.
"It's a priority for us to get those fixed, but the weather needs to clear up a bit first," Public Works Manager John Mercier says. "I know it's frustrating and I appreciate everyone's patience."
Grand Ronde Road was reconstructed in 2009 and completed in 2010 for $4.8 million using a mix of Bureau of Indian Affairs, Indian Health Service and Polk County funds.
And the two main culprits of continuing potholes? A combination of moisture issues with Grand Ronde soil and heavy trucks using the road as a shortcut to Highway 18.
"There are moisture problems continually, no matter how much we try it sneaks in and opens up the road," Mercier says.
There are plans to reconstruct Grand Ronde Road, but the project likely won't begin until 2023 due to other needed road work, Mercier says.
"The McPherson Road improvement is a priority if we want to build more housing," he says. "It's not even in our transportation plan, but more housing is something the Tribe really needs now."
The Grand Ronde Road reconstruction will likely take a month to complete and will be done in phases so that the effect on traffic is minimal.
"Until then, I will work with the county on areas that have reached a critical repair point," Mercier says.
Some of the more notable potholes are near the Tribal Cemetery and the intersection of Grand Ronde Road and Highway 18.
When the road is overhauled, it will entail removing the asphalt, digging out the subgrade below, filling it up again, adding rock and including a fabric that creates a barrier to keep moisture out. Then, asphalt will be poured.
Mercier estimates the project will cost approximately $1.2 million and include funding from BIA and Polk County. He is hoping that the planned re-alignment of Highway 22 near the Kissing Rock curves and future Oregon Department of Transportation improvements near Spirit Mountain Casino will keep semi-trucks off Grand Ronde Road so that repairs will not be as extensive.
Currently, many truck drivers use Grand Ronde Road to access Highway 18 because of the difficulty navigating Highway 22 near the Kissing Rock curves, and the challenges with being able to turn left onto Highway 18 near Spirit Mountain Casino. ODOT's long-term plan is to install a barrier between the east and westbound lanes, and widen the highway to two lanes.
Mercier says that anyone with pothole concerns can call him at 503-879-2400.
"I know it's getting worse," he says, adding that the potholes were patched again on Tuesday, Feb. 11.