Tribal Government & News
Yesteryears -- Jan. 15, 2020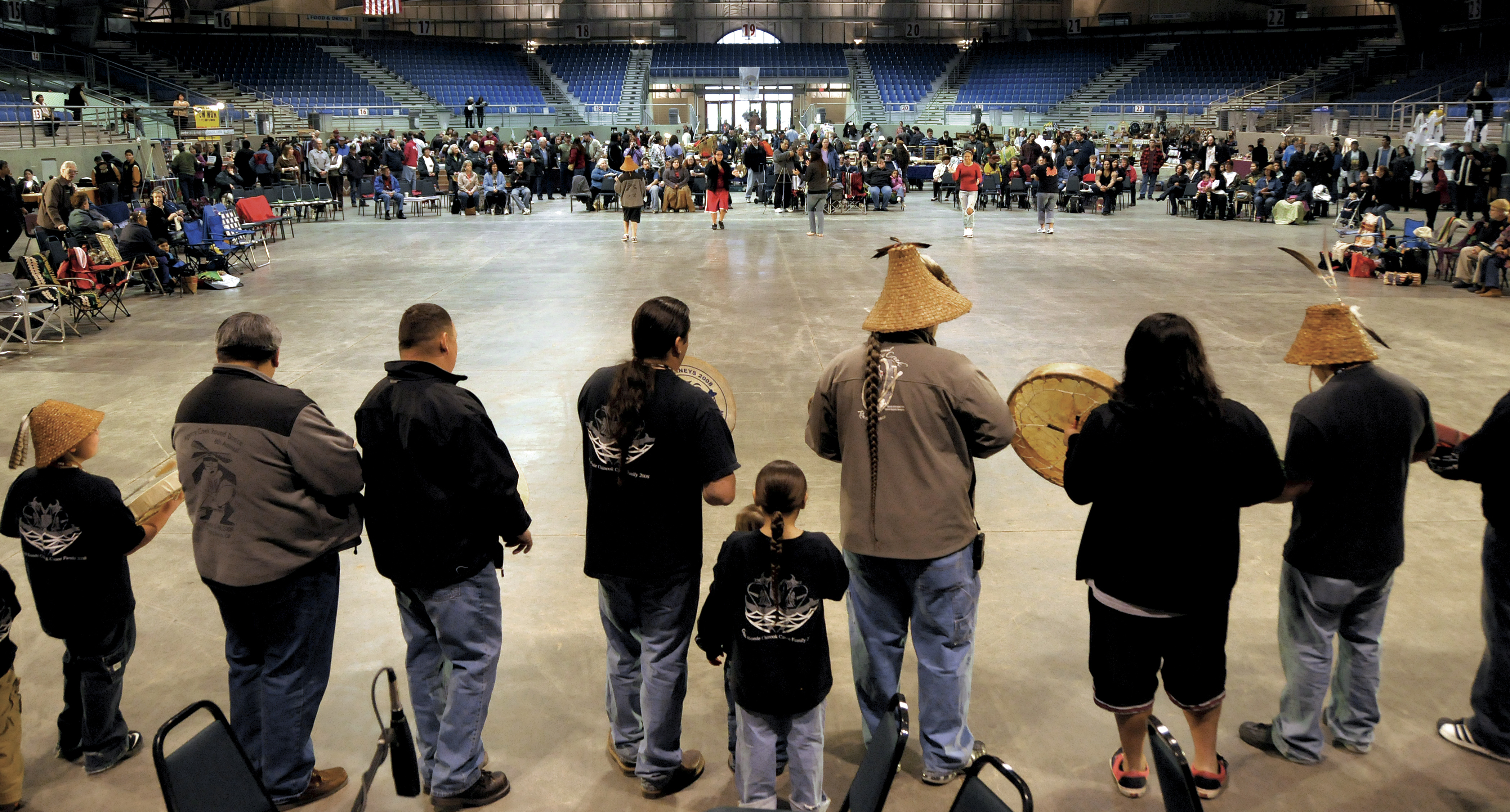 2015 – The Grand Ronde Tribe closed on the purchase of a 91-acre parcel at the Chahalpam property fronting the North Santiam River in Marion County, bringing the total acreage to more than 429 that the Tribe would manage for conservation purposes. The 91 acres were worth more than $900,000 and the purchase was funded entirely by the Bonneville Power Administration's Willamette Wildlife Mitigation Program. The transaction included more than $140,000 in operation and maintenance costs, which also were funded by BPA.
2010 – A powwow originally organized to remind Oregonians that Native peoples inhabited the Pacific Northwest long before statehood is on its way to becoming an annual event. The second annual Gathering of Oregon's First Nations Powwow was set for Jan. 30 at the Oregon State Fair & Expo Center's Salem Pavilion. The late January event date was picked to symbolically occur before Oregon's official 150th birthday in 2009, commemorating Native history that occurred before statehood, which occurred on Feb. 14, 1859.
2005 – The Tribe donated $10,000 to the Red Cross to aid victims of the Thailand tsunami, which killed more than 200,000 people. "I think it shows that we are trying to do our part," Tribal Council Vice Chair Reyn Leno said. "Although our main focus is the well-being of our people and our community, we have compassion. This is about the big picture."
2000 – Tribal Council members Ed Larsen and Earl LaBonte were appointed to serve on the Yamhill County Transportation Advisory Committee to help with a public transportation study in the county, along with safety issues along highways 99, 18 and 22. The group also was exploring how to best help those who were "transportation disadvantaged," such as the elderly, those with disabilities and youth.
1995 – Tribal Council adopted the 1995 budget, which included funding to establish an Elder pension program, economic development fund and a cultural board, and provided additional funding for education and training scholarships. Tribal Council also directed that new housing repairs and improvements be funded with Tribal dollars rather than BIA funds to allow the Tribe greater flexibility in how the money was used.
1990 – No January edition available.
1985 – The Confederated Tribes of Grand Ronde announced its first post-Restoration election would be held in March to select a new Tribal Council in accordance with the Restoration Act, which stated that an election must be held within 120 days of when the Secretary of the Interior signed the Tribal Constitution. The election was to be conducted by a yet-to-be-selected committee of Tribal members.
Yesteryears is a look back at Tribal history in five-year increments through the pages of Smoke Signals.