Tribal Government & News
Groundbreaking event: Chemawa Station development moving forward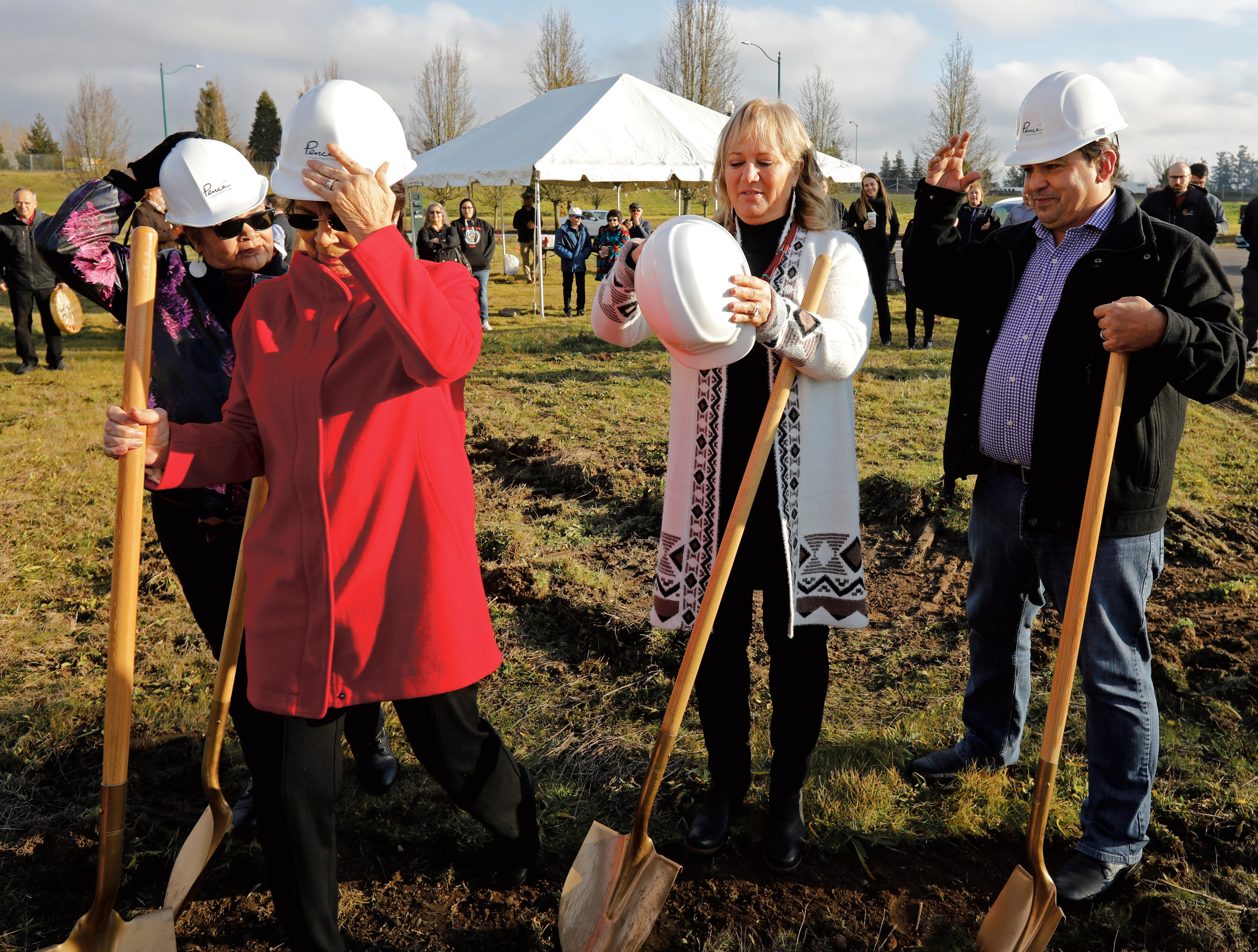 By Danielle Frost
Smoke Signals staff writer
KEIZER -- It's been 17 years in the making, but the Chemawa Station property will begin its first stage of construction soon.
The Confederated Tribes of Grand Ronde and Confederated Tribes of Siletz Indians marked that milestone on Monday, Dec. 9, with a blessing and groundbreaking event at the Keizer property, complete with golden-tipped shovels and a backhoe.
"Since 2002, Grand Ronde and Siletz have had a vision for this site," said Grand Ronde Tribal Council Chairwoman Cheryle A. Kennedy in a press release issued by both Tribes. "Today is the first step in bringing that vision to life. Soon, families will gather here, dine here and work to support their families through the jobs that these businesses will provide. We couldn't ask for anything more."
The Chemawa Station site is located in a prime spot bordering Interstate 5 and Chemawa Road. To the north is the 237-acre Keizer Station development that includes transportation, retail shops, dining and a sports complex.
Grand Ronde Tribal Council members Jon A. George, Steve Bobb Sr., Denise Harvey and Michael Langley attended. They were joined by Chief of Staff Stacia Hernandez, Finance Officer Chris Leno, Engineering and Public Works Manager Jesse White, Senior Staff Attorney Jennifer Biesack and Deputy Press Secretary Sara Thompson.
The ceremony opened with a blessing and drum song by Cultural Advisor Bobby Mercier, Tribal Council Secretary Jon A. George, Harvey, Cultural Policy Analyst Greg Archuleta, Cultural Education Coordinator Jordan Mercier, Cultural Resources Department Manager David Harrelson and Prevention Coordinator Cristina Lara.
Members of the Chemawa Station Board of Directors were introduced by Siletz Tribal Chairwoman Delores Pigsley. They include Bobb Sr., Harvey and Langley. Siletz members are Reggie Butler Sr., Loraine Butler and Lillie Butler.
"This has been a difficult and long process that began many years ago," Pigsley said. "This is the former Chemawa Indian School property. I used to pick fruit and play here as a child. … It is quite historic that the land was given to us."
In 2002, the Federal Highway Administration transferred ownership of the 15.7-acre property to the Siletz and Grand Ronde Tribes under the Indian Self-Determination Act. The area is a part of the Grand Ronde Tribe's ceded homelands.
The two Tribes initially broke ground on the project in 2005, but couldn't finance it because of a provision within the act that permitted the federal government to take the property back if it were not used for economic development or natural resources. The clause caused concern among lenders who might potentially finance the project.
In 2007, President George Bush signed Public Law 110-78, which removed that provision. Since then, the two Tribes have been working together to further refine their collaborative vision for the development. They created Chemawa Station LLC to manage and explore options.
At its Nov. 6, 2019, meeting, the Grand Ronde Tribal Council approved an approximately $1 million capital contribution to the Chemawa Station phase one development. Infrastructure improvements will support a gas station, a quick service restaurant and additional tenants.
Keizer Mayor Cathy Clark credited the Tribal leadership for bringing more economic opportunities to the community.
"We are very excited," Clark said. "Many people will be served by this and will benefit from it."
Langley said the Siletz Tribe is Grand Ronde's "closest cousins."
"I look forward to these projects, both now and in the future," he said.
Harvey recalled when the property was first given back to the Tribes in 2002.
"This is a very meaningful day for me," she said. "It's always been a passion and goal of mine to see this develop."