Tribal Government & News
Yesteryears -- Dec. 1, 2019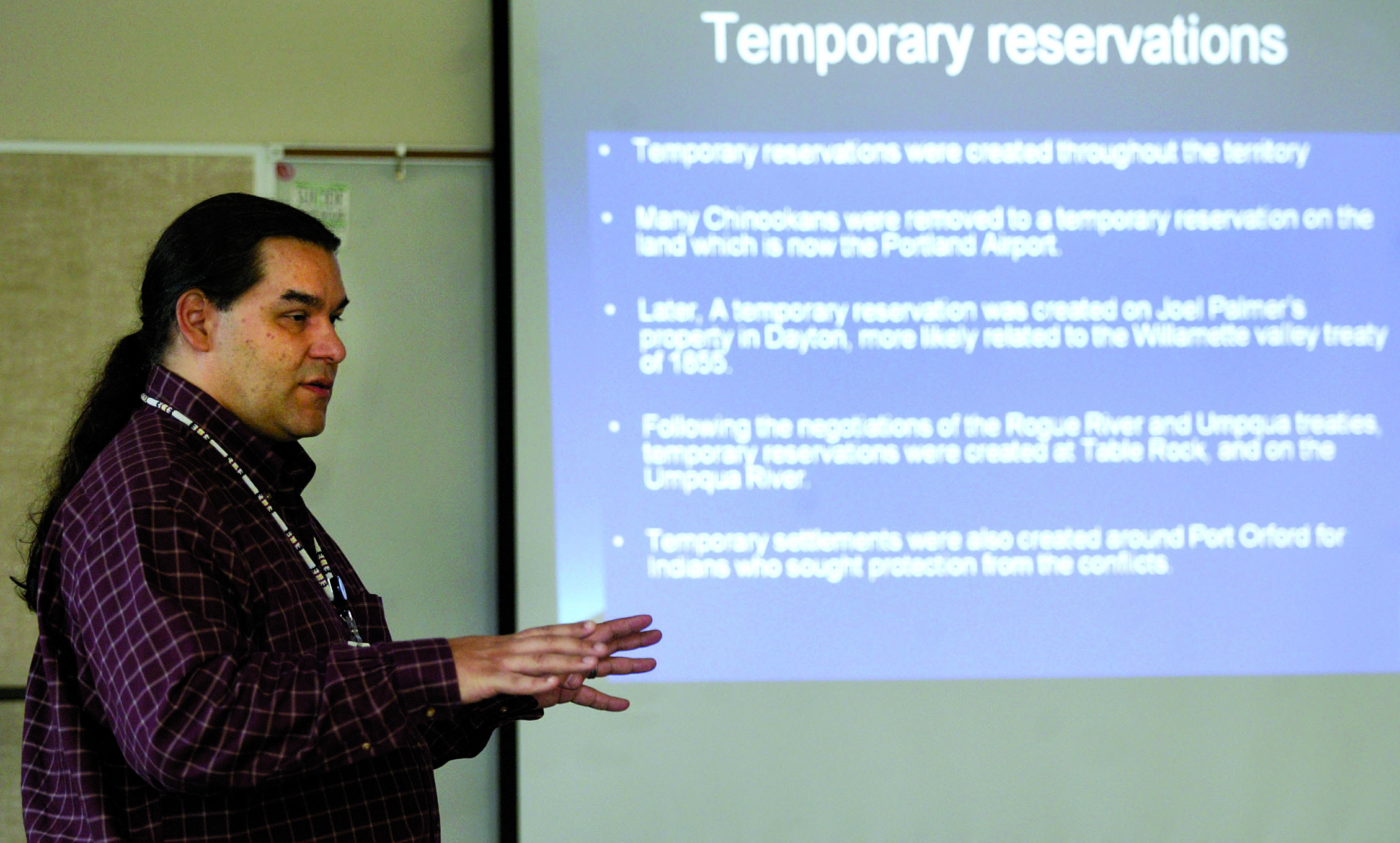 2014 – More than 200 attendees packed the great hall at Chachalu Museum & Cultural Center for the Tribe's second Tribal History Conference. Tribal Historian David Lewis served as the master of ceremonies. "The conference has become a must-attend event for many people working in heritage in Oregon," Lewis said. "There are few events like the conference that offer such a powerful array of scholars working in different disciplines, presenting in the same location."
2009 – Tribal member Justine Colton, a senior at Willamina High School, was elected student body president for the 2009-10 school year. "I take this responsibility very seriously," she said. "I feel that it is my responsibility as a leader of the youth of today to advocate for the young people."
2004 – Tribal members learned cultural traditions during the Circle of Weaving gathering in the Grand Ronde Community Center. The event was organized by Tribal member and Tribal Tourism Project Coordinator Elaine LaBonte. "The intent of this gathering was to get our Tribal members familiar with the various basketry techniques of our ancestors and to get them interested in carrying on the tradition," she said. Of the approximate 100 in attendance, 70 percent were Grand Ronde Tribal members.
1999 – More than 200 Tribal members and their families gathered at Grand Ronde Elementary School on Nov. 21 to celebrate the 16th anniversary of Grand Ronde Restoration. At the celebration, Tribal Council Chairwoman Kathryn Harrison thanked the people who were involved in the Restoration effort during the early years. "We should thank these people who worked so hard for us," she said. "Not just today, but any time of the year."
1994 – Spirit Mountain Development Corp. Manager Bruce Thomas announced that he would present a briefing for Grand Ronde residents on the progress of the Tribe's gaming center. "It will give people a chance to ask questions on all aspects of the project," he said. A one-page fact sheet was to be handed out at the meeting, which would list project highlights and inform people of the most important aspects.
1989 – No December edition available.
1984 – Tribal members passed the Tribe's Constitution by a vote of 145-14. The new Constitution stated that the blood quantum requirement for enrollment in the Confederated Tribes of Grand Ronde would be lowered to 1/16. All applications on file with sufficient documentation to be enrolled under the new requirements of the Constitution were set to be presented to the Enrollment Committee.
Yesteryears is a look back at Tribal history in five-year increments through the pages of Smoke Signals.