Culture
A 'thankful and grateful' Grand Ronde Tribe celebrates 36th anniversary of Restoration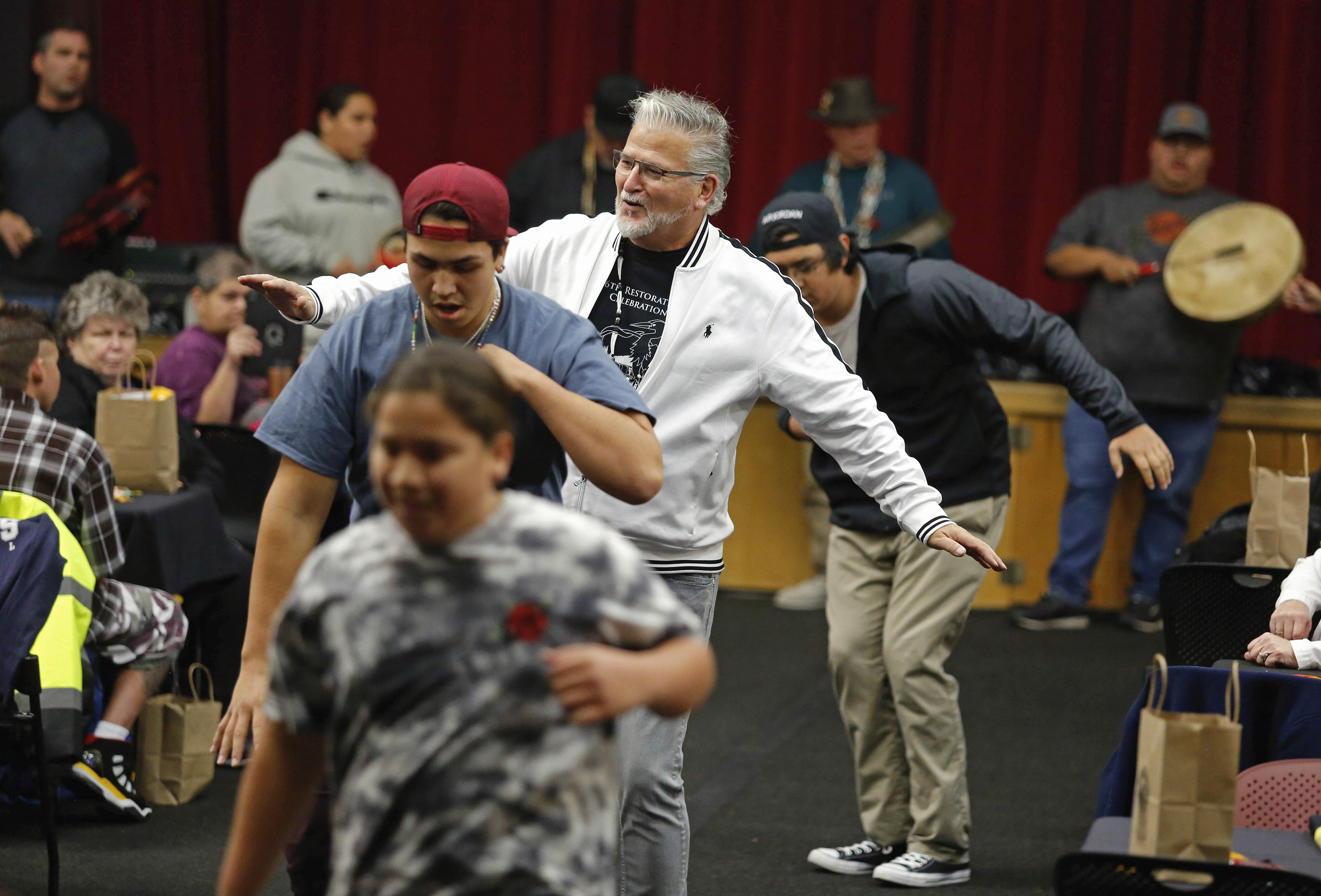 By Danielle Frost
Smoke Signals staff writer
The importance of Tribal culture and respect for ancestors were themes interwoven throughout the Confederated Tribes of Grand Ronde's 36th Restoration Celebration.
Approximately 200 Tribal members, family, friends and elected officials traveled to Grand Ronde to fete what many call the most important day in the Tribe's history, on Friday, Nov. 22, at the Tribal gym.
The celebration began with a Canoe Family procession of singing, drumming and dancing led by Cultural Advisor Bobby Mercier. Approximately 30 Tribal members from infants to adults joined in for "New Beginnings," "Salmon Song and Dance" and "Traveling With Our Ancestors."
"We are thankful and grateful to our ancestors and all that they endured so we could be here today," Mercier said.
Many would agree that a highlight of the Canoe Family performance was "Warrior Dance," during which Tribal Council Secretary Jon A. George took to the floor to demonstrate his moves.
"It's a great way to start the day when we can live in the ways of our culture," George said. "It's a wonderful day to celebrate 36 years and what we have done for our membership, our community, and our family and friends."
After Grand Ronde Royalty members performed "The Lord's Prayer," raffle drawings were held and veterans were gifted with 2019 Restoration shirts.
All Tribal Council members attended Restoration. They are Chairwoman Cheryle A. Kennedy, Vice Chair Chris Mercier, George, Lisa Leno, Kathleen George, Jack Giffen Jr., Steve Bobb Sr., Michael Langley and Denise Harvey.
"Today is a good day," Kennedy said. "One of the things we must impart to our younger generation is gratefulness for the sacrifices of their Elders so we could sit in a gym today, eat together and celebrate. I am so thankful for that."
After the Tribe was Terminated by the federal government in 1954, a majority of Tribal members were forced to relocate from Grand Ronde to survive.
On Nov. 22, 1983, everything changed when President Ronald Reagan signed the Tribe's Restoration bill into law.
Kennedy acknowledged longtime Tribal Council chairwoman and key Restoration figure Kathryn Harrison, who attended Friday's event. At 95, Harrison is now the third eldest Elder in the Tribe.
Kennedy also recognized past Tribal Council members in attendance including former longtime chairman Reyn Leno, Brenda Tuomi, Angie Blackwell, Candy Robertson, Henry Petite, Tonya Gleason-Shepek and Ed Larsen.  
Kennedy also thanked former Tribal Council Chairman Mark Mercier, who was instrumental in the passage of the Grand Ronde Reservation Act.
"I am so proud of all the accomplishments that have gone on at the leadership table," Kennedy said. "There are now more opportunities for Tribal members to participate in the process."
She also noted that throughout its 36-year history, there have only been six Tribal Council chairs, including herself, which indicates stability. The other Tribal chairs were Harrison, Petite, Mark Mercier, Reyn Leno and Chris Mercier.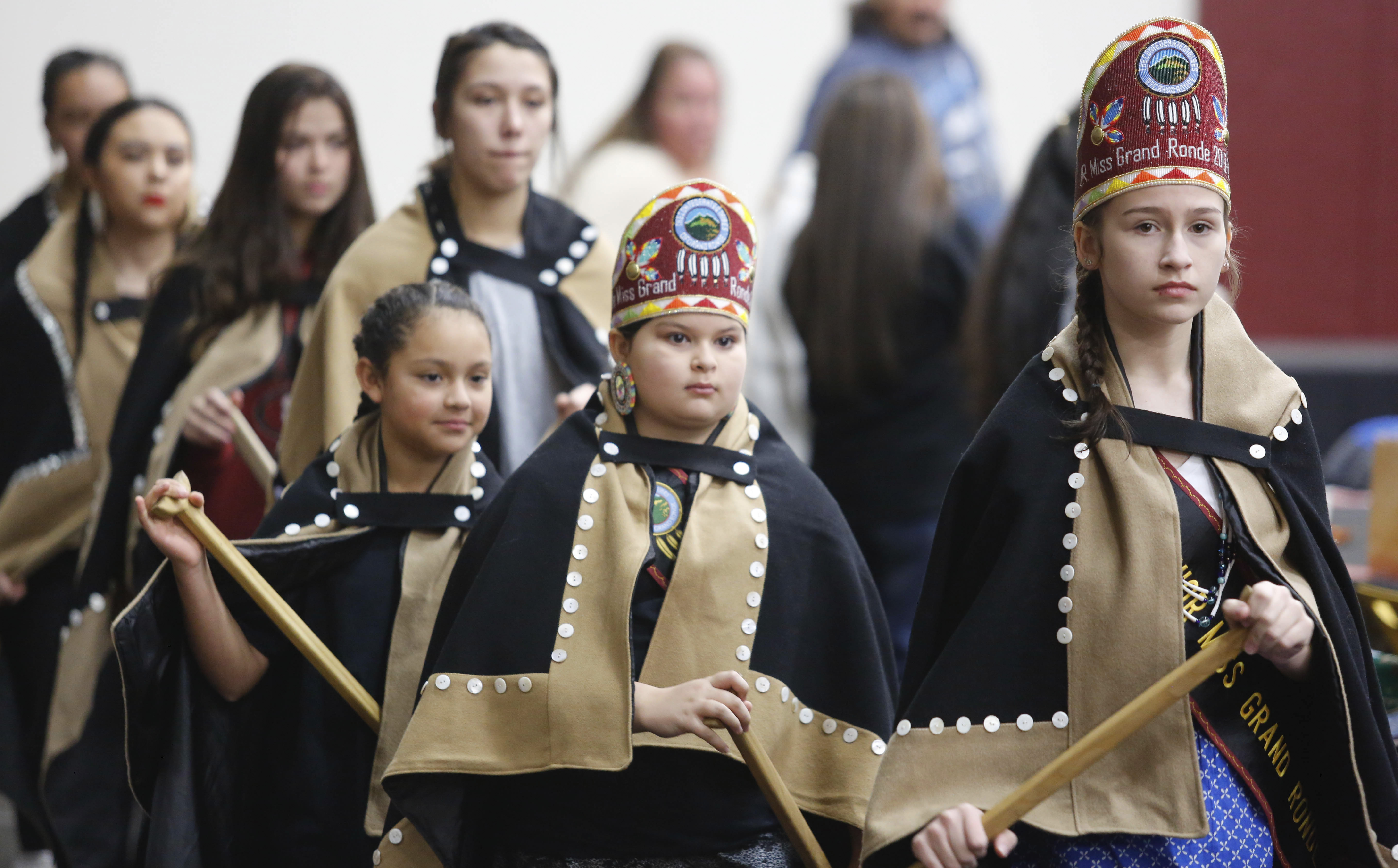 Junior Miss Grand Ronde Kaleigha Simi, right, Little Miss Grand Ronde Sophia Grout, center, and Marie Quenelle, 9, join other members of the Canoe Family in dancing during the 36th annual Restoration celebration held in the Tribal gym on Friday, Nov. 22. (Photo by Timothy J. Gonzalez/Smoke Signals)
At the 35th anniversary event in 2018, Kennedy issued a challenge for all Tribal members in attendance: Find out which Tribal Chief you are descended from. A few in the audience shouted out different names at this year's celebration.
"Next year, I will ask the same question," she said. "It's a part of knowing your history and culture."
A poignant moment came when Kennedy asked those who had gone through Termination to stand. Of the approximately 200 gathered, only a handful stood.
"(Restoration) is an effort that began with three people," Kennedy said. "We are here because of Margaret Provost, Marvin Kimsey and Merle Holmes."
The three key Restoration Elders have since walked on. Earlier this summer, a life-sized bronze sculpture of Provost, Kimsey and Holmes, designed by Steve Bobb Sr., was erected at the entrance to the Governance Center as a permanent reminder of their life's work.
"Now, I get to enjoy seeing them every day," Kennedy said.
She also thanked Grand Ronde and Veterans Royalty members for all of their hard work representing the Tribe at various events in Oregon.
After Kennedy spoke, Kathleen George gave an invocation and lunch was served. It included baked salmon, ceremonial stew, green salad, mashed potatoes, green beans, rolls and cupcakes.
Most who attended Restoration received a gift box with trail mix, beef jerky, a notepad, magnet, sage, candles, a cedar bark candle holder and salmon-shaped gourmet chocolates.
During lunch, raffle prizes including backpacks, purses, Tribal blankets, Pendleton coffee mugs, huge stuffed animals, body pillows and gift bags filled with goodies and other items were given away.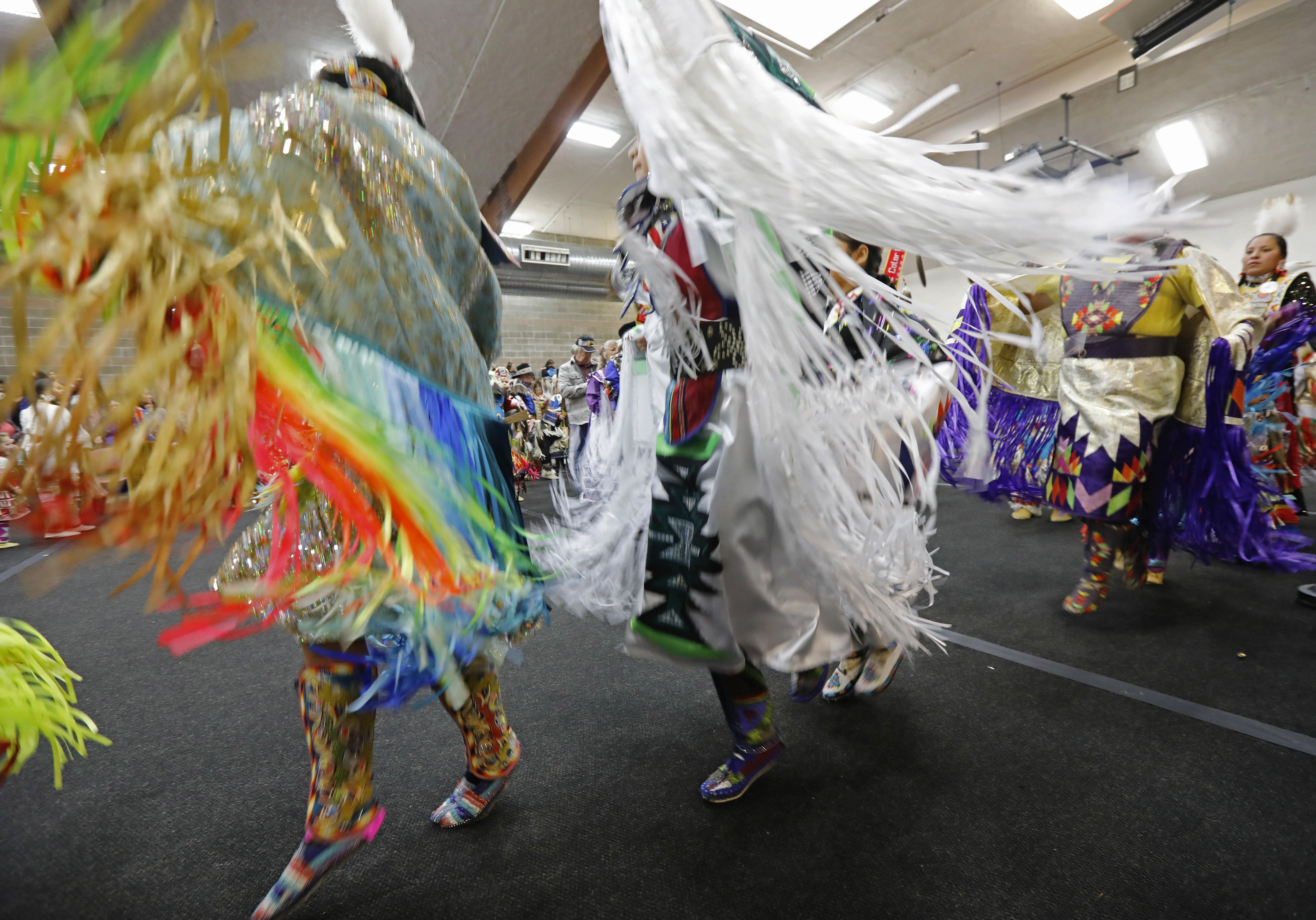 Dancers make their way on to the dance area during the Grand Entry at the 36th annual Restoration celebration held in the Tribal gym on Friday, Nov. 22. (Photo by Timothy J. Gonzalez/Smoke Signals)
Powwow was standing-room only
After lunch concluded, tables and dishes were quickly whisked away and the gym was transformed for the Restoration Powwow, which attracted so many people that it soon became standing-room only.
The powwow began with host drum Bad Soul providing Grand Entry music as the Honor Guard brought in the colors, followed by Tribal Council members past and present, veterans, Grand Ronde Royalty, Head Man and Head Woman Anthony and Ramona Quenelle and dancers of all ages, most dressed in regalia. The emcee was Tribal Elder Bob Tom.
"I want to welcome all of our visitors here," Kennedy said. "We have different Tribes from different states, and we love to host and entertain you, and share with you the blessing Creator gave to us. We offer our hospitality and hope you have a good time here."
Jon A. George added that hosting other Tribal Nations was "an honor."
"It's good for us to fellowship together and I'm honored to stand before you as a humble leader," he said.  
Bobby Mercier led the invocation and then veterans introduced themselves to the audience.
"Before Restoration, we were still Indian and will always be Indian," Reyn Leno said. "A pen (signature) didn't make us Indian again."
Powwow specials were held in the junior/teen and adult categories for Fancy Feet and Warrior Up, along with Sweep Your Tepee for junior/teen and adult categories. There also was an Honoring Our Visionaries Golden Age Special.
A Margaret Provost family giveaway lasted for approximately 90 minutes with several of the late leader's family members participating. Provost's granddaughter, Molly Provost Leno, said she wanted to acknowledge all of those who had a relationship with the family.
"Our ancestors fought for Restoration so we would have a family that looked like this," she said. "You learn a lot about a person at these giveaways."
Restoration and Culture Committee members who assisted with the 36th anniversary event include Darlene Aaron, Francene Ambrose, Lisa Archuleta, Chelsea Baranski, Eric Bernando, Joanna Brisbois, Julie Brown, Jon A. George, Jack Giffen Jr., Rachelle Kellogg, Shannon Ham-Texeira, Stacia Hernandez, Logan Kneeland, Brad Leno, Molly Leno, Jackie Many Hides, Tracie Meyer, Shayla Myrick-Meyer, Antonio Perkins, Sarah Ross, Faye Smith, Crystal Szczepanski and Sara Thompson.
Before the Restoration Celebration began, 11 Tribal members including Jon A. George participated in a morning ceremony at the Tribal Cemetery, where they prayed and drummed for healing of the Tribe and community. Other Tribal Council members in attendance were Kennedy and Kathleen George.