Tribal Government & News
Tribal Council moves meetings to 4 p.m., approves Dec. 13 per capita payment date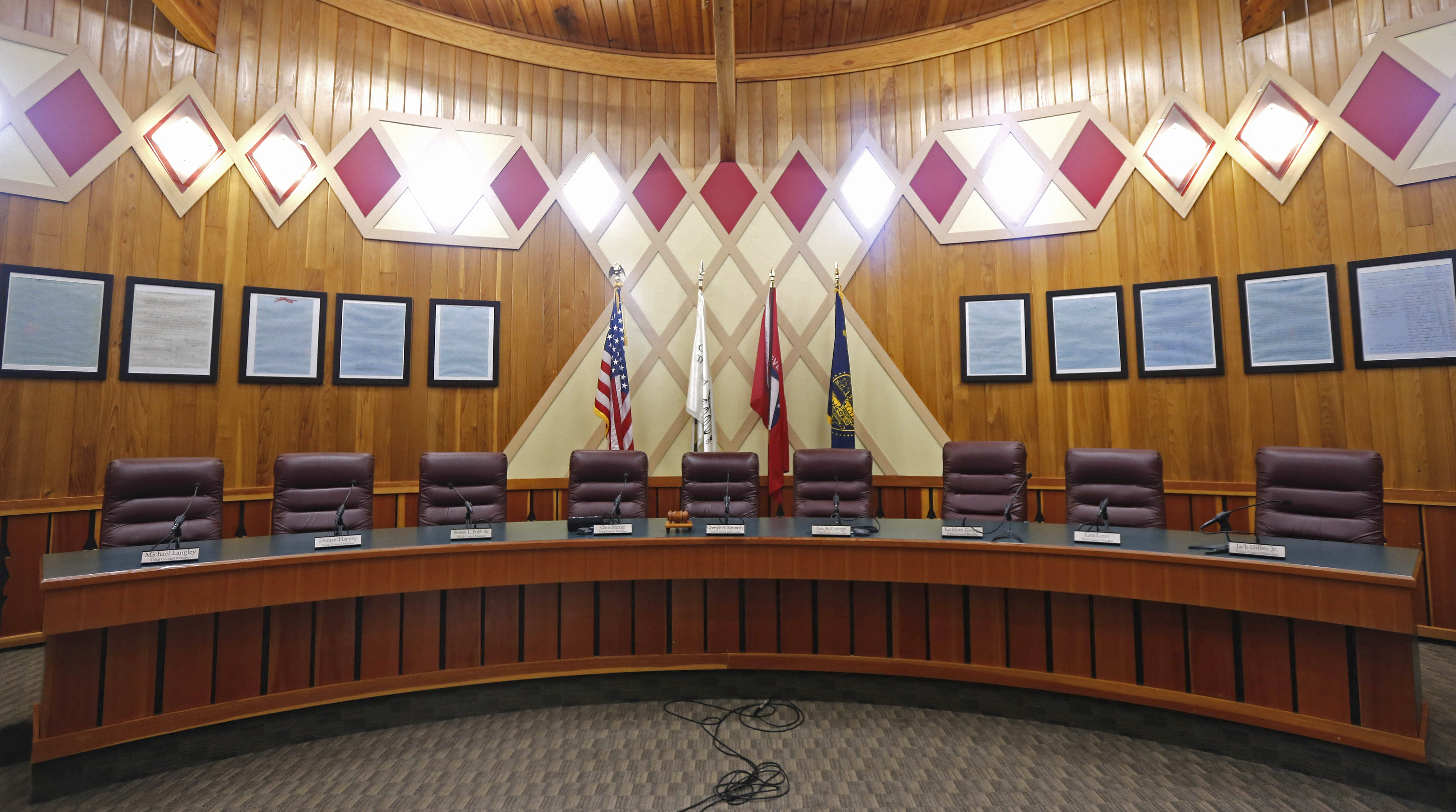 By Dean Rhodes
Smoke Signals editor
Tribal Council approved amendments to the Tribal Council Ordinance on Wednesday, Nov. 20, that move regular meeting times to 4 p.m. year-round, as well as designated Friday, Dec. 13, as the final per capita payment date for 2019.
The proposed amendments to the Tribal Council Ordinance received one comment from the membership. They change the regular meeting time for bimonthly Tribal Council meetings from 5 p.m. to 4 p.m.
Currently, Tribal Council meetings are traditionally held at 5 p.m. every other Wednesday March through October, and moved to 4 p.m. November through February when the shorter daylight hours would have Tribal employees driving home in the dark after later meetings.
"There have been several informal discussions about permanently changing the time to 4 p.m. since Tribal Council adopted the Tribal Council Ordinance back in 2016," said Tribal Council Chief of Staff Stacia Hernandez. "Earlier this year, Tribal Council revisited the discussion and held a work session to discuss the ordinance and possible revisions. A motivating factor was consistency."
Since Tribal Council is currently holding meetings at 4 p.m. during the winter months, the amendments will take effect before meetings were scheduled to return to 5 p.m. in 2020.
The amendments also remove the set times to take roll call and allow use of Tribal credit cards to cover conference registration fees.
Tribal Council also approved a Friday, Dec. 13, per capita payment date. The amount of the per capita payment will not be known until early December, Finance Officer Chris Leno said.
Leno also asked that approval of a $292 timber revenue payment be tabled for two weeks to ensure the maximum amount of revenue is available for distribution on Dec. 13.
In other action, Tribal Council:
Approved amendments to the Enrollment Ordinance that no longer require certified notification letters be sent regarding Restoration Roll applications. One set of comments was submitted regarding the amendments and it was in support;
Re-appointed Matthew Kirkland and appointed former Tribal Council member Andrew Jenness to the Spirit Mountain Gaming Inc. Board of Directors with terms that expire in September 2022;
Modified the Plankhouse Thin Logging Unit contract to change the contract cut and pay date, as well as update the minimum stumpage rates in response to a substantial 32 percent drop in Douglas fir log prices;
Approved applying for a maximum $250,000 Bureau of Indian Affairs Invasive Species grant that will be used to clear Scotch broom and blackberry bushes from the 269.45-acre Rattlesnake Butte conservation property in Lane County;
Approved applying for a maximum $120,000 Bureau of Indian Affairs Endangered Species grant that will be used at the 338-acre Chahalpam conservation property along the Santiam River in Marion County that will restore river flow to a side channel and help Oregon chub combat competition from invasive plant and animal species, such as bullfrogs;
Approved applying for a maximum $15,000 grant from the Oregon Watershed Enhancement Board that will help put 11 agriculture acres at Chahalpam back into riparian habitat;
Approved the Tribal Pharmacy purchasing software that will allow it to communicate with patients via e-mail and text and approved another contract that will allow the Pharmacy to purchase software that will make it easier for clients to obtain reimbursements from their flexible spending and health savings accounts;
Approved the enrollment of three infants into the Tribe because they meet the enrollment requirements outlined in the Tribal Constitution and Enrollment Ordinance;
Approved the prevailing wage schedule for 2019-20;
Approved the agenda for the Sunday, Dec. 1, General Council meeting, which will start at 10 a.m. and feature reports from the Education Department and Education Committee;
And approved 17 Restoration Roll corrections, bringing the total number of corrections to the historically important roll to 204 this year.
Also included in the Nov. 20 Tribal Council packet were two approved authorizations to proceed that directed staff to finalize a Fee Forestland Business Plan that requires acquisitions be evaluated utilizing market-based standards per the Oregon Forest Practices Act and managed under operational standards approved by Tribal Council, and approved moving $280,000 from contingency to pay for the Noble Oaks siding replacement and paint project.
To watch the entire meeting, visit the Tribal government's website at www.grandronde.org and click on the Government link and then Videos.