Tribal Government & News
Grand Ronde delegation attends second Tribal Nations Summit in Portland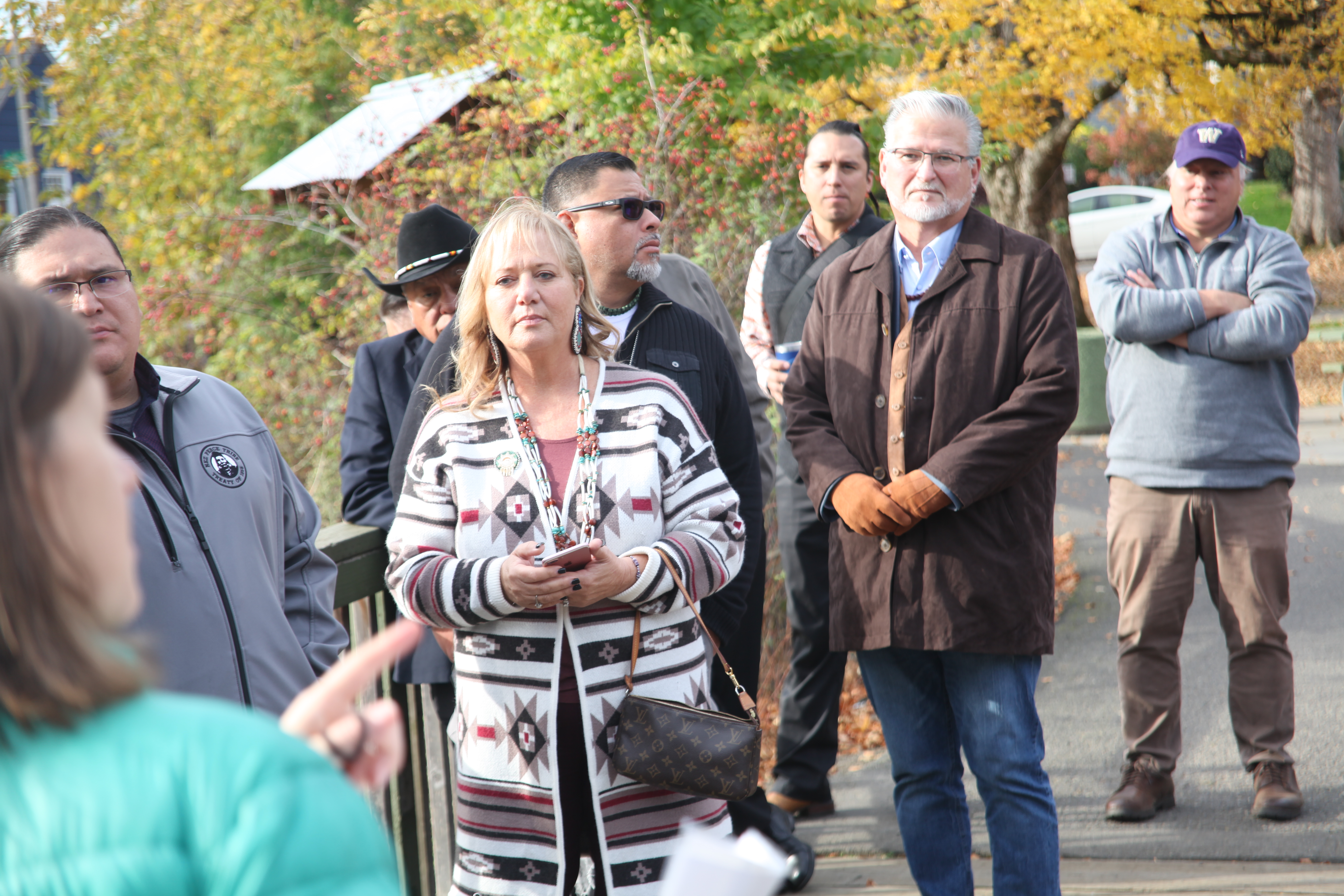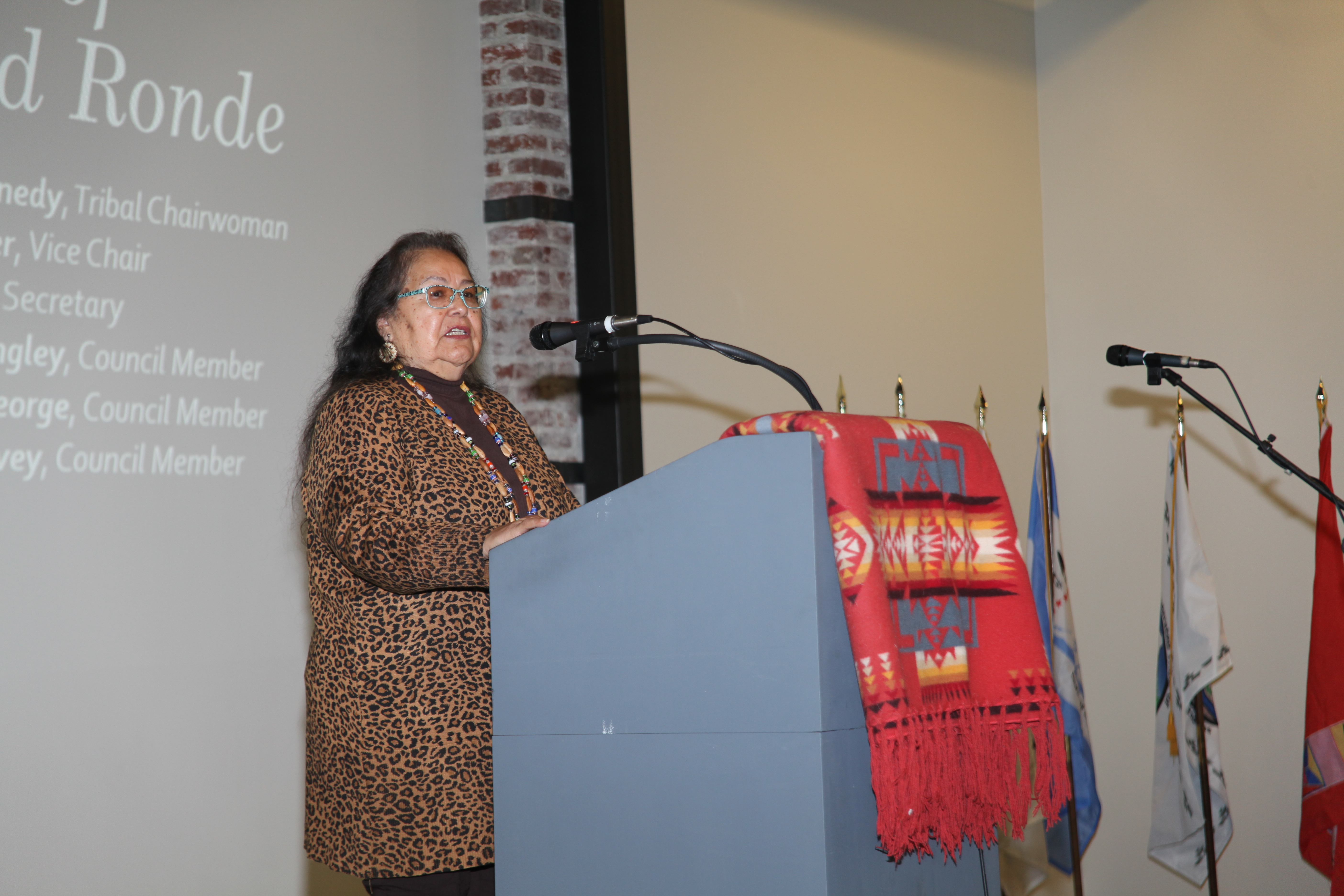 Tribal Council Chairwoman Cheryle A. Kennedy addresses more than 200 Portland city employees during the opening ceremony of the second annual Tribal Nations Summit held on Thursday, Nov. 7, at the Leftbank Annex near the Moda Center in Portland. Thursday was the first day of the two-day event.
By Danielle Frost
Smoke Signals staff writer
PORTLAND -- Tribal officials from across the Pacific Northwest traveled to Portland for the city's second annual Tribal Nations Summit held on Thursday and Friday, Nov. 7-8. The event date was chosen in conjunction with November being Native American Heritage Month.
The goal of the summit is to build partnerships, strengthen collaborations and enhance diplomacy between Tribal nations and the city of Portland. It included tours of watershed restoration project sites, a First Foods luncheon, discussions on how to best strengthen government-to-government relations, a formal acknowledgement of Tribal leaders during a City Council meeting and a day of training for city officials to learn best practices when working with area Tribes.
"Our newly established Tribal Relations Program is doing an exemplary job of connecting the city of Portland with our Tribal government partners," Portland Mayor Ted Wheeler said. "This summit continues our commitment to nurturing and deepening that connection, so we can listen and learn from Tribal leaders about how we can more effectively work together."
The event, coordinated by the city's Tribal Relations Director Laura John (Blackfeet/Seneca), marks the second time in the United States that a city government has engaged with its neighboring Tribes to establish local partnerships.
During the opening ceremony held at the Leftbank Annex near the Moda Center that drew more than 200 people, Grand Ronde Tribal Council Chairwoman Cheryle A. Kennedy welcomed attendees to the Tribe's ancestral homelands and introduced fellow council members and staff in attendance. These included Vice Chair Chris Mercier, Secretary Jon A. George, Denise Harvey, Kathleen George and Michael Langley. Staff included Cultural Policy Analyst Greg Archuleta, Cultural Resources Manager David Harrelson, Tribal Council Chief of Staff Stacia Hernandez and Deputy Press Secretary Sara Thompson.
"When we look at the lay of the land, many travesties and traumatic events have happened," Kennedy said. "We were terminated from this area and relocated. We were stripped of our culture and sustenance. … Today, we are here among our Tribal people and we recognize and respect each other. We are a spiritual people and it's only because of our creator that we are here today."
Archuleta, Jon A. George, Harrelson and Harvey opened the summit with a prayer song.
"We are happy to be here today with you," Archuleta said. "We are happy the city wants to meet with us and work with us."
Other Tribal officials in attendance included those from Cowlitz, Nez Perce, Siletz, Umatilla, Warm Springs and Yakama.
Wheeler told attendees that last year's summit made good on a long overdue promise to collaborate with Tribal nations.
"This year's summit will deepen our commitment to work together and give us a greater appreciation and advocacy for Tribal nations," he said. "We will meet together, socialize, engage and hope to sharpen our understanding of how to best work together."
Wheeler noted that more than 200 city employees attended the training.
"It is also our hope that this summit will nourish the seeds we put in last year," he said.
Portland Commissioner Chloe Eudaly welcomed Tribal delegates and recalled how she was able to paddle in a canoe to the opening ceremony last year.
"This summit is an opportunity for us to learn more from one another," she said.
After the opening ceremony concluded, employees headed to different trainings. Several delegates, including Harvey and Jon A. George, boarded a shuttle bus to tour watershed restoration sites at Oaks Bottom Park, Crystal Springs Creek at Westmoreland Park and Tryon Creek.
Crystal Springs Creek is 2.4 miles long and offers "significant habitat" for salmon, lamprey, birds and other wildlife. The naturally cool and steady year-round flow in the creek provides important rearing and refuge areas for juvenile salmon, according to the city. In 2017, the creek was designated as Portland's first official "Salmon Sanctuary."  
Judy Bluehorse Skelton (Nez Perce/Cherokee), a Portland State University Indigenous Nations Studies Program professor, herbalist and author, has been involved with the efforts at Crystal Springs since the beginning. During a recent Salmon Ceremony held at nearby Johnson Creek Park, Bluehorse Skelton noted that salmon had been seen spawning.
"It was almost as if they were just waiting to come back," she said.
So far, half the length of Crystal Springs has been restored so that salmon can find colder water, shelter and food.
"This is the only unimpeded salmon run in the city," Bluehorse Skelton said.
Attendees then went on a short walking tour of the restored creek area, which included views of a beaver lodge, native plants and other wildlife.
Following the tour, delegates headed back to the annex building where they were joined by city employees for a First Foods luncheon of salmon, buffalo stew, green salad, cornbread, wheat berry salad with beets, feta and pumpkin seeds, and yellow cake with wild blueberries. More than 260 people attended, double from the previous year.
"Let's remember that these foods are highly vulnerable to climate change," Wheeler said. "Some are now at serious risk and we need to commit to not having that happen. We can't allow climate change to endanger these First Foods."
After an invocation, delegates from each of the Tribes spoke. Chris Mercier told attendees who had never experienced First Foods that they were in for a treat.
"It's a part of our culture that has been revived," he said. "There are a lot of things you can experience now through technology, but food is not one of them. It's a good thing you get to experience this today. … Native people being able to turn back to their traditional foods is a real victory. It really is making a comeback."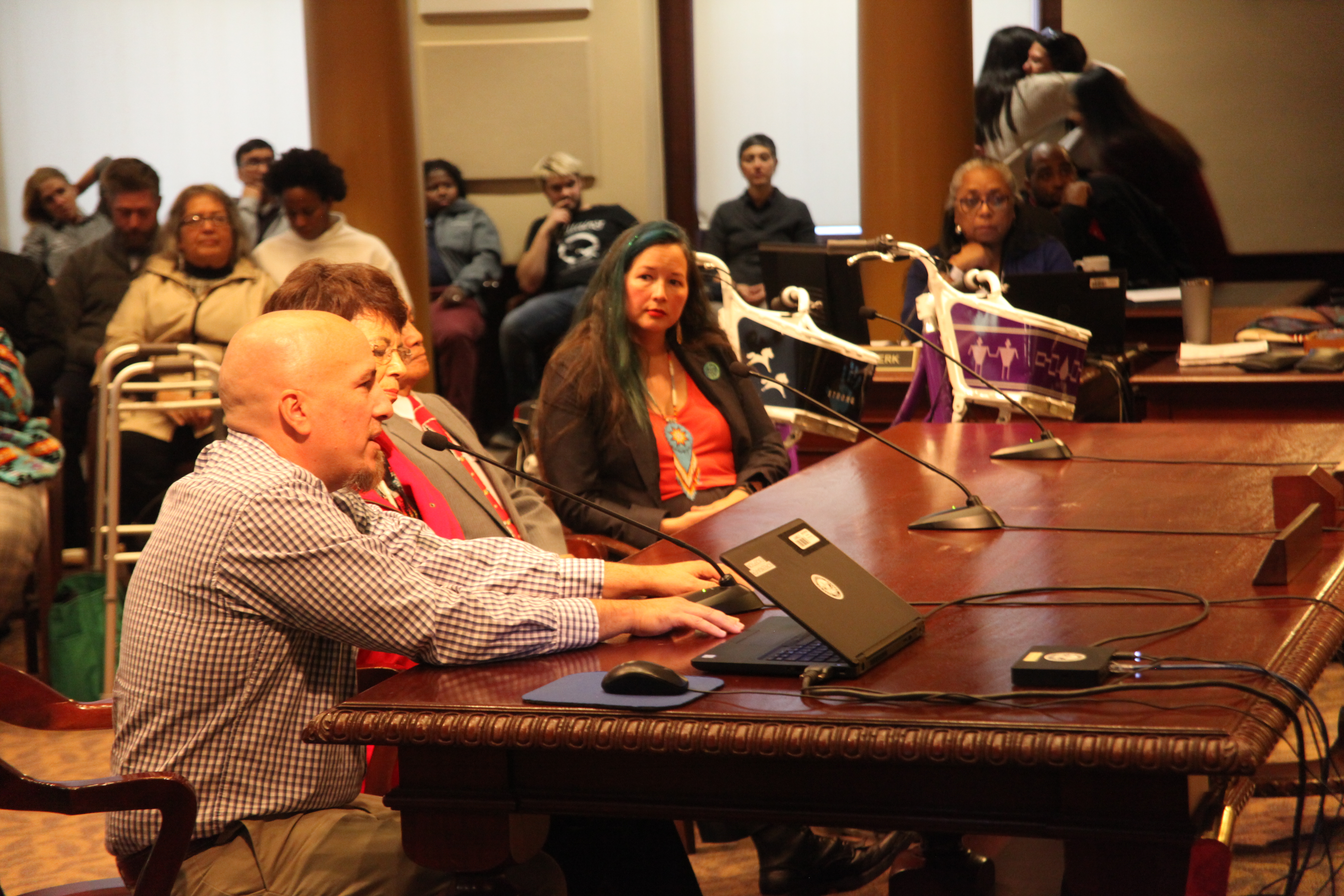 Tribal Council Vice Chair Chris Mercier talks during a Portland City Council meeting as a Native American Heritage Month proclamation was on the agenda on Thursday, Nov. 7. The proclamation coincided with the city's second annual Tribal Nations Summit held at the Leftbank Annex near the Moda Center in Portland. Thursday was the first day of the two-day event.
After lunch ended, delegates were ferried to City Hall to attend a council meeting during which Wheeler formally acknowledged the Tribal elected officials in attendance and gave each an opportunity to speak, which was televised. He also read a Native American Heritage Month proclamation.
Mercier spoke to Portland elected officials about the Tribe's long history in the Portland area, which was ceded to the federal government in the Willamette Valley Treaty of 1855.
"It was an important trading area and in Grand Ronde we trace our lineage to more than 27 different Tribes," he said. "Outside of Grand Ronde, our greatest concentrations of Tribal members live in Portland. Seeing what's going on today means quite a bit to us. There are not many other city governments that have put in this kind of effort. We continue to try to cultivate and foster relationships here."
Thursday concluded with a city, state and federal legislative overview and a reception at Portland's Brunish Theater.
Friday included several focused discussions between Tribal and city leadership regarding housing, public safety, trust responsibility, cultural resource protection, climate action planning, First Foods, land acknowledgements and inadvertent discovery.
A closing ceremony was held in the late afternoon with remarks from city and Tribal officials, and a gift exchange.
For those who wanted to get some exercise, a Native American Heritage Month 5k Run and Walk was held at Nike World Headquarters in Beaverton on Saturday.