Tribal Government & News
Meeting envisions 2033 in Grand Ronde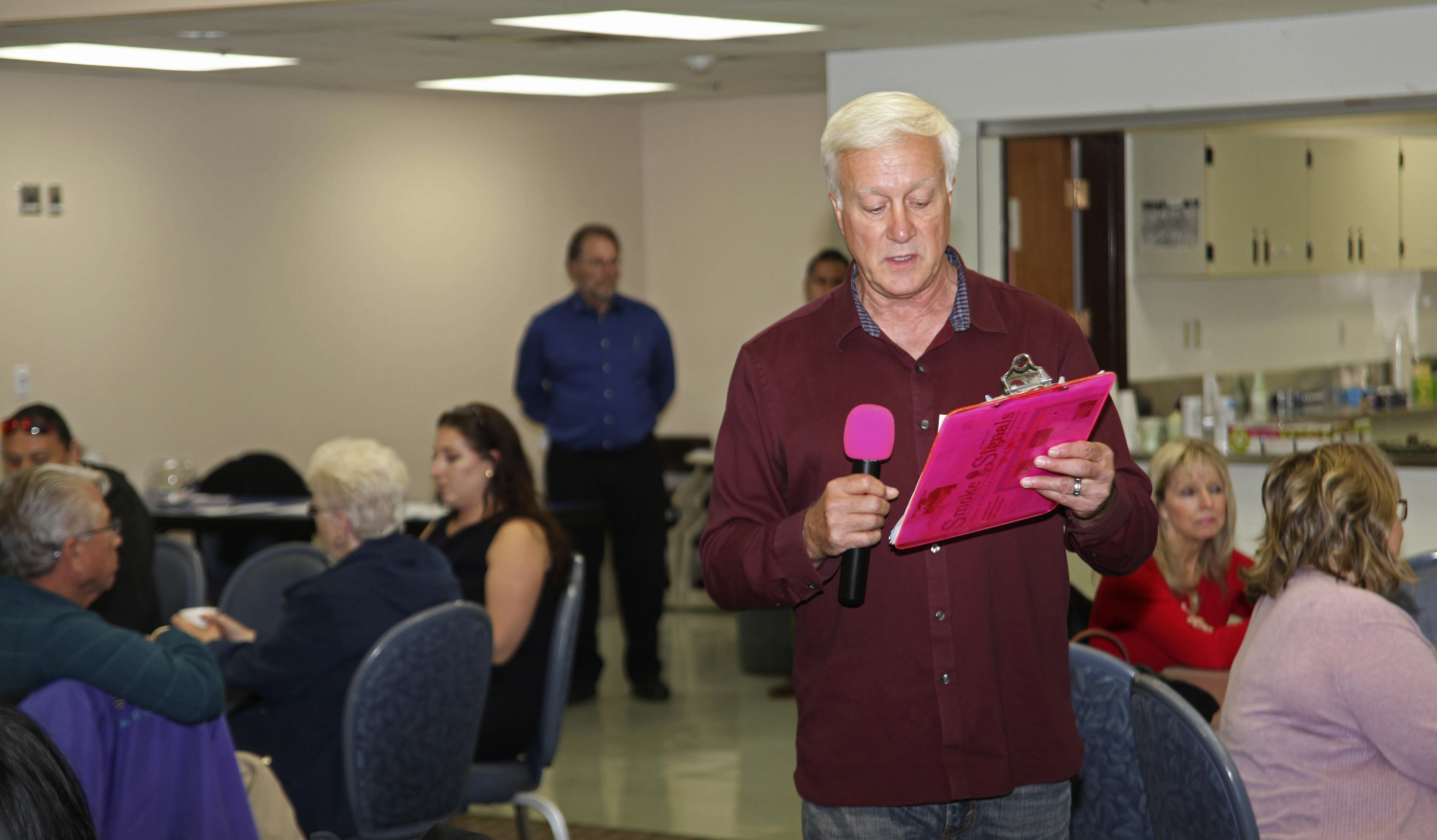 By Dean Rhodes
Smoke Signals editor
The year 2033 in Grand Ronde might not have flying cars, but it could feature a skate park, Adopt an Elder program, virtual classrooms and a drop-in mental health clinic, according to Tribal members who attended a listening session on Thursday, Oct. 17, in the Tribal Community Center.
The 50th anniversary of the Grand Ronde Tribe's Restoration is less than 15 years away and Tribal government is already inquiring of the membership what they want the Grand Ronde community to look like at the half-century mark after Restoration.
A second community listening session focused on the future of health care, social services, education and employment needs. The session was intended to help planners understand the needs of Tribal members and allow Tribal members to share their own ideas and insights, said Planning Director Rick George.
"We want to listen to you to determine the future of Grand Ronde," he said about the evening's goal.
The Tribe launched the Shawash-ili?i 2033 – nsayka KHapa aLqi (Grand Ronde 2033 – Our Future) effort in May. The 16-month community development planning process will help guide the decisions and setting of priorities for the Tribe as the 50-year mark approaches.
"The Tribe hopes that the active participation of Tribal membership will help create a plan that will further a vision for the community that reflects the values of the Tribe as well as the aspirations of the people," George said.
After a dinner of salmon, wild rice and green beans, the more than 50 attendees sitting at seven tables offered their suggestions on the four main topics in 15-minute segments while facilitators captured their myriad ideas on large sheets of paper.
Facilitators included General Manager David Fullerton, Health & Wellness Quality Improvement Manager Dawn Doar, Education Department Manager Angela Fasana, Human Resources Manager Camille Mercier, Housing Department Manager Shonn Leno and Administrative Program Manager Joan Dugger, Education Department Family Services Coordinator Audra Sherwood and Social Services Employment Program Manager Michael Herrin.
Education was the first topic tackled as Higher Education Manager Bryan Langley briefed attendees on current programs and asked attendees what services people foresee being necessary in 2033 to meet the needs of the membership.
Answers from around the seven tables included such things as a Native food program, a skateboard park for children, a program to help students with learning disabilities, more vocational training opportunities and the availability for virtual classrooms.
The format continued through the evening.
Next up was Social Services with Children & Family Services Program Manager Kristy Petite briefing attendees on current programs and then asking what the community's social services needs might be in 2033, as well as how the Tribe can keep youth and Elders stay connected.
A sampling of responses from around the tables included more space at the community garden, mindfulness trainings, a community center with a pool that would connect Elders and youth, financial literacy classes for Elders and families, and an Adopt an Elder program.
The third topic covered was employment and vocational training with Human Resources Manager Camille Mercier asking attendees what employment opportunities should look like in 2033 and what employment barriers Tribal members currently experience.
Responses included offering child care for employees, career development programs, succession training to help Tribal members take over when nonTribal member managers leave or retire, on-the-job training and more equity between governmental and Spirit Mountain Casino employees.
The final topic covered was health care with Doar asking attendees what medical and behavioral health services they'd like to see offered in Grand Ronde in 2033.
Responses ranged from providing acupuncture and more naturopathic health care to encouraging traditional natural birthing to creating a drop-in mental health office to improving the image of the Tribe's Behavioral Health program when it comes to confidentiality concerns.
George said the input will be compiled and be developed into a summary report. During the next three months, staff who manage the four departments will be briefed on the results, and then goals and priorities will be developed into a plan that will be taken to Tribal Council and Tribal administration for possible implementation.
"We're trying to break the boundaries of administrative departments and move it to a more organic process driven by community needs," George said.
Previous subjects discussed in the first listening session were Housing, Public Safety, Needed Services and Recreation, Facilities and Gathering Spaces.
Tribal Council members Steve Bobb Sr., Kathleen George, Michael Langley and Jon A. George attended and participated in the listening session.
The meeting closed with a raffle during which Nike and gas gift cards and T-shirts were given away.
For more information about the community development process, visit the Tribal government's website at www.grandronde.org, e-mail grandronde2033@grandronde.org or call George at 503-879-2112.