Tribal Government & News
Yesteryears -- Aug. 15, 2019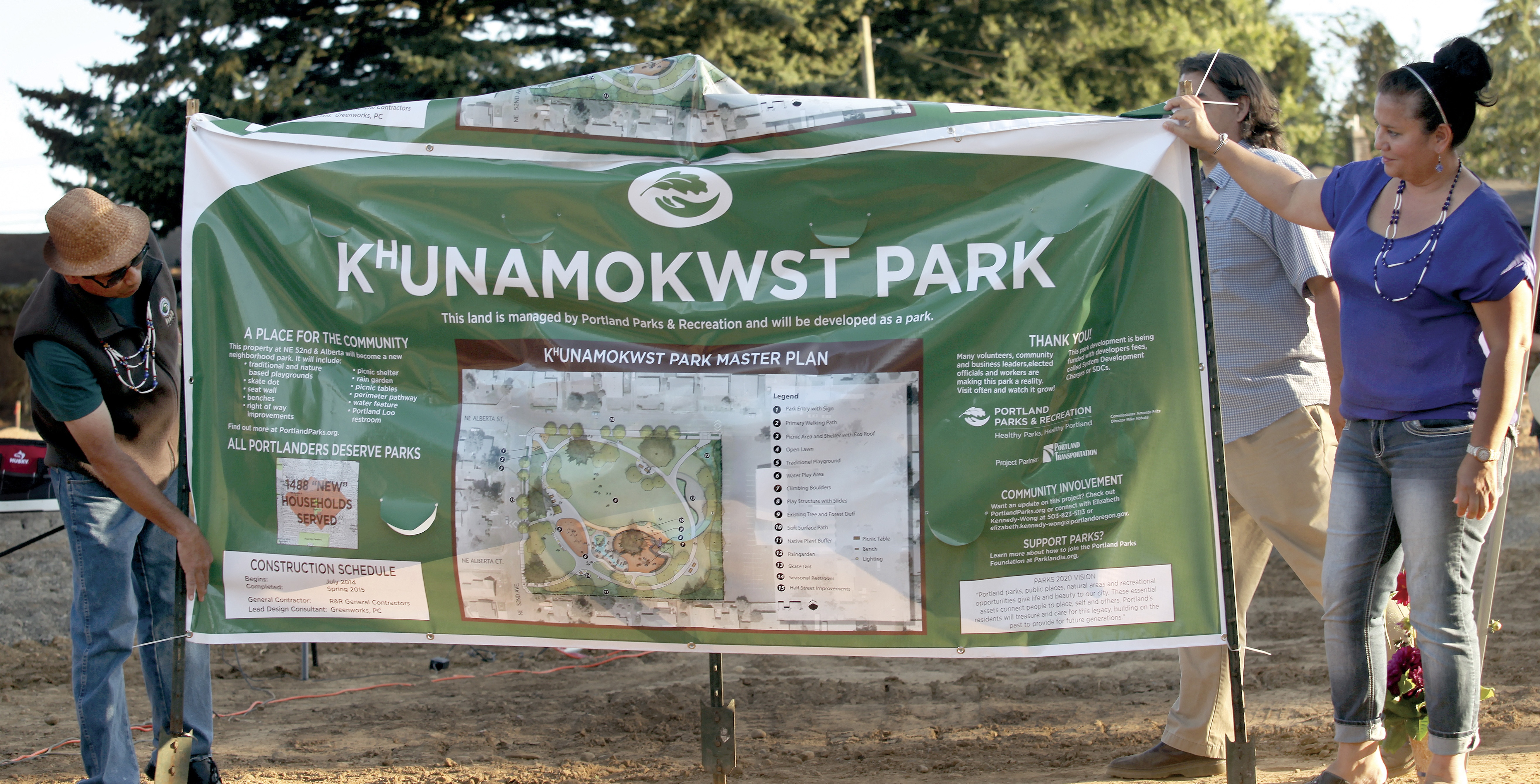 2014 – A Chinuk Wawa name was chosen for a Portland park. Khunamokwst Park came from a suggestion by Tribal cultural consultant Greg Archuleta, with technical support from Tribal Historian David Lewis and Cultural Education and Outreach Program Manager Kathy Cole through the Native American Community Advisory Committee of the Portland Parks and Recreation Department. Translated as "together," it offered hope that the new greenspace would bring neighbors at 52nd Avenue and Northeast Alberta Street closer.
2009 – The Grand Ronde Health & Wellness Center received a $600,000 grant to remodel the existing 300-square-foot dental office space and build a 1,900-square-foot addition to Wing C to allow the Wellness Department staff to relocate into a single office area. The remodel also would allow access to space for dietary and exercise classes. The Tribe received the grant from American Recovery and Re-investment Act funds.
2004 – President George W. Bush addressed members attending the UNITY conference in Washington, D.C., while Democratic presidential candidate John Kerry addressed a gathering of journalists at the convention. The convention drew a record number of 7,000 attendees and included speakers such as the Rev. Jesse Jackson, National Congress of American Indian President Tex Hall and Secretary of State Colin Powell. Native journalists also were given a sneak peek at the new National Museum of the American Indian.
1999 – The Grand Ronde Food Bank opened its doors to local residents in need of emergency food assistance. It was a project of the Grand Ronde Community Resource Center Board, comprised of local residents interested in providing services to the community. "This project has been a long time in the making," board member and Tribal member Tim Holmes said. "And it wouldn't have happened without the support of a lot of folks."
1994 – Grand Ronde Tribal member Rosetta Manangan of Portland and five other Oregon Native American women were invited by Hillary Rodham Clinton to be part of the Pioneer Courthouse Square rally that kicked off President Bill Clinton's proposed health care reforms. Rodham Clinton's appearance inspired an enthusiastic, noisy crowd estimated at more than 10,000 people. Managan and her companions traveled on a bus caravan from as far away as Pendleton to be there. "It was a thrilling experience," she said. "I'm so glad I was invited and could participate."
1989 – Cory Meneley was hired by the Tribe as its first-ever Youth Recreation aide in the Alcohol, Drug Prevention and Education Department. He attended Willamina High School and worked throughout the summer helping the department with its youth-related activities and programs.
1984 – The monthly Health Committee was held with Ellen Campbell, Joyce Millsap and John Lillard attending. The topic of the meeting was the upcoming health needs assessment survey. General Council was to be notified before the survey began.
Yesteryears is a look back at Tribal history in five-year increments through the pages of Smoke Signals.