Culture
Teamwork is a constant during annual Canoe Journey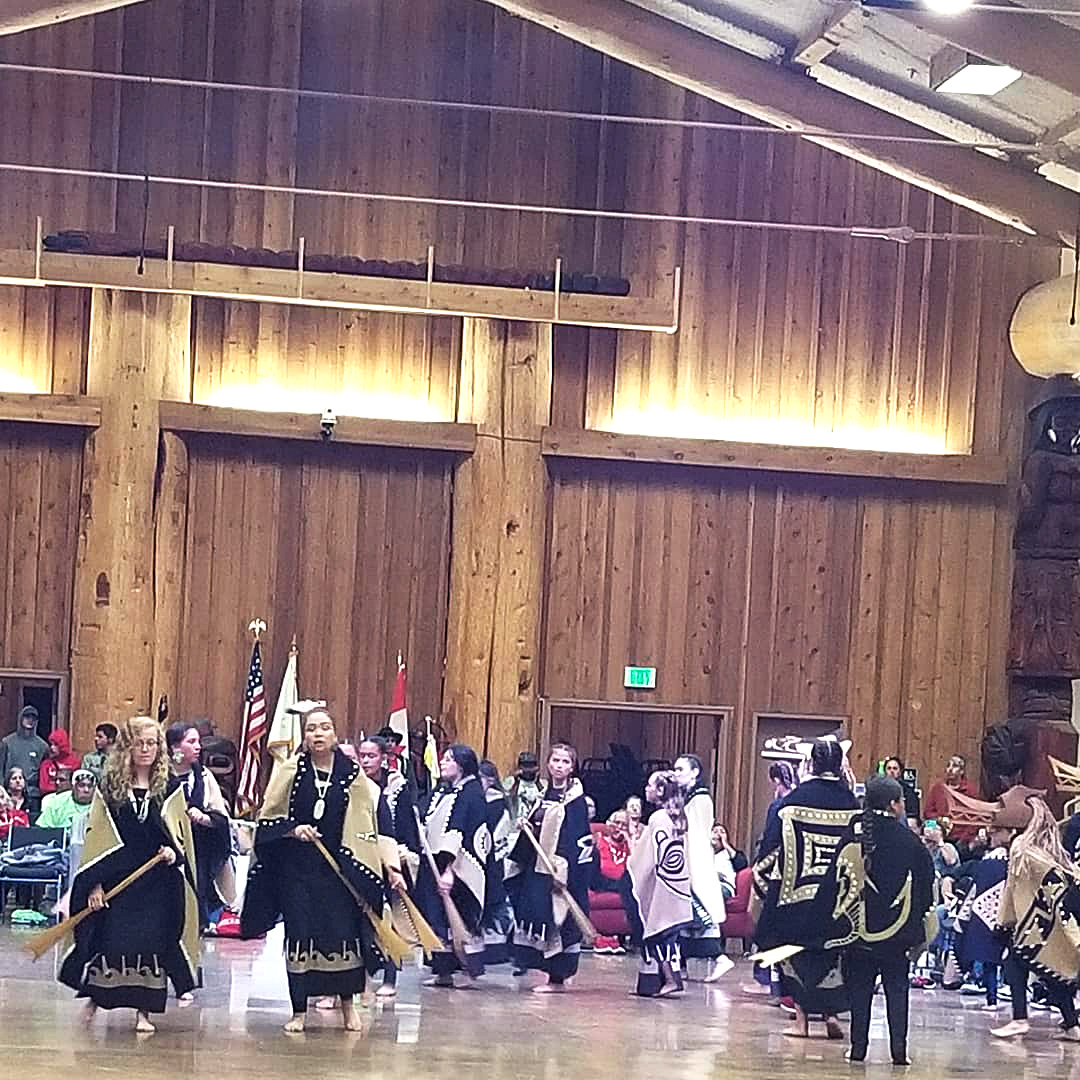 By Danielle Frost
Smoke Signals staff writer
Time spent on the water paddling a canoe, no matter how tired minds and bodies may become, is an experience that bonds participants together.
The Grand Ronde Canoe Family and Tribal support staff recently returned from the annual Canoe Journey that began Monday, July 15, when they departed for Squaxin Island located along the shores of south Puget Sound in Shelton, Wash.
The 2019 journey marked the 30th anniversary of the event, first held as the "Paddle to Seattle" in 1989.
The Canoe Family, comprised of youth and adults, navigated stankiya, which means "coyote" in Chinuk Wawa, as they paddled to Nisqually, Puyallup, Muckleshoot, Suquamish, Swinomish and Samish. Support crew members drove in vans to set up camp and cook for the tired travelers every night.
"This group of young people were amazing," said Youth Prevention Manager Nicole Hewitt. "They were so engaged, helpful and interacted well with each other. They really represented the Grand Ronde community in a positive way."
The Youth Prevention team took 15 youth on the journey, which brings together Native people from all over the country and world to celebrate their cultures.
This year's journey was hosted by the Lummi Nation and the theme was "Honoring Our Way of Life."
Tribal youth Sedona Williams, 17, has been on Canoe Journey three times.
"I really enjoyed having the chance to be lead pull on the canoe," she said. "There were a couple of rough days, but I knew I had that responsibility to keep going. I really felt like our ancestors were with me and so I kept pulling hard."
Landing Day occurred at Lummi Nation in Bellingham, Wash., on Wednesday, July 24. There, hundreds of canoes waited to come to shore, passengers asking permission to land in their Native language.
"It's all really worth it in the end," Williams said. "I love the sensation that you have made your ancestors proud. It was an honor to be a part of journey this year."
Tribal Council Secretary Jon A. George is a frequent participant.
"My experience on Canoe Journey this year to Lummi was a bit different than other years," he said. "I did not paddle each day as in the past. My son Tynan and I joined the Canoe Family at Suquamish."
George paddled from Tulalip to Swinomish, pulling about 20 miles. Then, he participated as ground crew, helping to set up and tear down camp at each stop.  
"I and Tynan camped with the Canoe Family every day," he said. "My experience was an incredible one. I always enjoy myself and being part of a team that works hard together and (gets) to know each other even better and (has) fun in the process."
George's favorite part of journey was seeing that canoe participants were of a younger generation.
"It might be that the youth that started in 2005 are older now and some have children of their own," he said.
Tribal Council members Denise Harvey and Michael Langley attended the landing in Lummi, while Tribal Council member Lisa Leno attended during the Suquamish-to-Tulalip portion of journey. In addition to youth, adults and support staff, Elders such as the Tribe's Chemical Dependency Counselor Joe Martineau participated. General Manager David Fullerton and Emergency Operations Coordinator Steve Warden kept Canoe Family members safe on the water with the support boat.
"My heartfelt thanks to Nicole and her staff … that supported youth to participate this year," George said. "They did an incredible job and stepped up to paddle each day."
George added that anyone who has attended as many journeys as he has understands there is a flow and rhythm that carries from year to year.
"The landing may be different each year, but it is the camaraderie that takes place and shines through in each and everyone, even if they are there one day or 14 days," he said. "Everyone has the mindset to pitch in and do their part. That is the constant with Canoe Journey each and every year. I would hope many more people could experience Canoe Journey and realize all the hard work and teamwork it takes to carry out this incredible journey of the heart, persevering and overcoming, and to feel what it's like to be part of a close Tribal family."
Hewitt said that everyone has a role and must work together in order to be successful.
"No matter where we are, the constant is working together as a Tribe and community," she said. "For young people and any person to have a connection to something bigger than themselves. … This is a chance to be immersed in culture from morning to night."
Protocol
During Landing Day, the Grand Ronde Canoe Family and more than 100 others came to the Lummi shores at Stommish Landing. After their arrival Wednesday, July 24, they enjoyed dinner and then shared in potlach, traditional songs, dances and testimonies, known as protocol. The order of protocol is that the Tribe that travels the farthest to attend goes first. Grand Ronde began its protocol close to midnight.
At protocol, Tribal Cultural Advisor Bobby Mercier introduced himself in Chinuk Wawa and English. Then, he acknowledged the Tribe's visitors from New Zealand's Māori Television. The Maoris have a longstanding relationship with the Grand Ronde Tribe and have participated in several Canoe Journeys.
Then, he turned the floor over to the Māoris, who performed the first dance at protocol.
Afterward, Mercier thanked the Lummi Tribe for continuing to be hospitable during Canoe Journeys.
"We want to thank our relatives for always taking care of us when we come here," he said. "I'm thankful for this opportunity to come back. We raise our hands to you."
Although the hour was late and most Canoe Family participants had been awake since 5 a.m. or earlier, they performed traditional songs with enthusiasm and pride.
The Grand Ronde Canoe Family closed with "Traveling With Our Ancestors."
"We remember these struggles they went through so we could be here today," Mercier said.
Grand Ronde's protocol ended with traditional giveaways, which Mercier encouraged the Lummi to gift to whomever they thought deserved it most.
Grand Ronde's Canoe Family first participated in the 2005 Canoe Journey, which landed on Hollywood Beach in Port Angeles, Wash.
The Canoe Journey began in 1989 with the "Paddle to Seattle," which was held in conjunction with Washington's 100th anniversary of statehood. That year, the state and indigenous governments signed the Centennial Accord, recognizing indigenous sovereignty. Fifteen Tribes and First Nations participated in the Paddle to Seattle.
Today, upwards of 100 canoes representing as many as 90 U.S. Tribes and Canadian First Nations, and up to 12,000 people participate in the annual journey, paddling canoes, operating support boats, acting as ground crew, singing, dancing and sharing their cultures and traditions. 
Canoe Journey was designed as a family-friendly event to familiarize Northwest Tribes with the trade routes used by their ancestors and to promote a healthy lifestyle free of substance abuse.
The Snuneymuxw First Nation will host the 2020 Canoe Journey in Nanaimo on Vancouver Island in British Columbia.