Culture
Contest Powwow set for Aug. 16-18; expects increased number of dancers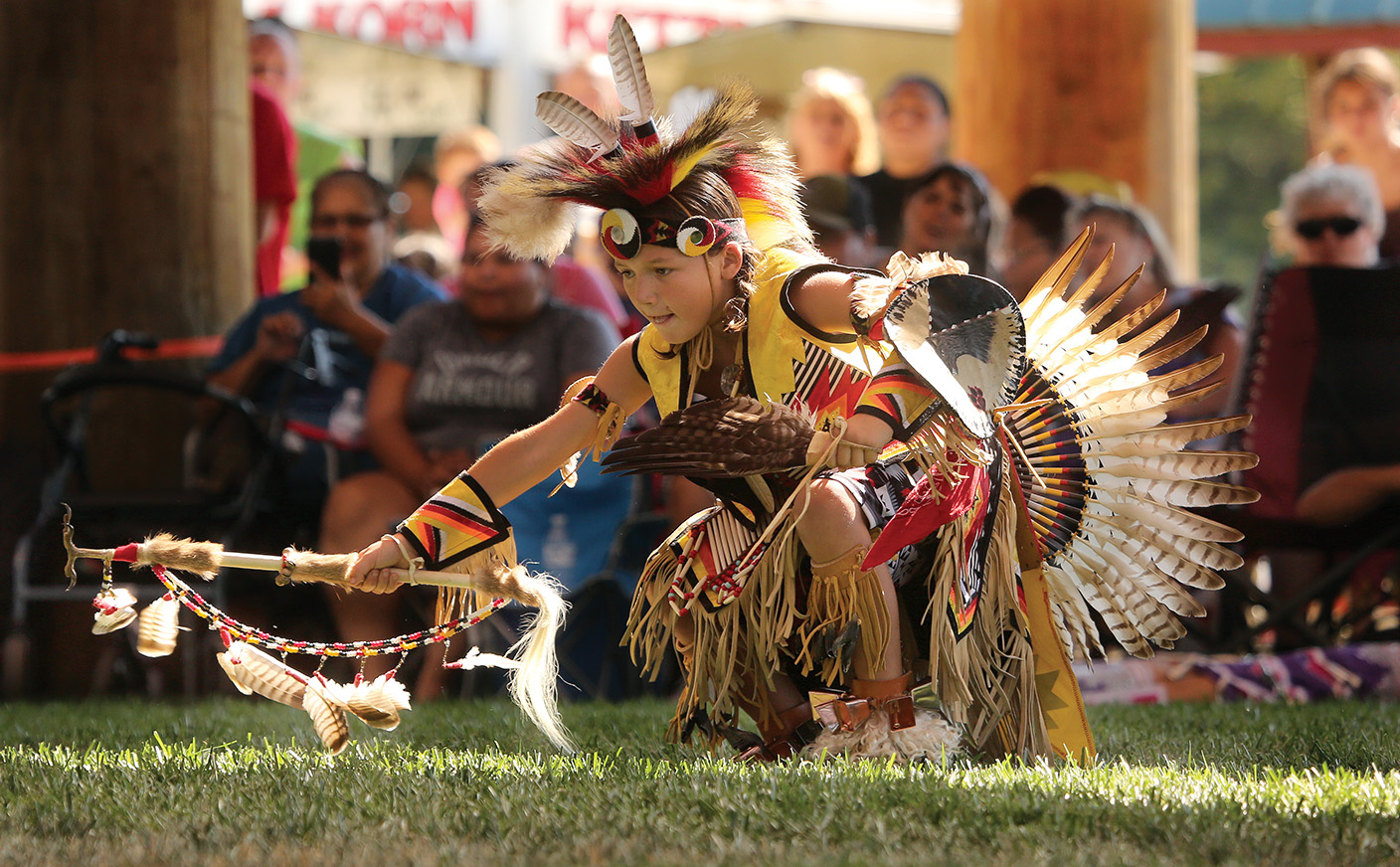 If you go
Grand Ronde Contest Powwow
When: Grand entries at 7 p.m. Friday, Aug. 16; 1 and 7 p.m. Saturday, Aug. 17; and 1 p.m. Sunday, Aug. 18.
Where: Uyxat Powwow Grounds, 9600 S.W. Hebo Road.
Cost: Camping, $5 with parking; parking, $1 a day or canned food; weekend passes, $3.
More information: 503-879-2037.
By Danielle Frost
Smoke Signals staff writer
The Grand Ronde Contest Powwow continues to be a popular annual event. Last year, 337 dancers registered and organizers are hoping for even better numbers this year.
It seems like a reasonable goal, given that attendance was higher in 2018 than for the 2017 event, which also included a rare total solar eclipse.
Organizers credited several factors, such as a welcoming atmosphere, good weather and an increase in prize money to the uptick in 2018"s dance registrations.
This year, a big change for the dancers will be the new artificial turf, which received an overall positive response from participants at the recent Veterans Powwow, who all noted a lack of twisted ankles, which had become a common complaint in years past.
Besides the turf, however, the 2019 Contest Powwow will have a format very similar to what attendees have seen before.
More than $52,000 in prize money will be danced for thanks to the adult dance categories remaining in junior adult and senior adult categories, as well as junior and senior golden age.
Dance prizes range from $1,000 for first place in the adult categories to $25 for taking fifth in the junior category.
Specials will include the Women's All-Around sponsored by the Native Wellness Institute, Crystal Starr and the Tailfeather family that has prize money totaling $5,600 plus jackets for first- through third-place; Men's Northern Traditional and Round Bustle sponsored by the Tom family with $2,000 in prize money; School is Cool for all kindergarten through 12th-grade dancers sponsored by the Education Committee; Best Friends sponsored by Grand Ronde Royalty; Round Bustle/Chicken Dance with $800 in prize money; Women's Red Dress Special with $800 in prize money; and Junior and Teen Girls sponsored by outgoing Grand Ronde Royalty.
Head staff for this year's powwow include master of ceremonies Tyson Eaglevoice Shay (Shoshone-Bannock), arena director Fred Ike Jr. (Yakama), head dance judge Charles Tailfeathers (Cree/Blackfeet) and head drum judge Chase Sayer from Saskatchewan, Canada.
Indian Hill will be the host drum and drums will compete for $20,000 in prize money, with the best drum taking home a $10,000 prize.
A shuttle will be available from Spirit Mountain Casino to the powwow grounds and attendees are asked not to display gang affiliation or bring drugs, alcohol or weapons to the event.
Returning for 2019 is the Recreation Department's 3-on-3 Basketball Tournament for middle and high school students, held in the parking lot next to the powwow grounds. Prizes will be awarded for the 3-point contest, and to first- and second-place teams. It will take place from 5 to 8 p.m., Friday, Aug. 16, 8 a.m. to 9 p.m. Saturday, Aug. 17, and 8 a.m. Sunday, Aug. 18.
A new wrinkle will be the attendance of Western Oregon University representatives on Friday and Saturday. Any Tribal student who applies for admission to the Monmouth university at the powwow and ultimately enrolls will receive a $2,000 scholarship toward their first year on campus. In addition, the application fee will be waived for students who apply during the powwow.
Tribal students can apply for either fall 2019 or fall 2020. Students are encouraged to bring a copy of their school transcripts and Tribal identification, if possible.
"We are elated that representatives from WOU are joining us at our largest gathering to help individuals explore their opportunities for higher education," said Education Committee Chair Tammy Cook. "We hope this opportunity will help those who attend the event and inspires greater collaboration between Tribes and local colleges to make not only their presence felt in Tribal communities. By working together, we can erase some of the invisibility associated with indigenous peoples in higher education."