Tribal Government & News
Tribal Council approves revised trust fund policies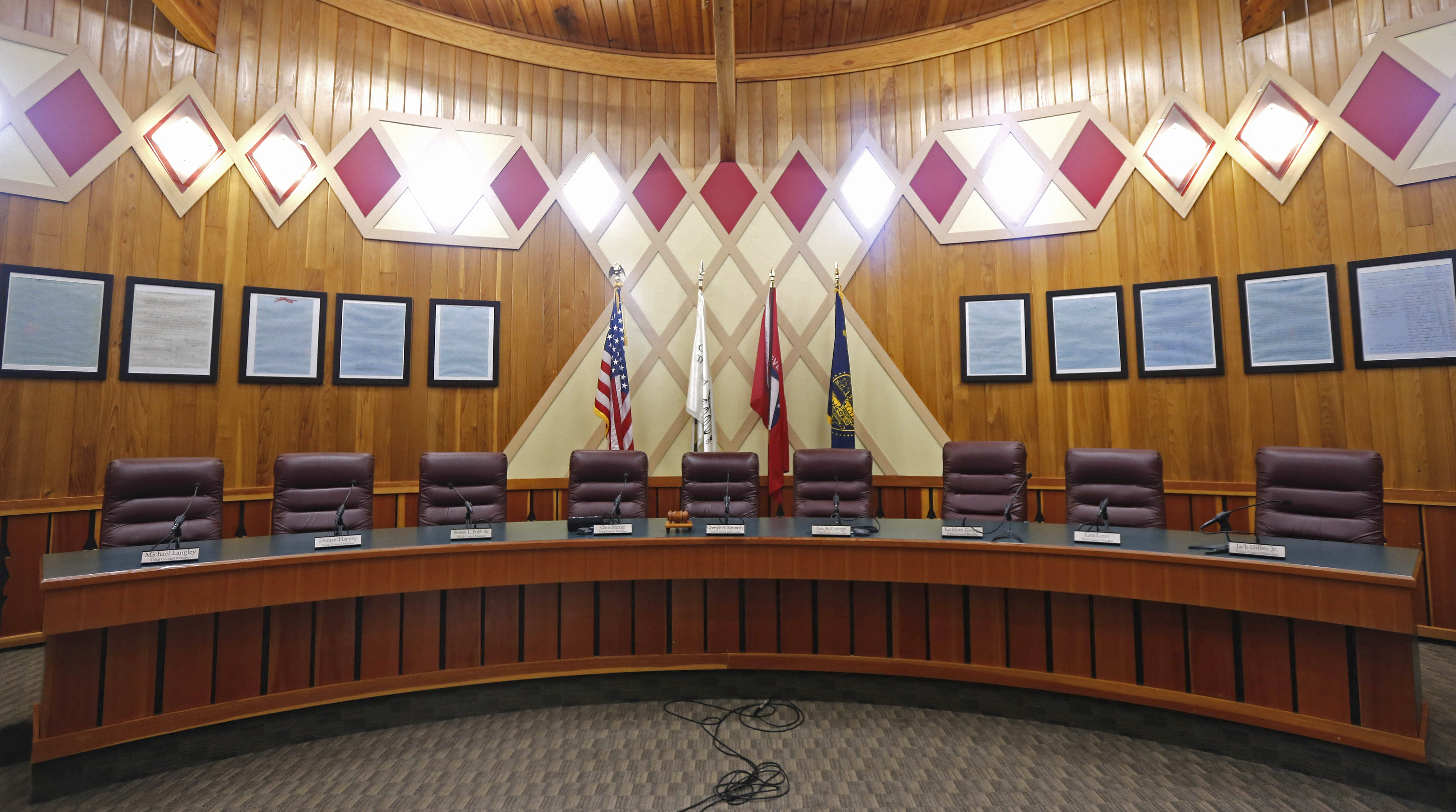 By Dean Rhodes
Smoke Signals editor
Tribal Council approved four trust fund policy revisions that govern how the Tribe's endowments are used during the Wednesday, July 31, meeting.
The revisions are to the Housing, Health Services, Elders' Retirement and Education trust funds and address how much trust fund earnings can be used for budgeting purposes and establish a fully funded target for each fund.
In response to a question about Tribal member input posed by Tribal Council member Jack Giffen Jr., Finance Officer Chris Leno said during the Tuesday, July 30, Legislative Action Committee hearing that these are Finance Office policies and departmental policy revisions are not usually put out for comment by Tribal members like ordinance amendments.
However, Leno added, the Tribe can do a more thorough job of explaining the allowable uses defined in the policies during the November budget hearing and Tribal members can comment on the effects of the policy revisions during the annual budgeting process.
In other action, Tribal Council:
Approved accepting a maximum $40,000 federal Natural Resources Conservation Service grant that will be used to perform wildlife habitat enhancement projects on eight Roosevelt elk meadows and other Tribal properties;
Approved applying for a maximum $10,000 grant from the Oregon Wildlife Foundation to monitor deer and elk use of Reservation meadows. The grant would pay for trail cameras, memory cards and batteries;
Approved an agreement with the Bureau of Indian Affairs that will bring the Tribe $1.149 million to fund Grand Ronde Tribal transportation projects and activities;
Approved adding Controller Amy Gallant and Assistant Controller Christine O'Day as authorized signers on the Tribe's bank, credit line and investment accounts and removing former employees Linda Hanna and Jody Jerger as authorized signers;
Approved a Tribal credit card with a $5,000 limit for Single Resource Boss Jordan Makepeace to use while dispatched with the wildland fire crew;
Approved the Tribe participating in the "Identifying Our Needs: A Survey of Elders" conducted by the North Dakota, Alaska and Hawaii National Resource Centers on Native Aging. The survey is conducted every three years and is required to apply for Elders' nutrition funds;
Approved applying to the U.S. Department of Housing and Urban Development for $4.766 million in Indian Housing Block Grant funding that would be used to construct low-income units in Grand Ronde, including five fourplexes and three duplexes. If received, the Tribe would have up to five years to design and build the housing;
Approved the Tribe's 2019 Public Transit Civil Rights Plan that will be submitted to the state Department of Transportation;
Approved adding Bessie Burgess, Ivan Jeffers, Ricky George, Timothy George, Jolene Kamna, Tamara Williams, Jerry George, Jeanna Buxton, Joe Simi, Janet Titus, Lola Gray, Perri McDaniel, Lorraine McDaniel, Sabrina McDaniel, Victor McDaniel, Janie Stuck, Serena Layman, Ida Paterson, Lonnie Riddle, Patricia Batch, Kathleen Dewitt and Stephen Miller to the Restoration Roll and requesting that the Secretary of the Interior approve the Restoration Roll corrections;
And approved blood quantum adjustments for three Tribal members.
Also included in the July 31 Tribal Council packet were two approved authorizations to proceed that instructed the Natural Resources Department and Ceremonial Hunt Board to follow the Ceremonial Harvest Distribution Policy as amended on July 15 and approved a memorandum of understanding with the Army Corps of Engineers regarding the Tribe's cooperating agency status in the Lower Columbia River Integrated Dredged Material Management Plan and Environmental Impact Statement process.
The entire meeting can be viewed at the Tribal government's website at www.grandronde.org by clicking on the Government tab and then Videos.