Culture
Veterans Powwow breaks in new artificial turf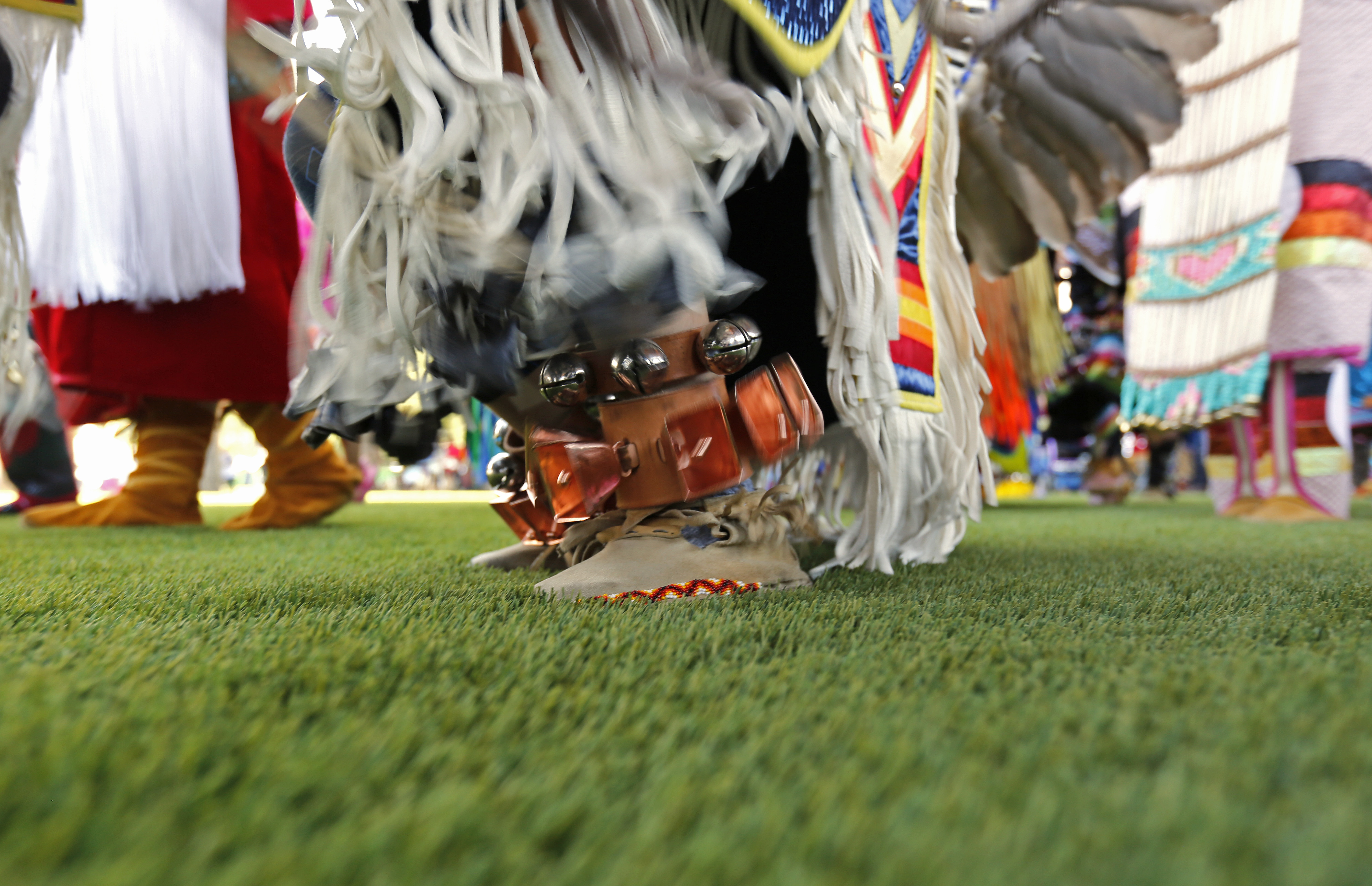 By Dean Rhodes
Smoke Signals editor
The new synthetic turf at uyxat Powwow Grounds received overwhelmingly positive reviews from participants at the 27th annual Marcellus Norwest Memorial Veterans Powwow held Friday, July 12, through Sunday, July 14.
The three-day powwow was the first held since the spring installation of 8,800 square feet of synthetic turf to prevent powwow dancers from spraining their ankles like they did on the previously uneven sod.
"I love it," said 47-year-old Ian Gallagher (Klamath Modoc) before the Saturday afternoon grand entry. "It feels good on the knees. It's real cushiony. I really like this. It's bouncy. It's all even, too. With grass, you get bumps and you can twist an ankle. This is all level and smooth."
Ryan Hill (Klamath Modoc/Paiute), 35, echoed Gallagher's assessment. "I love it. It's a great experience. It's just welcoming and it feels good. It's smooth and it has got some give to it. There's no lumps, no holes."
Grass dancer Aiden Warren (Karuk), 15, had a different reason than less wear and tear on the joints for liking the new turf.
"The footwork is a little bit different (on artificial turf)," Warren said. "It's a little bit more slick, but not too much and it feels good on your feet. I like it because it's kind of bouncy, too, which kind of helps."
Grand Ronde Tribal member Ty George, 20, also said he likes the new turf. "It was amazing," he said. "I love it. … The grass was pretty hard on us last year because of the mole holes and people getting hurt. I like the artificial turf and the Tribe did a good job on it. It's a lot better than the grass."
Although the dancers raved about the new surface, it did prompt some concerns during the partly sunny Saturday afternoon grand entry when master of ceremonies Nick Sixkiller (Cherokee) abandoned the tradition of having the approximately 60 veterans in attendance introduce themselves individually and state their military branch and years of service.
Instead, to expedite getting the elderly veterans off the turf and out of the sun, Arena Director Anthony Quenelle and Sixkiller announced the separate branches of the armed forces – Army, Marine Corps, Air Force and Navy – and veterans stepped out when their branch was called and received a collective round of applause, as well as a souvenir baseball cap from Tribal Royalty.
Sixkiller even joked that when powwows are not occurring, people can practice their putting on the new turf.
Saturday's grand entry opened with Public Affairs Administrative Assistant Chelsea Baranski smudging the arena with sage. As host drum Red Hoop started pounding out an honor song, Tribal Elder Alton Butler, Wayne Chulik (Tlingit) and Robert White (Potawatomi) entered the arena carrying eagle staffs.
They were followed by Tribal Elders Raymond Petite and Steve Bobb Sr., Richard VanAtta and Al Miller carrying the U.S., Grand Ronde, MIA/POW and Oregon flags, respectively.
Next came the flags of the armed forces, carried by Anthony Texeira (Air Force), Allen Truesdale (Marine Corps), Louis Rober (Navy), Ken Rober (Army) and Ron Schlitzkus (Coast Guard).
Tribal Council members Jon A. George, Denise Harvey, Michael Langley, Kathleen George and Jack Giffen Jr. then entered and were followed by a long line of dancers.
Bobb, who also sits on Tribal Council, delivered the invocation after Dirty Moccasin drum performed the victory charging song and the colors were posted.
Bobb took a moment to remember Willamina High School classmate Bobby Buswell, who was killed in Vietnam in July 1969. Buswell was a Navy corpsman attached to a Marine Corps detail who stepped on a land mine and was killed.
Bobb asked the audience to consider all that is lost when a young man dies in war. "The things they could have done. The things they could have been," Bobb said. "They are gone forever."
Sixkiller then dismissed the veterans, telling audience members to yell their thanks as the veterans walked by. "Tell them how proud you are of them," Sixkiller said. "They saved this country. They saved our traditional way of life."
Two lines then formed in the powwow circle: An outside line of veterans and an inside line of people walking in the opposite direction and thanking the veterans.
* * * * *
The Veterans Powwow started at 5 p.m. Friday with the crowning of the 2019-20 Veterans Royalty. However, the new Royalty is the same as the old Royalty with Mabel Brisbois returning as Senior Veterans Queen, Tasina Bluehorse staying on as Junior Veterans Queen and Junior Warrior Nacoma Liebelt repeating for another year.
The Veterans Royalty crowns were made by Tribal member Brian Krehbiel and the beadwork was done by Annette and Savannah Ingram.
Before Friday's 7 p.m. grand entry, which featured approximately 30 veterans, four grass dancers inaugurated the new artificial turf while dancing to host drum Red Hoop.
Tribal Council members in attendance on Friday evening included Vice Chair Chris Mercier, Secretary Jon A. George, Steve Bobb Sr., Denise Harvey and Jack Giffen Jr.
Following grand entry, Friday night featured a series of interTribal dances, socials and specific category dances.
Saturday evening's events included two specials – a men's traditional contest sponsored by the Liebelt family and a girls teen dance featuring teams of three girls each.
This year's Veterans Powwow also featured a contingent of visitors from Syria, who were acknowledged during the Saturday afternoon grand entry.
"The Syrian visitors were welcomed as guests as part of an outreach effort to migrant/refugee communities in Oregon," said Deputy Press Secretary Sara Thompson. "The effort is being led by the Cultural Resources Department on behalf of the Tribe. This effort is about the first people of this land welcoming the newest to arrive in an effort to build and share lessons in community, resiliency and healing."
Thompson added the Syrian visit is the first of three visits that are planned over the next year.
The Syrian visitors were treated to a lunch of elk stew, salmon, salad and berry cobbler before the powwow grand entry.
Tribal member Shelly Nichols also came from Wisconsin and was giving away copies of "Women at War: Warrior Songs Vol. 2," which recently won a Wisconsin Area Music Industry award for Album of the Year. Nichols is a Navy veteran and wrote the song "Warrior Wings," which appears on the album.
Like previous powwows, there were a multitude of arts and crafts and food vendors surrounding the powwow arena. In addition, tables featured such organizations as Tribal Court, the Tribal Housing Department, the Brotherhood United Motorcycle Association of Oregon, Willamina VFW Post 4211, the National Association of Black Veterans and the Military Order of the Purple Heart.
Other drums that performed during the four grand entries included Johonaaii, Wacky Wascally Wabbit, Turquoise Pride, Big Eagle, Throbbing Tomahawk, Iron Mountain and White Sage.
The Veterans Powwow, which was first held in July 1993, concluded with its fourth and final grand entry at 1 p.m. Sunday. The powwow was named after Army veteran Marcellus Norwest in 2011 to honor his efforts in starting the event. He walked on in May 2011.