Culture
Yesteryears -- June 15, 2019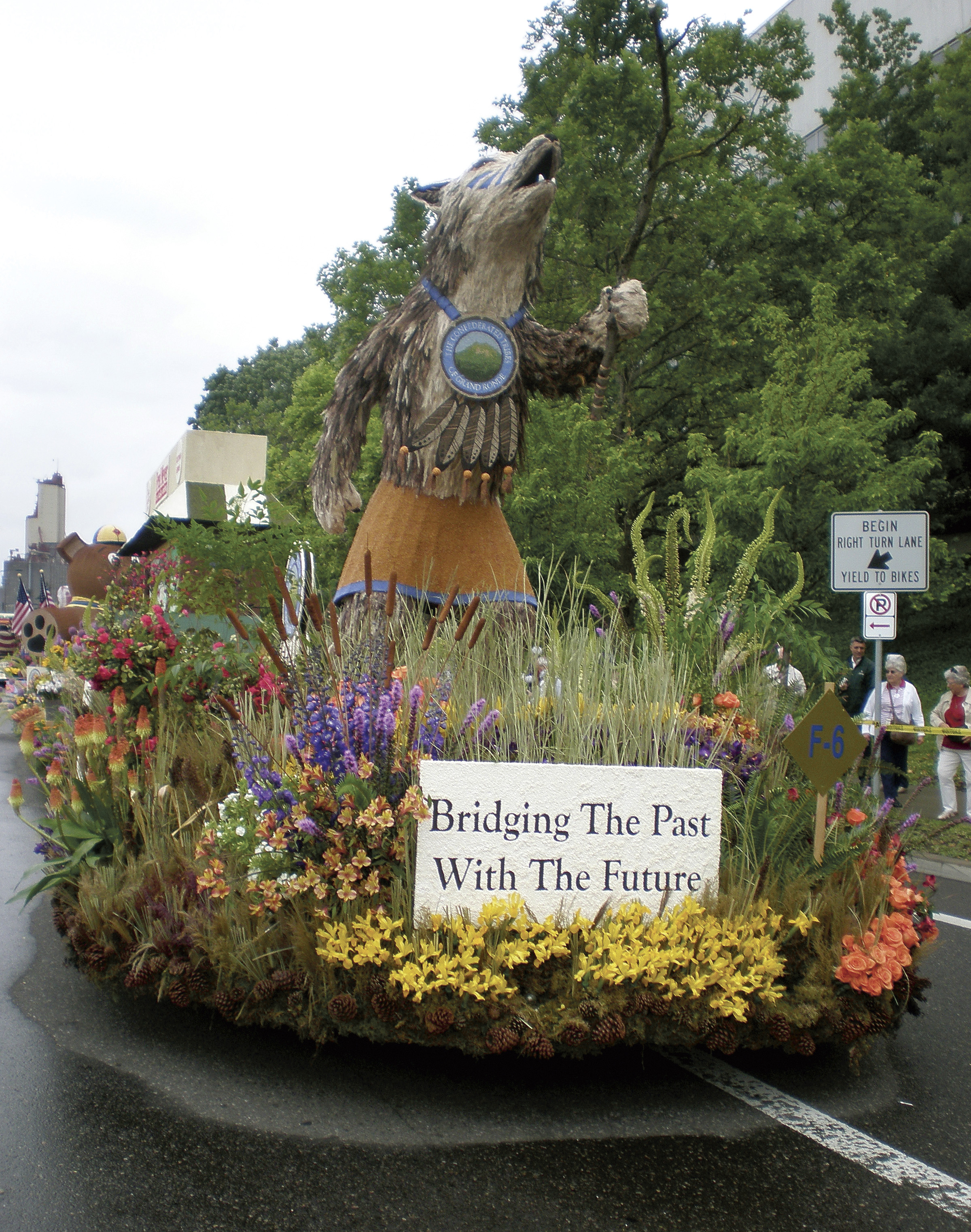 2014 – Drumming and singing greeted approximately 200 visitors to the first phase opening of Grand Ronde Tribal museum Chachalu. The museum's opening was a long time in the works and a central dream of the Grand Ronde people since Restoration and for many, years before that. Guests included Tribal members and staff, and friends and contractors in granting, design and construction who helped bring the project to fruition. "This is a significant step," said Tribal Council Secretary Toby McClary. "Never before have we had a place to tell our story."
2009 – Spirit Mountain Casino's float, "Bridging the Past With the Future," received the Golden Rose Award for best float shorter than 35 feet in the 2009 KeyBank Grand Floral Parade. The float was designed by Tribal Elder and Tribal Council member Steve Bobb Sr.
2004 – Groundwork for the Tribe's upcoming Elder care facilities was underway. The new construction project was considered leading-edge and among best strategies for building care facilities. Work on the infrastructure was expected to begin that summer and on the first of the homes by fall. "I've promised them (Elders) a safe environment to discuss the most personal things," Tribal Housing Authority Development and Construction Coordinator Duane Hussey said. Before the project began, Hussey spoke with a number of employees and Elders to determine different project needs from a wellness and cultural aspect, as well as basic requirements.
1999 – Members of the Elders Committee participated in a groundbreaking ceremony for the Elder housing complex. "This is a real historic day for the Tribe and especially for the Elders," said Housing Director Linda Layden. "We are glad that so many Elders could join us." Tribal Elder Ila Dowd gave an opening prayer, followed by a blessing by Travis Benoist, who had earlier performed a sacred blessing ceremony at the project site. The Elder housing complex would include 38 two-bedroom apartments and was to be located on Grand Ronde Road.
1994 – Tribal Council Chairman Mark Mercier attended a conference with President Bill Clinton to discuss Tribal issues with other leaders from across the country. More than 300 Native American leaders gathered on the White House lawn for the meeting, which also was attended by First Lady Hillary Rodham Clinton, Vice President Al Gore and his wife Tipper, and the full Cabinet. Clinton assured the Tribes that Native American concerns were important to the administration and promised to "dramatically improve the federal government's relationship with the Tribes" and to support Native American religious freedom.
1989 – Confirmation hearings for Eddie Frank Brown, President George Bush's choice for assistant secretary of the Interior, were expected to begin shortly. Brown, 43, was a member of the Pascua Yaqui Tribe and formerly served as a director of the Arizona Department of Economic Security. As assistant DES director, Brown restructured Arizona's contractual relations with Tribes.
1984 – Tribal Council welcomed Barb Mercier and Teri Mercier to the staff at Tribal offices and Lynn Bear Robertson to the maintenance staff. Council also thanked everyone who had attended the general and special meetings that were called to establish the Tribal Constitution. "This is a very big step for each and every one of us, and we have more to come, so come on Tribal members, let's do our best to contribute more input into our future meetings," stated a Smoke Signals article.
Yesteryears is a look back at Tribal history in five-year increments through the pages of Smoke Signals.