Tribal Government & News
Cardwell joins Grand Ronde Tribal Police Department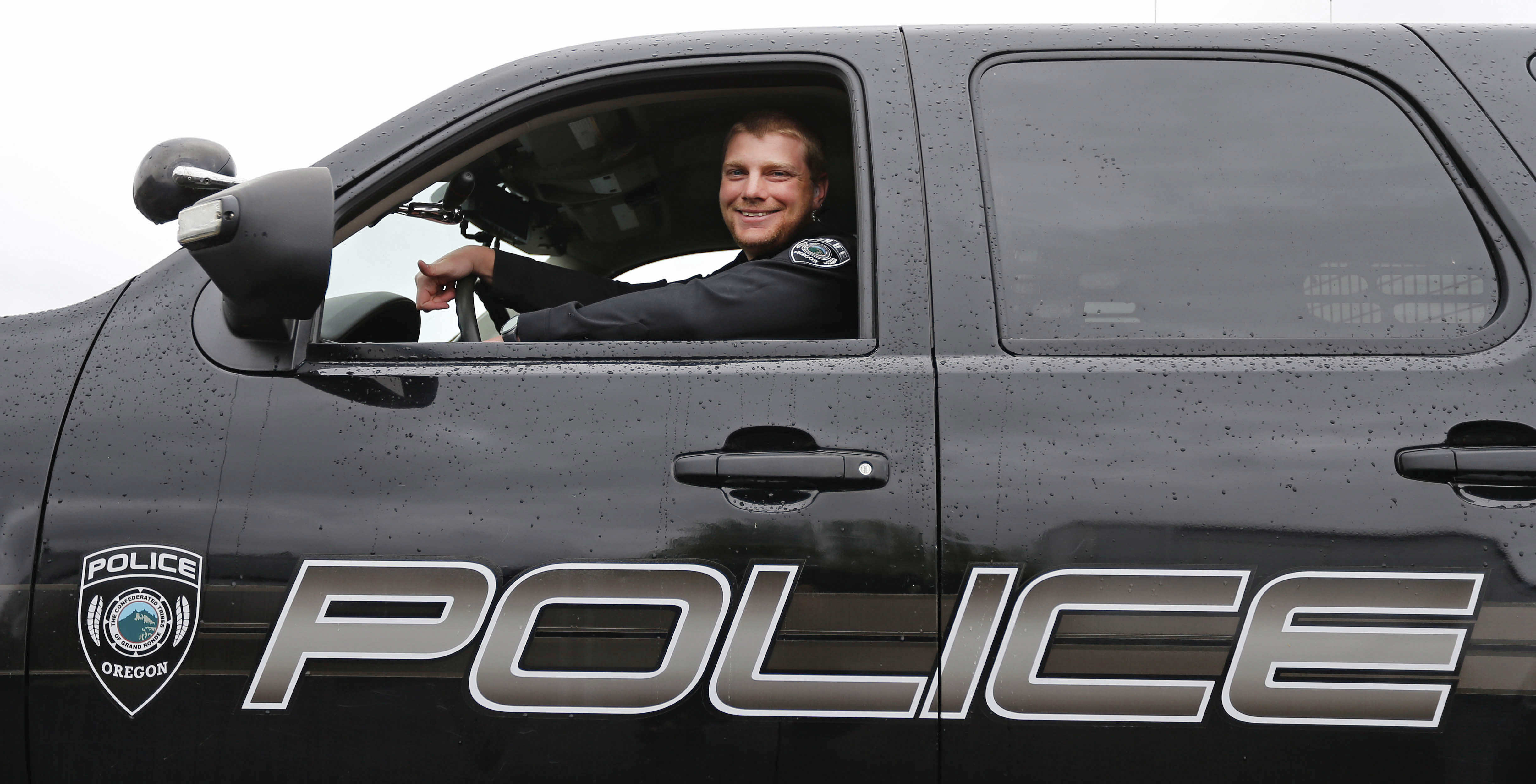 By Danielle Frost
Smoke Signals staff writer
Clint Cardwell went from scanning groceries to taking calls on a police scanner.
Cardwell is Grand Ronde's newest police officer, replacing Ron Wellborn, who joined the Tribal Security Department in April.
The 29-year-old had worked at Knapps Thriftway in Newberg for several years, first as a cashier and then in loss prevention, helping apprehend shoplifters. He became interested in police work after several interactions with local officers.
"I'd always had a lot of respect for law enforcement and the work they do," Cardwell said. "When I went into loss prevention I really got to know the officers and decided I wanted to be involved on a grander scale."
Cardwell put in an application and was hired by the Newberg Police Department in October 2017. Next came the six-month Department of Public Safety Standards and Training in Salem.
However, the newly minted police officer soon discovered working in the town he'd grown up in had its challenges.
"It was difficult living there and being an officer," Cardwell said. "The familiarity made it a challenge."
After talking with family friend Steve Warden, who also is the Tribe's Emergency Operations coordinator, Cardwell applied for an open officer position in Grand Ronde.
"Law enforcement across the board is fairly similar so the transition hasn't been difficult so far," Cardwell said. "I'm figuring the ins and outs of things. One difference is that we assist a lot with Polk and Yamhill County calls. Back in Newberg, if the county needed help we would go, but we generally didn't leave our area. Here we will go out to Willamina or Dallas to assist."
Police officers typically have their share of unusual traffic stop experiences, but Cardwell said nothing too strange has happened to him yet.
"So far I really like it," he said. "In Grand Ronde, we have a great group of guys and I'm getting to know them. Sometimes, you are the only officer on duty so that is something I'm getting used to. Everyone here is pretty level headed and things seem to be going in the right direction."
The biggest case he has worked on during his relatively short tenure in law enforcement was a credit card fraud case in Newberg where the suspect ended up going to prison for several years. In an interesting twist, he was arrested after trying to use a fake card at the Thriftway store Cardwell worked at for so many years.
Cardwell said his favorite aspect of being an officer is helping people in need, but also the investigative piece of law enforcement work.
"I like putting the pieces of the puzzle together to obtain the end result," he said.
And the most tedious aspect of Cardwell's job?
"Right now, it's solidifying myself as an officer," he said. "You spend time with another officer and having someone looking over your shoulder can be nerve-wracking, but it's important. Even the smallest mistakes on reports or citations could mean they are thrown out of court."
Although he's only been in Grand Ronde for a month, Cardwell has noticed a level of respect the community has for its police officers.
"It's a really nice community," he said.
During his leisure time, Cardwell enjoys golfing at various courses in the area and spending time with his girlfriend, Syara Thorsen. The couple lives in Newberg.
Tribal Police Chief Jake McKnight said Cardwell fits in well at the station, and even beat him on the golf course.
"So far he is doing great," he said. "I think he'll be a great part of the community. He really likes to help people. The cultural part is new to him, but he is learning. … I'm not sure I'll ever get him in golf though."
Cardwell said his long-term goal is to excel at his new job.
"Grand Ronde has given me a great opportunity to be here," he said. "I will do the best I can to earn that."