Tribal Government & News
Yesteryears -- May 1, 2019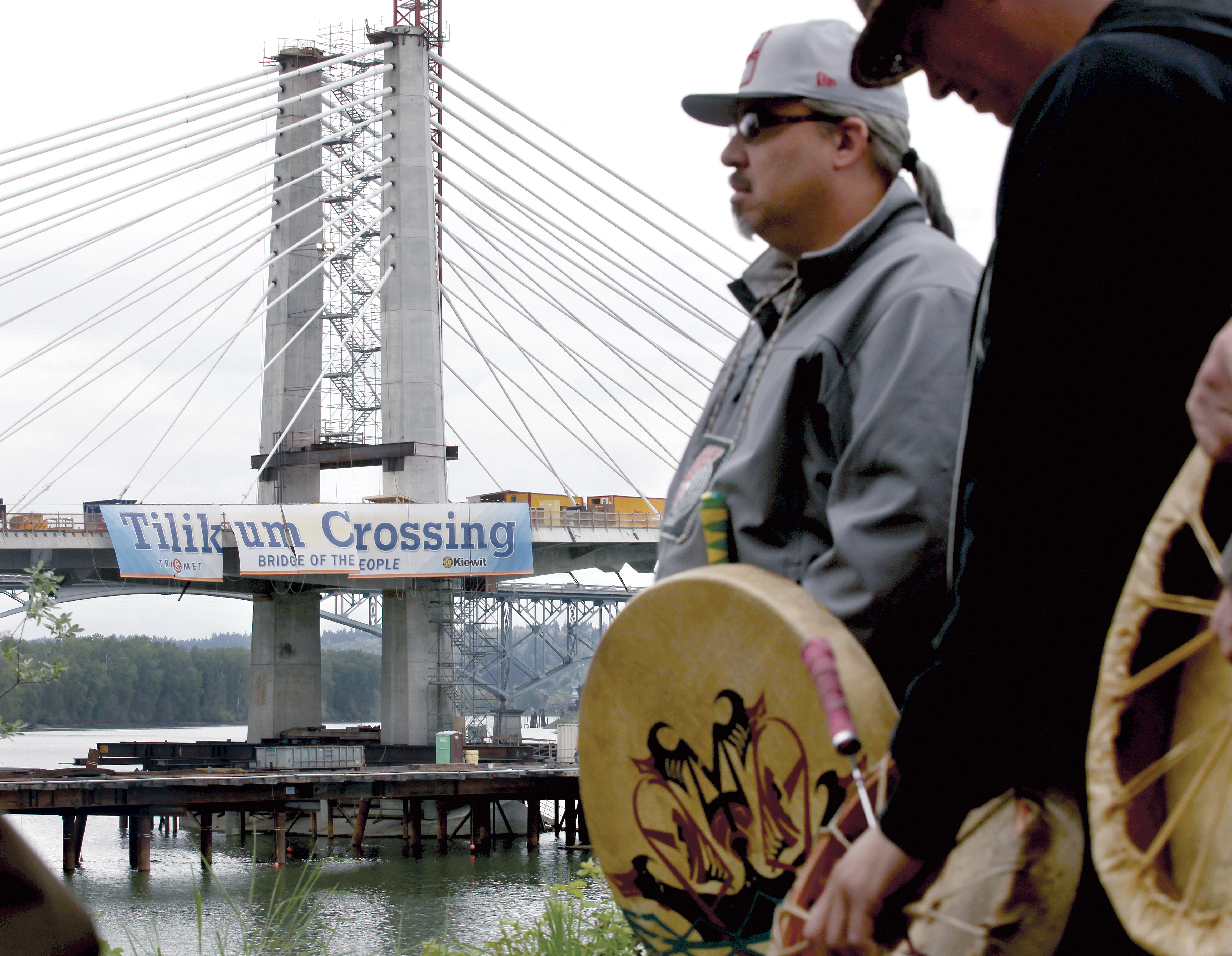 2014 – During a name revealing ceremony at the Oregon Museum of Science and Industry in Portland, the transit bridge over the Willamette River was officially christened Tilikum Crossing. The name was submitted by the Grand Ronde Tribe and means Bridge of the People in Chinuk Wawa. The idea to give the bridge a Native American name came from Tribal Public Affairs Director Siobhan Taylor after she met with someone from Tri-Met who was struggling with the dilemma that several different groups wanted naming rights to the bridge. "That's when I suggested a Tribal name be used," she said. "Give it a name that honors the original people of the Portland basin. Name it for the people who make up today's Grand Ronde Tribe."
2009 – Grand Ronde Tribal Elder Janet Billey was one of numerous Native Americans featured in the new coffee-table photography book "Faces From the Land: Twenty Years of Powwow Tradition," by Ben and Linda Marra of Seattle, Wash. Billey (Grand Ronde/Paiute) appeared on page 85 of the book in a full-page, color portrait. She also had appeared previously in a Native American-themed calendar created by the Marras. "I'm the great-granddaughter of chiefs who fought for our lands and signed treaties," Billey's accompanying text says. "I grew up among rodeos, powwows and generations of queens."
2004 – Members of the Spirit Mountain Community Fund and Tribal Council met to discuss way to ensure continued support of Oregon nonprofit organizations. Tribal member and Spirit Mountain Casino Marketing Director Adam Henny, a member of the fund board since its establishment, said he also was encouraged with results of the meeting. "I have been so pleased to represent both Spirit Mountain Casino and my Tribe on the Spirit Mountain Community Fund board over the last few years," he said.
1999 – The Grand Ronde Community Water Association and the Tribe announced a settlement of issues between them concerning the terms on water supply to Grand Meadows, the manufactured home subdivision owned by the Tribe. A dispute over water supply had been the subject of litigation between the two parties pending in Polk County Circuit Court. The settlement resulted in dismissal of the suit.
1994 – Tribal Council member Ray McKnight passed away at the age of 70 after having a stroke the month before. He had been a member of Tribal Council since 1987 and helped pioneer programs for the Tribe such as forest management, land acquisition and natural resources. The Grand Ronde Native worked most of his life as a logger. "Ray epitomized the 'people to people' form of government. He was active in the community and sought public opinion on issues," said Tribal Council Chairman Mark Mercier.
1989 – Willamina High School junior Angie Leno was named youth Tribal member of the month. She was an honor roll student and participated in student government. Her interests included learning more about her Tribe and pursuing a career in law. "Since everybody knows so much about me now, I will have to keep in touch from college and let everyone know how I'm doing," Leno said.
1984 – Grand Ronde Tribal offices were moved to the depot facility, with just a few finishing touches left to complete. "To any of you who saw the depot before work was started will be surprised at a little paint, carpet and a lot of dedicated manpower hours that resulted in a nice, new atmosphere for staff, council, administrator and Tribal members to enjoy," an article in Smoke Signals stated.
Yesteryears is a look back at Tribal history in five-year increments through the pages of Smoke Signals.