Culture
Memorial Day event scheduled for Monday, May 27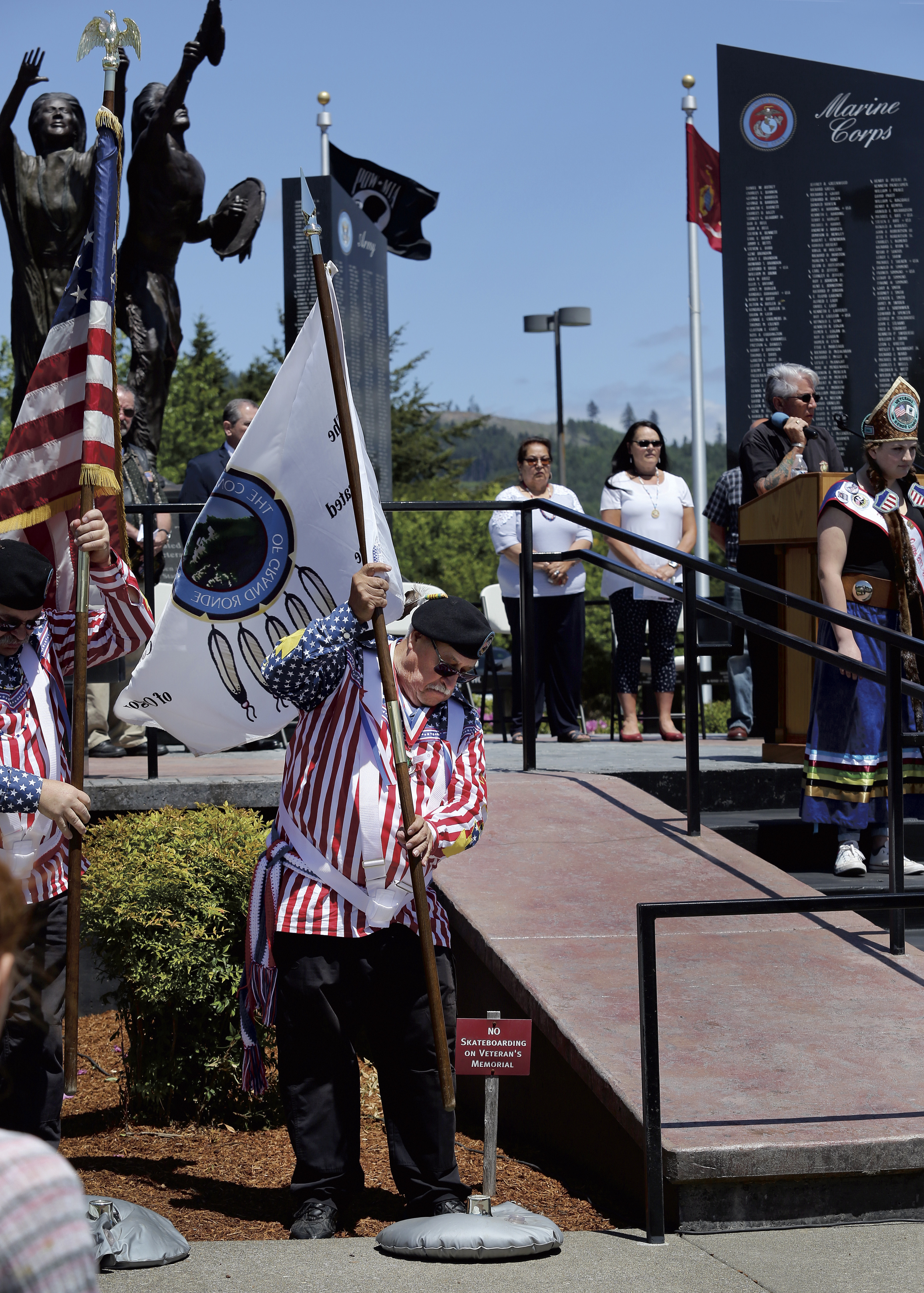 If you go
17th Memorial Day Ceremony
When: Noon Monday, May 27
Where: Tribal Community Center & West Valley Veterans Memorial, 9615 Grand Ronde Road
More info: 541-480-5932
By Dean Rhodes
Smoke Signals editor
The annual Memorial Day event at the West Valley Veterans Memorial on the Grand Ronde Tribal campus will be punctuated by 15 names being added to the four black granite pillars that represent the major branches of the U.S. armed forces.
Of those 15, four are Tribal members – Army veterans Mitchell Spohn and David Kurns II, Navy veteran Lonnie Riddle and Marine Corps veteran Rodney Smith.
The event begins at noon with a meal served in the nearby Tribal Community Center.
The outdoors ceremony begins at 1 p.m. with Tribal Council member Steve Bobb Sr., a Marine Corps veteran from the Vietnam War era, giving the invocation and serving as master of ceremonies.
Grand Ronde drummers will play a memorial song, Tribal youth JC Rogers will sing the national anthem as she did in 2016, '17 and '18, and Grand Ronde Royalty and Veterans Royalty will perform "The Lord's Prayer."
The Grand Ronde Honor Guard will post the colors and speakers will include Navy veteran Sheronne Blasi, director of Statewide Veterans Services at the Oregon Department of Veterans' Affairs, and Army veteran Eric Enderle, the Polk County Veteran Services Officer.
Blasi is responsible for providing advocacy and benefits to veterans, their dependents and survivors to ensure all veterans obtain benefits to which they are entitled from their military service.
Enderle holds both state and national veteran service officer accreditation through Oregon Department of Veterans' Affairs and the American Legion. He began working in veteran advocacy as an intern at Oregon Department of Veterans' Affairs in Salem while still in school. Prior to joining Polk County, he worked as a Department Service Officer with the American Legion in Portland.
In addition to the aforementioned Tribal members, names being added to the West Valley Veterans Memorial are Navy veterans Donald Marten, Ralph Fillible, Walter Van Orden and Mark Carl; Air Force veterans Jeremy Fillible and Charles Cinnamon; Army veterans James E. Black, James E. Black Jr., Gordon Calder Jr. and Edwin Roten; and Marine Corps veteran Mark Dolan.
Former Tribal Council Chairman Reyn Leno, a Vietnam War-era Marine Corps veteran, will read the names.
Spohn, who lives in Roscommon, Mich., served in the Army from 2007 to '14. He started as an interior electrician and then became a combat engineer, serving one tour of duty in Iraq and two tours in Afghanistan. He was wounded in both countries and is now retired, living on disability from Veterans Affairs and the Tribe. He is 43 and left the military as a sergeant.
Kurns, 37, served in the Army from 2001 to '13. He was a scout and saw two tours of duty in Iraq, including during the initial invasion, and one tour of duty in Afghanistan. He also was stationed stateside in Georgia, Colorado, Washington and Texas.
He left the Army as a staff sergeant and lives in Gearhart where he cares of his children.
Riddle, 67, served in the Navy as a data processing technician from 1971 to '81. He was stationed in San Diego, Wales and Maryland and retired as a petty officer first class.
"I enjoyed the 10 years I was in," he said from his home in Livingston, Texas. "I have no regrets."
He said the highlights of his military career were seeing many countries while serving aboard the guided missile cruiser U.S.S. Chicago and touring much of Great Britain while stationed in Wales.
Smith served in the Marine Corps from 1967 to '74 and served two tours of duty in Vietnam, where he worked in the ammunition dump loading bombs on to planes.
After leaving the Marine Corps, he worked primarily as a truck driver and lived in Lobster Valley near Waldport. He walked on March 2, 2019, at the age of 69.
The addition of 15 names brings the number of veterans honored on the pillars to 2,362.
The ceremony will close with Bud Abbott reciting his traditional poem "Remember Me, America" and Robert Thornburg performing taps on the trumpet.
The West Valley Veterans Memorial, which was dedicated in 2003, was designed by Bobb and features a man and a woman dressed in traditional Native clothing standing side by side reaching to the sky. Surrounding them are four black granite pillars, which feature the names of Tribal and community veterans from Grand Ronde, Willamina and Sheridan.