Health & Education
New video game features David Lewis' narratives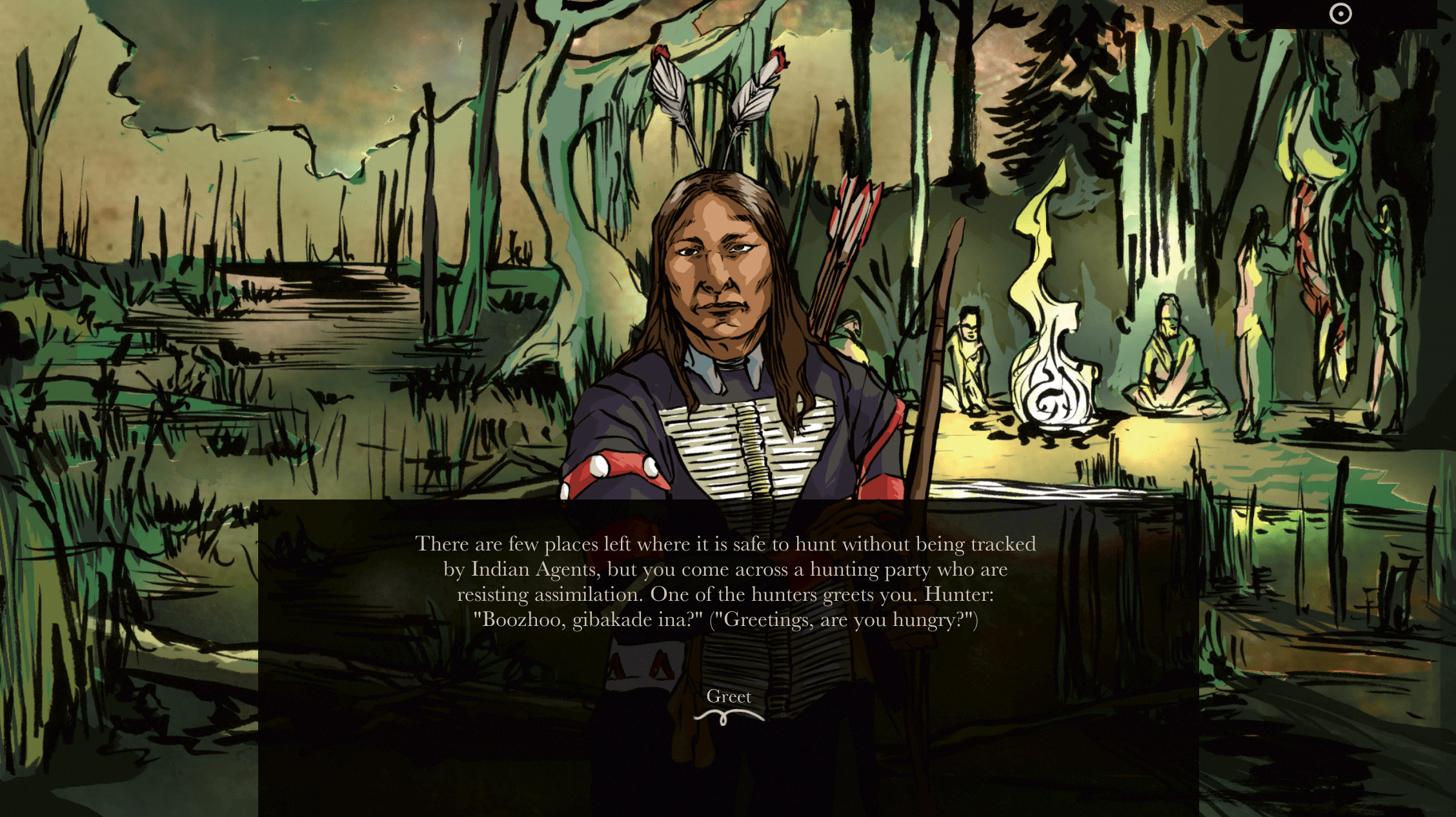 By Danielle Frost
Smoke Signals staff writer
Grand Ronde Tribal member David Lewis has a new title to add to his list of accomplishments -- indigenous video game contributor.
Lewis, an ethnohistory researcher and adjunct professor, wrote 14 narratives for the newly released "When Rivers Were Trails," an educational, 2-D adventure game that explores the effects of allotment acts on indigenous communities in the 1890s.
The game was developed in collaboration with the Indian Land Tenure Foundation and Michigan State University's Games for Entertainment, and supported by the San Manuel Band of Mission Indians.
The game was created by Elizabeth LaPensée, a former Grand Ronde-area resident and indigenous game developer. The game follows an Anishinaabeg in the 1890s who is displaced from Fond du Lac Reservation in Minnesota. The game features more than 20 indigenous writers.
Lewis, 53, became involved with the project after LaPensée contacted him online to write several game scenarios. It is his first foray into gaming.
"This was a great way to pass on knowledge in an educational and engaging format," Lewis said. "I would do it again."
LaPensée, 35, who is Anishinaabe, Métis and Irish, has been designing indigenous video games for several years. The assistant professor at Michigan State University made national headlines in 2017 when oil industry representatives, as well as state legislators in Minnesota, claimed her video game, "Thunderbird Strike," was encouraging eco-terrorism. LaPensée said she was only passing on stories from her indigenous community, and that anyone who had actually played the game could see it advocated for healing the land.
"When Rivers Were Trails" has been far less controversial and focuses on challenging players to balance their physical, emotional, mental and spiritual well-being with foods and medicines, while making choices about contributing to resistances as well as trading, fishing, hunting and honoring the people they meet as they travel through several states to get to California.
The journey can change from game to game as players randomly encounter indigenous people, animals, plants and run-ins with Indian agents. The lessons of sovereignty, nationhood and being reciprocal with the land are interwoven throughout the adventure.
"David Lewis was invited to write for the game because of his knowledge about history and his ability to develop characters who would represent experiences in the 1890s," LaPensée said.
She added that since the game was released in March, Lewis has shared the game at events in Oregon.
"That was exactly the hope, to build capacity by paying Native people for their work in team roles and not just as consultants, while determining their own self-representations for a sovereign educational game," LaPensée said.
Lewis' 14 game narratives included Battle Rock at Port Orford, Chetco/Brookings, Smith River Tolowa near Crescent City, Klamath River (Yurok, Hupa Valley, Shasta), Cascade Rapids, Portland, Willamette Falls, Champoeg, French Prairie, Grand Ronde and Siletz Reservations, Brownsville, The Applegate Farm and Table Rock.
"I had to write greetings in numerous, different Tribal languages and address the places they were from appropriately for the time period of 1890," Lewis said. "It's interesting that the game is structured so late, the 1890s, which is when colonization was happening in the Midwest, while our colonialization in Oregon had happened 40 to 50 years previously. … I wrote the narrative and tried to be true to the time period."
After playing the game, Lewis said it's challenging, but incredible at the same time. He has decided to assign the game as a regular part of all of the Native studies classes he teaches.
"To find all of these peoples in one game is amazing," he said. "I hope the kids get involved with the game, and that it is offered as part of the indigenous education of our children so they grow up learning about the many Tribes."
"When Rivers Were Trails," is available for download on iTunes and Google Play stores, and for PC/MAC play at https://indianlandtenure.itch.io/when-rivers-were-trails.