Tribal Government & News
Mercier checking out new chapter in her life after more than 28 years of Tribal employment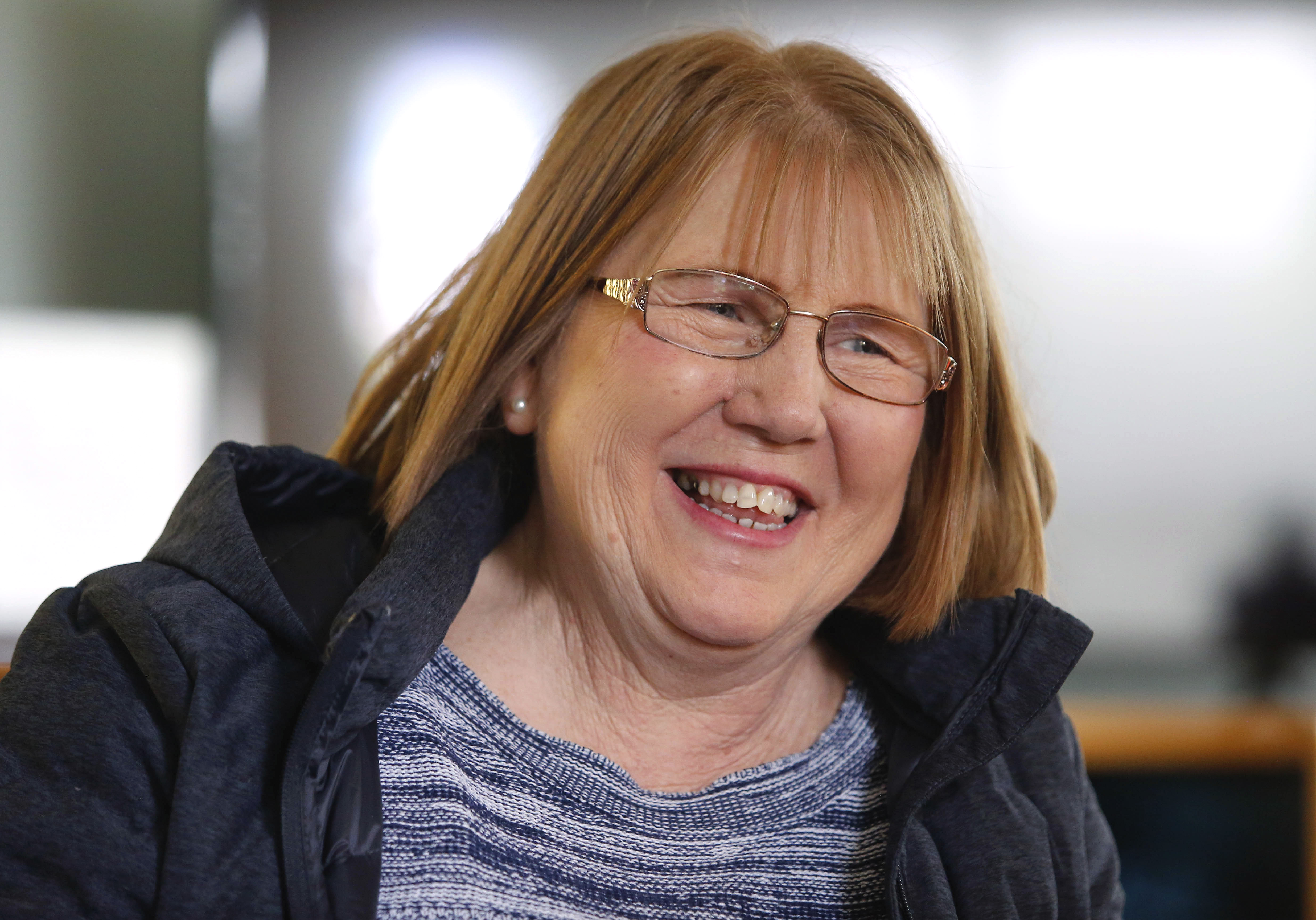 After more than 28 years with the Tribe, Librarian Marion Mercier is trading in her library card for retirement adventures.
"It's time," she says. "I'm looking forward to visiting libraries, museums and small towns across the state, and doing some rock hounding."
A lifelong Oregonian, Mercier, 64, grew up in Grand Ronde and began working for the Tribe's Social Services Department in 1990 as a caseworker. Her tenure puts her among some of the Tribe's longest-serving employees.
"I was going to retire at 62, but our library patrons are wonderful and I feel like I have the best job at the Tribe," she says. "But it's time for new things."
After three years with Social Services, Mercier transferred to the Education Department, where she served in several roles before becoming the librarian. She helped plan the library building's construction while serving as the Tribe's Education manager.
"It was a big change when the library moved here (in 2002)," she says. "Prior to having a location, the library collection was very limited and mainly used by employees and Education Department students."
During the past 16 years, the library has been expanded and remodeled, and its collection has grown from 800 to 18,000 items.
After five years as Education Department manager, Mercier started working as the librarian in 2006 when the Tribe began funding the library.
"I enjoy the people that come into the library the most and I also enjoy the collection we have here," she says. "This is a great work environment and has been an awesome experience. We get a lot of support from our Tribal Council."
Interim Education Department Manager Bryan Langley has worked with Mercier since 1991.
"We go way back," he says.
Mercier was on the interview panel when Langley was hired in 1991 in the Social Services Department, and the two worked together at the old train depot.
"I remember one time when Marion came to my rescue when I first started. I had a Tribal member who misunderstood what I was trying to tell them over the phone and they got upset," he says. "A half-hour later, a truck came sliding into the parking lot in front of the depot and I said, 'I think that is for me.'  The individual came in and was very upset, and would not calm down. Marion came out and asked the individual to leave."
Langley says that while he is sad to see Mercier leave, he is excited for her new adventures.
"It is sad to see Marion leave because she has been such a big part of getting the education programs to where they are today," he says. "We are all super excited that Marion is retiring and getting to do whatever she wants. … I think I am a little jealous."
Although Mercier has enjoyed her time working for the Tribe, especially as a librarian, she wants time to pursue other passions while she is still young and healthy enough to do so.
"I feel like I have been working since I was 9 years old," she says. "I'm tired of being on a schedule and am ready to do some other things I have put off doing. It will also be nice to visit family more. Even though I live in the local area, we don't get together the way we used to. Just dropping in on people is a thing of the past. When I was growing up in Grand Ronde, we did that a lot."
Mercier is the daughter of Rose (Reznicsek) and Marion Mercier. Her grandparents were Agnes (Leno) and Arthur Mercier, and Myrtle (Robson) and Adam Reznicsek.
She has two children, Candi Buswell, who works for the Tribe's Adult Foster Care lodges, and Anthony Henry, who works as a groundskeeper for Facilities. She also has two grandchildren, Ava Fagundes and Josh Henry.
Although Mercier acknowledges it will take some getting used to, she is excited about the prospect of sleeping in on the weekdays if she feels like it and having the time at home to do projects such as organizing and painting.
Her favorite memories of being a librarian are having the youth groups come into the library and listen to the volunteer readers tell stories to groups of children.
"They each bring their own personality, and it is fun to listen to different people read about different things," Mercier says.
She has several favorite books, which range from classics to children's stories. Some of these are "The Giving Tree" and "Where the Sidewalk Ends" by Shel Silverstein, "Gone with the Wind" by Margaret Mitchell, "Treasure Mountain" by Evelyn Sibley Lampman, "The Last Yoncalla" by Dean Baker, "Reservation Blues" by Sherman Alexie, "My Sister's Keeper" by Jodi Picoult, "To Kill a Mockingbird" by Harper Lee, "Words Under the Words" by Naomi Shihab Nye, "Wild About Books" by Judy Sierra, "Duck on a Bike" by David Shannon and "Someday" by Eileen Spinelli.
"If it's a fun topic and somewhat inspirational, I love that book for kids," Mercier says. "Young kids need something fun and meaningful. I also like the classics, poetry and good stories in general that keep my attention and have enough details."
Mercier retired Jan. 31 and Recreation Specialist Harris Reibach will serve an interim librarian beginning in February. He has been training with Mercier to learn the ins and outs of library work.
"I truly believe this is the best job at the Tribe," she says. "I believe that because when people come in here, they want to be here. That makes a real difference."
She advises her successor to remember that people come first in the job.
"When you are working at the library, you are there to provide a service," Mercier says. "You want people to feel welcome so they can accomplish what they need. We are there to serve and I hope the library always remembers that is a priority."
Mercier is also grateful for the Tribe's Restoration in 1983, which has allowed her to work in Grand Ronde.
"It's been nice to stay in our community and have a job that allowed me to be here and raise my family, and not have to move away," she says. "Being a part of the Tribe is such a blessing and our library patrons are wonderful."