Culture
Education key to first Tribal lawyer hired by Legal Department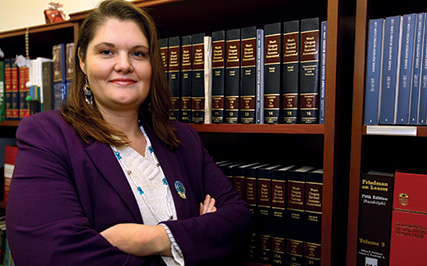 Holly Partridge, 34, has been headed for college and law school for as long as she can remember.
"I always knew that I would go to college," she says, but after her marriage to Kelsey Partridge in 1999, "life decided I would have to put it off for a while."
Later in 1999, Kelsey went from service in the Oregon Army National Guard to active duty at Fort Lewis in Tacoma, Wash. He was transferred to Fort Bragg in North Carolina where, trained as a heavy equipment operator and a paratrooper, he deployed twice for Afghanistan.
"Kelsey's deployments were hard on the whole family," Holly says.
On his second deployment, "They told the soldiers that they were going on such a dangerous mission that they needed to prepare their families for the high likelihood that they would not return."
Also on the second deployment, Kelsey had to ship out when their second child (James, now 10) was five days old.
Back at Fort Lewis in 2005, Kelsey deployed for a third time, this one to Iraq, where he went as support. He saw action in both his second and third deployments.
It was also in Tacoma, with the birth of her third child, Dawson, now 9, that Holly could no longer keep her education on the backburner.
She began her adventure in post-secondary academics by calling the Tribal Education Department.
"They walked me through the process of applying," she says.
Holly enrolled at Tacoma Community College, where she began her studies. Kelsey was in Iraq, and their youngest child, Shane, now 7, was born during this busy time.
Still, Holly graduated in 2009 with an associate degree in Arts and Science with a Gender and Ethnic Studies certificate.
"This is where my passion for studying politics and, in particular, Native American politics, as it pertains to sovereignty, started," she says.
Meanwhile, their family had grown to five children – Austin, now 19, Brandon, 14, James, 10, Dawson, 9, and Shane, 7.
By the time Holly graduated from Tacoma Community College, Kelsey had been promoted to drill sergeant and the family was transferred to Fort Benning in Georgia.
Holly enrolled at Columbus State University in Georgia. She graduated magna cum laude in 2011 with a bachelor's degree, a Political Science major and a focus on Native Policy and Sovereignty. During her senior year, she interned at the Columbus, Ga., District Attorney's Office as a victim/witness advocate.
Later that year, Holly moved to Oregon and enrolled in Lewis & Clark Law School. Kelsey started the medical retirement process, and he and the boys moved a year later when his retirement was finalized.
Holly graduated with a law degree at the beginning of 2013 and passed the Oregon Bar in May.
Along the way, she volunteered for six years with the Family Readiness Group that supported families with deployed soldiers.
She also served as a Native American Law Student Association board member, participated in the NALSA Moot Court, a summer Indian law program held on the Flathead Indian Reservation in Montana, and received a Pro Bono Honors award for her volunteer work.
She also interned in Portland at the National Indian Child Welfare Association and at a law firm specializing in Indian law.
Kelsey is now himself enrolled in college at Western Oregon University in Monmouth. The family moved to Grand Ronde when Holly began working at the Tribe in the Land and Culture Department in April.
Since her days at Tacoma Community College, she has been fired up about Indian affairs, and since those days she has been inexorably headed to work at the Tribe.
In her first position, as a Ceded Lands specialist, beginning in April, she learned from Ceded Lands Manager Michael Karnosh. She served as Tribal representative for the cleanup of the Portland Harbor Superfund site. The Tribe has long had an environmental interest in making sure the harbor, located in the Tribe's ceded lands, is cleaned up properly.
It was not even two weeks after starting in Ceded Lands that she passed the Oregon Bar, and with that credential in hand it was only a few more months before she became the first Tribal member hired to work in the Tribe's Legal Department. She was hired as an Honors Attorney, a position designed for Tribal lawyers without the requisite two years of legal experience.
The two-year program enables Holly to work with staff attorneys throughout the office to gain the legal experience required.
Today, she is again working on the Portland Harbor cleanup, but this time from a legal perspective.
From her earliest days, her family, from Astoria, had only had a cursory connection with the Tribe. They had attended powwows and other Tribal events when Holly was growing up, she says, but not much more.
Today, she says, she is getting acquainted with her Tribal family. Among them are cousins Marline Groshong, who is chair of the Ceremonial Hunting Board, and Sharon Wattier, who works at the Tribal Health Clinic.
Holly's paternal grandmother, who has walked on, was Genevieve Ray (Lafferty).
Her parents are Tribal member Wesley Shaw and his wife, Ronda, who is a member of the Crow Creek Sioux Tribe. The Shaws have followed Holly and now live in Grand Ronde.
Holly says she is passionate about Tribal members receiving an education.
"I would like to see all Tribal members graduate from high school and pursue some type of post high school education," she says. "Tribal members should know that there are other resources out there for those that feel like there are too many obstacles in the way, including scholarships and programs designed to help Native students transition to college life.
"I would love to mentor other Tribal members in their educational journeys. I want to be able to show them that if I can make it through college and law school with all the hurdles I faced, then anyone can."