Health & Education
Community meeting focuses on opioid addiction treatment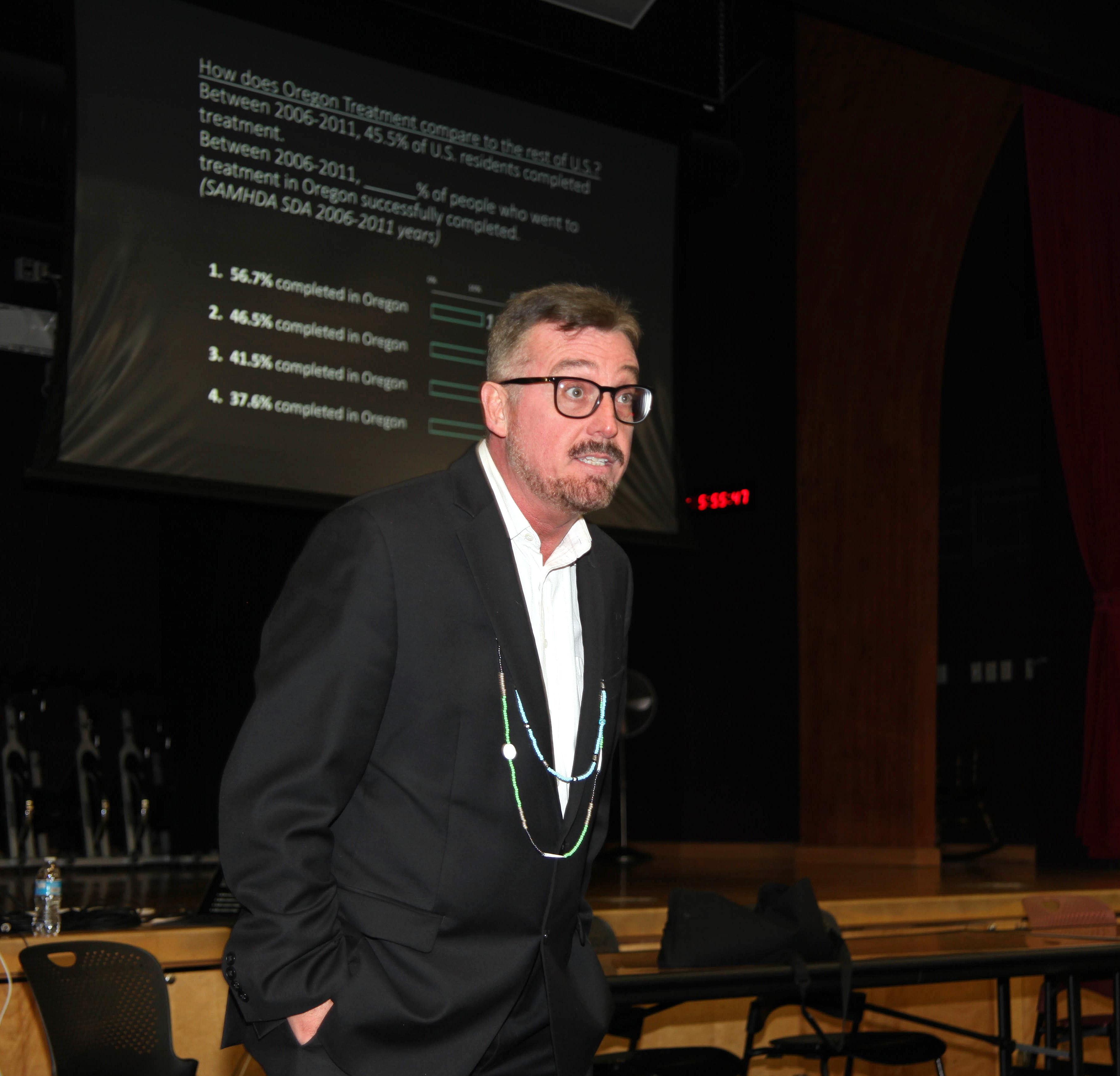 Oregon has the highest rate in the nation of senior citizens who are hospitalized for opioid-related issues. The state also has the sixth highest percentage of teenage drug users, according to a recent audit from the Secretary of State's office.
Across the United States, the problem of opioid use has become so pervasive that it has been declared an "epidemic" by the Centers for Disease Control and Prevention, with 2017 seeing the highest number of drug overdoses – 72,000 -- in U.S. history.
Native Americans have the highest overdose rates of prescription opioids, according to Oregon Health Authority data.
With these sobering statistics in mind, the Confederated Tribes of Grand Ronde Health & Wellness Center sponsored a town hall-style discussion about the state's efforts to reduce opioid addiction and overdoses, and how local communities can assist in the effort. Thirty-two community and staff members attended the event.
"There are lots of services we provide around substance use," Health Services Executive Director Kelly Rowe said. "What we want to do is inform the community about opioids. It's a crisis that is happening at every level and we want to be able to have a conversation about it."
Opioids are a class of drugs that include the illegal drug heroin, synthetic opioids such as fentanyl, and pain relievers available legally by prescription, such as oxycodone, hydrocodone, codeine, morphine and many others.
Guest speaker Eric Martin, a nationally certified addictions counselor, has 32 years of experience and is also an international presenter and recovery advocate.
"The United States is the number one overdose death country in the world," Martin said. "Drug overdose deaths are highest amongst young people."
National nonprofit Mental Health America ranked Oregon as the state with the highest rate of mental health and substance use problems. Gov. Kate Brown declared addiction and substance abuse to be a public health crisis in March.
In response to the nationwide opioid epidemic, the U.S. Senate passed an $8.4 billion opioid package bill with much of the federal funding going to medication-assisted treatment, Martin said.
"It was the largest amount of cash for addiction services ever," he said. "Some of that is for medication-assisted treatment with suboxone and methadone, the largest expansion ever. … But methadone clinics are very expensive to start up, which is a good reason to look at suboxone. It's also incredibly safe."
Methadone has been used to treat heroin addiction since the 1950s and suboxone, a combination of buprenorphine and naloxone, was first approved for use in the United States in 2002.
The Health & Wellness Center hopes to begin offering medication-assisted treatment in January. Rowe said it will not replace abstinence-based programming, just add to what is already in place.
"This is just another tool in our toolbox," she said. "This is another part of the program."
When it comes to providing access to treatment and recovery support services for those with substance use disorders, Oregon ranked last in the nation.
"The critical part of treatment is right at the beginning," Martin said. "Oregon has some of the best treatment in the United States, but a lot of people think it is awful because of the long wait for a bed. … It takes two to six months. By the time the bed opens, that person is usually long gone."
He added that if a person can get into treatment, many opioid-dependent people drop out within 72 hours of starting the program due to the severity of withdrawal symptoms.
"That is why we have methadone and suboxone," Martin said. "These medication programs were started because the counselors couldn't get them to stay in a program."
Although almost every recovery program includes medication-assisted treatment for up to a few months, opioid-dependent individuals often need it for much longer to avoid relapse.
"This has been frowned upon in the recovery community and we have stigmatized and rejected them," Martin said. "The problem people have with drug treatment for opioids is the length of time it takes. The average is two years. There is a common belief that people are on medication-assisted treatment for decades. … Instead of rejecting them, we should bring them closer and hopefully inspire them to a completely clean and sober lifestyle. Pushing them away leads to isolation."
Martin said that if President Donald Trump gets his wish and builds a wall separating the United States and Mexican borders and the heroin supply coming from Mexico gets cut off, it will lead to far greater problems as addicts will seek synthetic opioids like fentanyl, which is 80 to 100 times stronger than morphine.  
Pharmaceutical fentanyl was originally developed for pain management of cancer patients and applied in a patch on the skin. However, it is also used illegally to increase heroin's potency and disguised as a prescription opioid. According to the Drug Enforcement Administration, many users believe that they are purchasing heroin, which often results in overdose deaths.
"Some types are so strong that overdose medications like naloxone, which reverses the effect of an opioid overdose, doesn't work," Martin said. "This is another reason why we need medication-assisted treatment. If you take drugs after suboxone, you don't get high. If an addict tries to use OxyContin or Vicodin, nothing happens."
To be prescribed suboxone, a person must be in withdrawal.
"We have a psychiatric nurse practitioner on board who has provided these services (elsewhere) for years," Rowe said. "The idea is that if we are paying for this, the ability to bring it here and have it local at the clinic is helpful. This is a tool so people don't have to travel to Dallas or Beaverton to get the recovery services they need."
After the meeting concluded, a panel discussion was held that included Chemical Dependency Counselor Joe Martineau, recovering addicts, Grand Ronde Tribal members Denise Haskins and Ronald Johnson, and Health & Wellness Dr. Paul Vitt. All agree that medication-assisted treatment would be helpful to add to the clinic's services.
"This is different than our abstinence-based programming," Rowe said. "We want to look at how we can help the most people in our community. The conversation we've had tonight informs us. We're all about wanting to make people well and healthy."
In addition, in late October Tribal Council approved hiring a legal firm to represent the Grand Ronde Tribe in a multi-district opioid litigation on a contingency fee basis.