Culture
First 'Gathering of Grand Ronde Tilixam' held April 11-13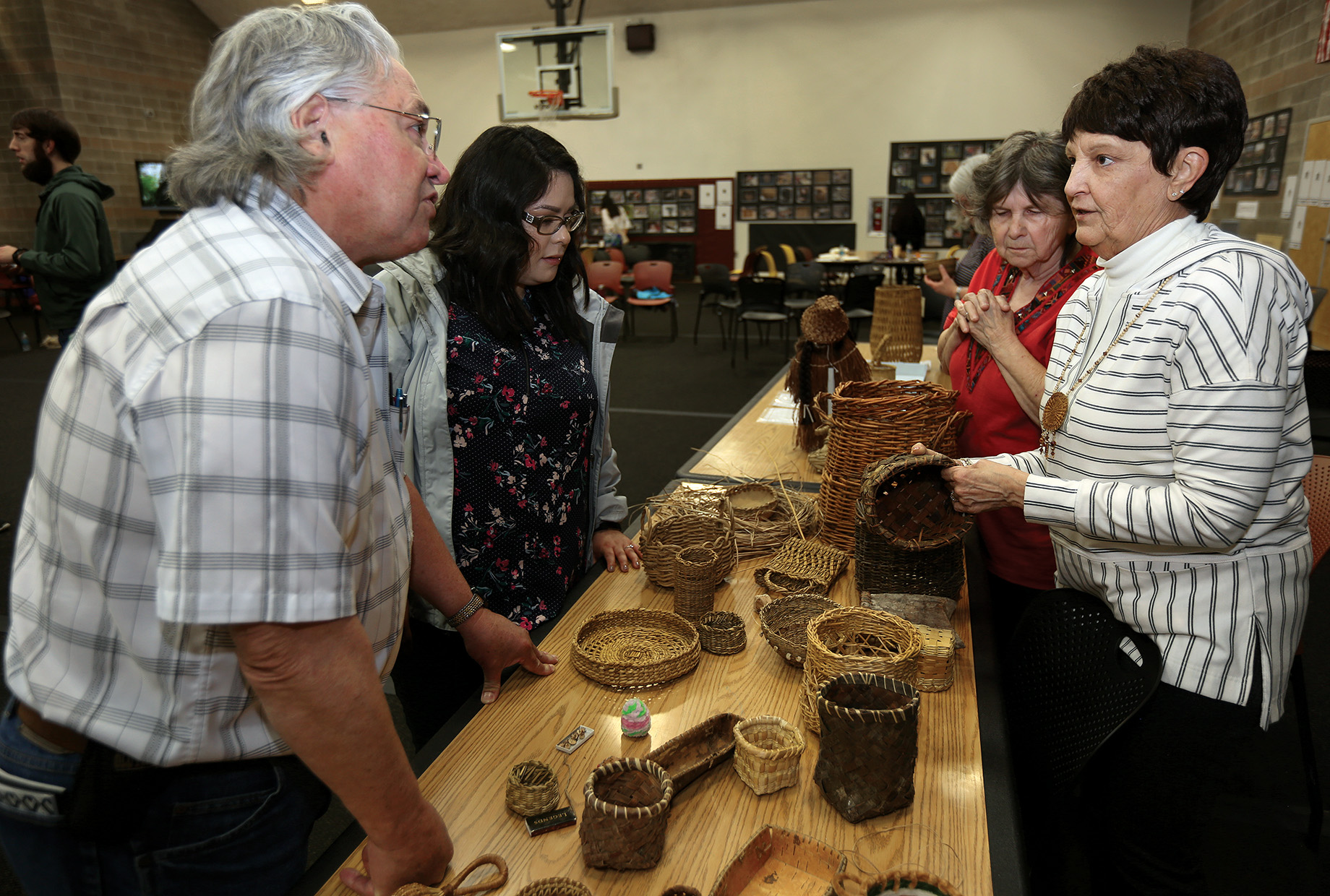 By Danielle Frost
The Grand Ronde Tribe has faced considerable historical obstacles: Being forced on to a Reservation, discouraged and sometimes legally required to abstain from traditional practices and lifestyles, Termination in 1954 and the subsequent relocation of many Tribal families.
After years of hard work and perseverance, the Tribe was restored in 1983 and has subsequently flourished, albeit with its share of struggles and growing pains.
The first three-day Gathering of Grand Ronde Tilixam, held Wednesday through Friday, April 11-13, in the Tribal gym sought to give Tribal members an opportunity to connect, remember the past and learn how to best take care of the community into the future.
"Tilixam" means "people, family or gathering" in Chinuk Wawa. Evidence of that could be found in historical photos and sketches that lined the walls of the Tribal gym. These included pre-Reservation, early Reservation and community images depicting everyday scenes of work, home, school and social gatherings, as well as solemn portraits of chiefs and other Tribal leaders.
"We have lots of strengths and are a very resilient people," Tribal Social Services Manager Dana Ainam said. "We will spend our time here remembering our history and learning how to take care of ourselves and our community."
Ainam spearheaded the effort behind the event, along with the Cultural Resources Department and the Native Wellness Institute of Gresham. Seventy-three people registered for the event, which had a limit of 100 attendees.
The institute's mission is to promote the physical, mental, emotional and spiritual health of North America's indigenous peoples, and to bring about positive changes. It has existed for 18 years and organizers have facilitated hundreds of community healing gatherings throughout North America using the "Gathering of Native Americans" – GONA -- curriculum, according to Executive Director Jillene Joseph, the event's facilitator.
The "Gathering of Native Americans" curriculum model was developed between 1990-94 by several founding institute members. Organizers say it has stood the test of time as an effective healing and planning model for Tribal communities addressing effects of historical and intergenerational trauma.
"Some of us grew up with unspoken rules in our families … especially not to feel ... this event is breaking free of those norms," Joseph told attendees on Wednesday. "We want to create a sense of belonging, mastery, generosity and interdependence."
The event opened with drumming and singing led by Tribal Elder Greg Archuleta, Cultural Advisor Bobby Mercier, Cultural Education Coordinator Jordan Mercier, Cultural Education Specialist Brian Krehbiel, Recreation Specialist Harris Reibach and Cultural Education Specialist Flicka Lucero.
On the second day of the event, Cultural Recourses Department Manager David Harrelson and Cultural Protection Specialist Nick Atanacio also participated in the opening song.
Bobby Mercier led the prayer the first day, thanking the participants and presenters for the work that would be done.
Tribal Council members Denise Harvey and Lisa Leno attended portions of the first day.
The Chinuk Immersion Preschool class performed a "Canoe Song," assisted by their teachers. Joseph then invited the adults to do "healthy risk taking" and join the children in a second "Blue Heron Song," which involved flapping their arms and squawking. Most of the audience participated.
Jordan Mercier assisted with event planning and said he was excited to see what would unfold.
"I think it will be a great thing for the community," he said. "I have attended another GONA and know the power it can have to heal and help us all. The curriculum is tailored to our community. … This is all about us."
Archuleta and Bobby Mercier told the story of Spirit Mountain and its significance in Tribal history.
"It is a special place and was important for transformation and for change as you became a young man or young woman," Archuleta said. "You would spend nights up there doing projects. … Today, we have occasions where we will take people there to see it."
Bobby Mercier recalled hairpin turns and roads that required a four-wheel-drive vehicle to get to the top. Often, youths were told to get out and walk.
"As a young man, I spent a lot of time going up and down there," he said. "We used to take grandma up there for picnics. There were no trees and you could see all of the mountains. I remember playing up there and never really thinking much of it at the time. … Now, I am very thankful to be around that place when there was nothing but a bunch of burnt stumps."
During the event, the microphone was passed around and participants were asked to describe things for which they are grateful. One notable attendee was Tribal Elder, past Tribal Council chairwoman and key Restoration figure Kathryn Harrison, 94.
"I am very grateful to be here," she said. "It was always in my plans to come home. I was raised as a foster child and when I came back it was the right time in my life. After losing dad at a young age … the Elders became my family and I feel their presence to this day."
Tribal Elder and basket weaver Connie Graves, who has been teaching classes for several years, presented her work and described basket making as a "tactile art."
"It is a very innate process," she said.
Graves described wanting to learn how to weave baskets as a young adult, but not being able to find anyone to teach her.
"My grandma was discouraged and even punished for doing these things in her generation," she said. "This sounds bad to say, but grandma wanted us to be white. She went through the persecution at Chemawa and didn't want us to suffer. … The fact that my nieces and nephews and grandnieces stand proud of their heritage makes me almost want to cry because just two generations ago it wasn't that way."
She then invited participants to approach the table and touch the various items as a part of the learning process.
Other activities on the first day included how to create "family," team-building activities and sharing team shields.
Tribal members Tracie Meyer, Nina Portwood Shields and Joanna Brisbois sat together before the event began on Thursday, April 12.
"I decided to come because I feel the Tribe is pretty divided right now and I am trying to find some personal reconciliation," Meyer said. "I really loved the dance with the kids yesterday. That was a lot of fun. I also enjoyed getting to know people in a different way in our little family groups. It was nice to hear everyone's story."
Shields drove from Portland to attend because she was interested in "healing the divide" she feels has risen within the Tribe.
"I really enjoyed the River of Life activity," she said. "It was hard, but an incredible process. Telling people my story and sharing personal details was tough, and hearing other stories was touching."
Brisbois heard about the gathering a few months ago and decided to attend out of curiosity.
"I think tying in everything at the end yesterday, and sharing our thoughts and feelings was really helpful," she said. "It's also really nice to meet new people and put faces to names I see."
Morning activities on Thursday included a discussion on historical trauma and cultural oppression, and an audio recording of Jordan Mercier's grandfather recalling the disappearance of 12-year-old Floyd Hudson in 1928 and how Indian Shakers were able to locate his body.
"You get a sense of real loss in the community, but also how it can bring people together," he said.
Afterward, Joseph said that one of the key things she had heard the first day is that one family had four generations who repeated the same unhealthy patterns, which is an example of intergenerational trauma.
"These patterns are repeated because they are not stopped," she said. "Many people's attitude is, 'Why can't you just get over it?' I agree we need to get over it, but first we need to figure out what the 'it' is. Trauma is the reason why, and healing is the answer to move forward and start breaking cycles."
Other planned activities, which occurred after press time, included a historical wisdom resiliency panel, renewal strategies, a language lesson, sharing community resources, developing a team plan, a self-evaluation and living in balance.