Culture
ATNI Winter Convention draws representatives from Northwest Tribes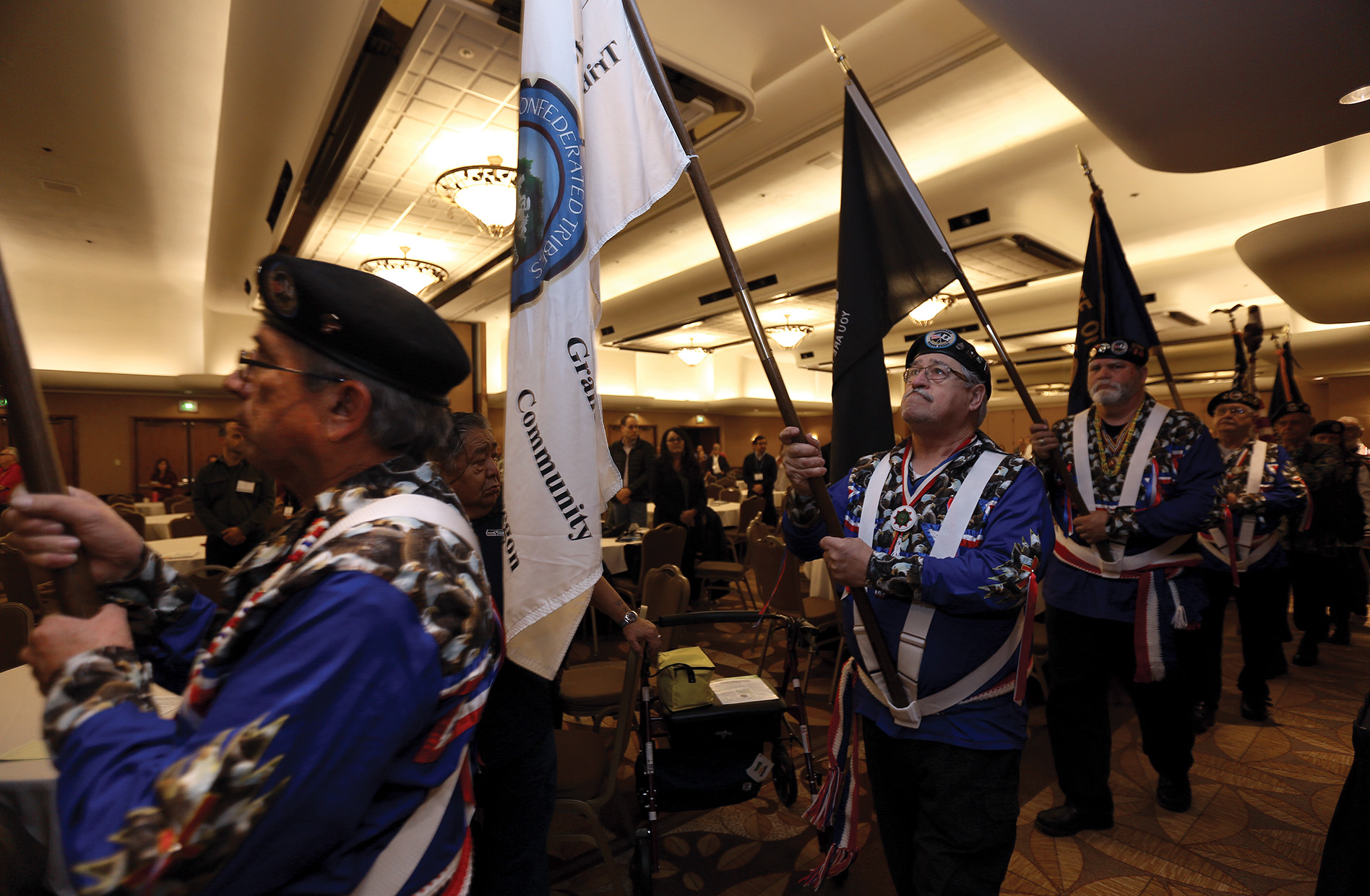 By Danielle Frost
PORTLAND – The Grand Ronde Tribe was well-represented at The Affiliated Tribes of Northwest Indians' Winter Convention.
The annual event, held Monday through Thursday, Jan. 22-25, at the DoubleTree Hilton, occurred in the Tribe's ceded lands and is an opportunity for meetings, discussion, presentations and committee work that affects policy, legislation and the future of Indian Country in the Northwest.
Grand Ronde Tribal Council Secretary Jon A. George gave the invocation, asking for a blessing upon ATNI staff, Tribal leaders and the city of Portland.
Cultural drumming and singing were led by Tribal Cultural Advisor Bobby Mercier, Tribal Cultural Education Specialist Brian Krehbiel and George, and Kevin Paul of the Swinomish Tribe.
Colors were posted by the Northwest Indian Veterans Association, as well as Grand Ronde Veterans Honor Guard members Al Miller, Steve Bobb Sr., Raymond Petite and Rich VanAtta.
Tribal Council members who attended the Monday morning session included Chairwoman Cheryle A. Kennedy, Vice Chair Chris Mercier, George, Kathleen George, Jack Giffen Jr., Brenda Tuomi and Lisa Leno.
Also attending were Tribal Attorney Rob Greene, General Manager David Fullerton and Tribal Economic Development Administrative Assistant Meghan Zimbrick. The Tribe also sponsored the Monday morning continental breakfast.
Portland Mayor Ted Wheeler gave welcoming remarks before he was due to swear in the city's newest police chief.
"It was very important for me to be here," Wheeler said. "All of us understand that these conventions are an important opportunity to bring together Tribal nations from all across the Northwest. … The peoples who lived here first were not of my people. They were of yours, but we can work together caring for our resources, having well-maintained infrastructure, workforce development and economic opportunities across the Pacific Northwest. The hallmark of success is what we leave to future generations."
Wheeler also touched on Portland hiring a Tribal liaison to help foster collaboration.
"Our city will be faced with important decisions," he said. "We have to ensure that we have the means to work together in a collaborative way. My job is to ensure you are engaged with us every step of the process."
Kennedy was a featured speaker on Monday morning.
"It was very heartwarming to see all of our veterans, so honorable, and our drummers and singers," Kennedy said. "I appreciate the prayers and strength that come from the songs and the beat of the drum. For the executive board, thanks for the good work that you do, and the staff of ATNI. I'm also very pleased to see the young people here, our future leaders."
Kennedy noted that the conference's location was held on homelands of the Confederated Tribes of Grand Ronde.
"We, as Indian people, have survived for thousands of years on our land," she said. "We have been through many difficulties. … We were a terminated Tribe. … I'm pleased to say today that we are here and we are strong."
The conference began amidst the federal government shutdown, which has since been rectified.
"Many uncertainties are unfolding … but we have lived through greater, more horrible obstacles," Kennedy said. "We will get through. I welcome you here. … When we put our minds and hearts together, the answers will come."
ATNI President Leonard Forsman, a Suquamish Tribal member, discussed the state of the organization amid an ever-changing federal government.
"The Trump administration has been very chaotic, inconsistent and, in some ways, not very effective," Forsman said. "The most concerning part is the intolerance and racism that has been encouraged. It is difficult for us to witness as Indian people, because we know what that can result in."
"I always find it confusing and heartbreaking when they (the Trump administration) bring in a piece of federal law like the Second Amendment or mining agreements and say it should be protected, it is untouchable, but for Indian treaties? No, they say those are different. We need to remind everyone that we are the first Americans. We have to continue to tell our creation stories and protect our sacred lands."
Forsman noted that in both rural and urban areas, Tribes are often one of the largest employers of Natives and non-Natives.
"I don't think people realize that sometimes," he said. "Those that have us should be grateful we are here. Tribes are providing income, investment and long-term stability to the economy."
Forsman also touched on the reorganization of the Bureau of Indian Affairs under the Trump administration.
"I'm a little concerned about the Interior's approach to bringing field workers into the local communities," he said. "They're moving a lot of people out of the central office, because I believe the further out they are from the Capitol, the shorter their memories become about their trust responsibilities."
Natural resource protection is another battle with the current administration, Forsman said.
In early December, President Trump significantly reduced the size of two national monuments in Utah, the largest rollback of federal land protection in the nation's history. Bears Ears National Monument was cut by 85 percent and Grand Staircase-Escalante was reduced to half its current size. The move is intended to encourage development on public lands.
"It is a direct attempt to sever the connection of Tribes to their homelands," Forsman said. "We have been pushing back on this as hard as we can. If they succeed there, we will really be in danger."
Brian Cladoosby, chairman of the Swinomish Indian Tribal Community and past president of the National Congress of American Indians, discussed how HOPE, a committee to combat opioid abuse, had not considered any Tribal input.
"Yet, we are the group that is impacted by that the most in the United States," he said.
Along with proposed cuts to health services, national monuments and other environmental protections, Trump also discontinued the Obama-era Tribal Nations Conference, which brought together Tribal leaders from across the United States to interact directly with high-level government officials and members of the White House Council on Native American Affairs.
When asked about the cancellation, Cladoosby said that he wasn't surprised.
"I'm not shocked at all," he said. "Trump hasn't understood the concept of government-to-government relations, the concept of trust responsibilities or the concept of treaty rights."
Robert Miller, a recent appointee to the Grand Ronde Court of Appeals, discussed his book, "Reservation 'Capitalism:' Economic Development in Indian Country."
Miller is a professor of the Sandra Day O'Connor College of Law at Arizona State University and was giving out complementary copies of his book.
"I want our leaders to focus on creating a private sector economy on Tribal land," Miller said. "Every dollar our people get, they spend it off the Reservation. In a lot of the surrounding cities, they don't even like us. But they will take our money. I want to see us keep the money in our communities before it bleeds away."
Miller cited an example of the Navajo Nation, the largest reservation in the United States with a population of approximately 193,000, but only 305 private businesses.
"I am trying to get us to focus on a whole new area of economic development that I don't think too many of us put focus on," he said.
Another highlight from the four-day conference was a reception for John Tahsuda III, acting assistant secretary for Indian Affairs with the Department of the Interior.
Tribes also were encouraged to sign the ATNI declaration, "We Are Still In," in support of the Paris Climate Accord. The Trump administration pulled out of the agreement to keep the United States a global leader in reducing carbon emissions.
"For our Tribal nations, sound stewardship of the land and its bounty are among our core values. While we recognize accordingly that our ways may have not caused climate change, Tribal communities will continue to endure a disproportionate impact," the statement reads.
The Native American Voting Rights Coalition also held a hearing at the convention on Wednesday, Jan. 24, to learn more about Tribal member experiences with voting in federal, state and local non-Tribal elections. Issues addressed included whether Native voters have opportunities in their communities that are equal to those of non-Natives or if they experience discrimination. Witnesses included Tribal leaders, advocates and voters.
ATNI is a nonprofit organization representing 57 Northwest Tribal governments from Oregon, Idaho, Washington, southeast Alaska, northern California and western Montana.