Tribal Government & News
Tribal Police Station blessed, opened on Tuesday, March 7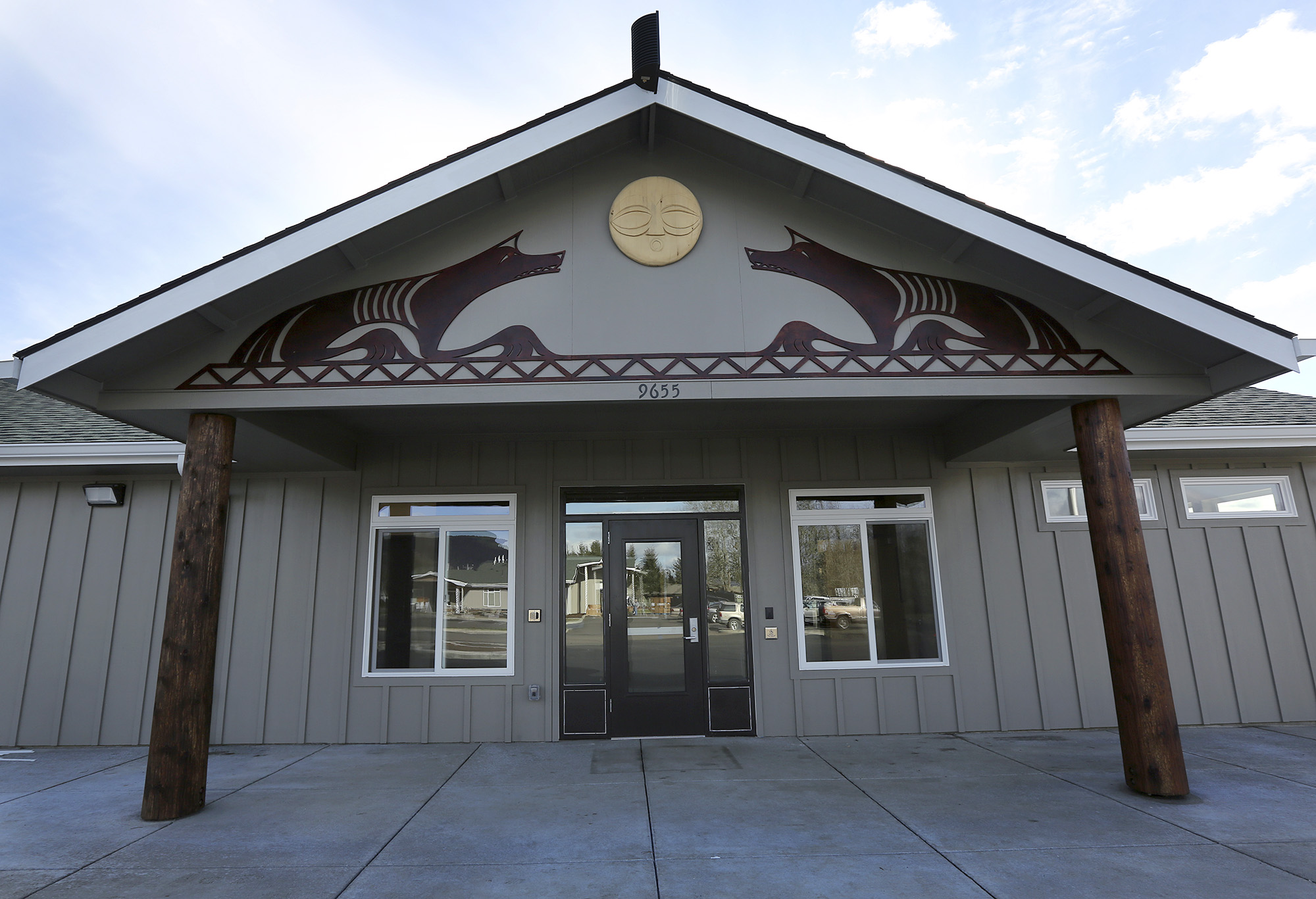 The Grand Ronde Police Department has a new home at 9655 Grand Ronde Road, just south of the Food Bank and across the street from the Housing Department's main offices.
Tribal police officers hosted an open house and blessing at 10 a.m. Tuesday, March 7, to introduce the new 4,400-square-foot facility to the community.
Grand Ronde Police Chief Jake McKnight thanked everyone who attended the open house as well as all those who worked to get the Police Department out of the cramped modular adjacent to Spirit Mountain Casino that has been its home since 2012.
During move-in, department personnel experimented to see if they could still communicate with each other by not moving from their desks, McKnight said, like they could at the modular. They couldn't.
The new facility is a major improvement for the Grand Ronde Police Department, featuring modern technology, offices for employees and safety features that will allow employees to perform their jobs in a secure environment. It also allows the Tribe's Emergency Management staff to move from the Housing Department building into the Police Station, providing for better and more effective public safety communication.
Cultural Resources employees David Harrelson, Bobby Mercier, Brian Krehbiel, Travis Stewart and Jordan Mercier and Tribal Council Secretary Jon A. George performed the cultural drumming and singing to open the blessing and Tribal Council Vice Chair Cheryle A. Kennedy gave the invocation.
Bobby Mercier, Krehbiel, Stewart and Jordan Mercier then smudged the building before tours were offered to attendees.
Travis Mercier also created the artwork that decorates the station's front eave.
Other Tribal Council members who attended the blessing included Chairman Reyn Leno, Chris Mercier, Brenda Tuomi, Jack Giffen Jr. and Kathleen George.
"A long time ago, Cheryle and I were at a conference and we were told at that conference that if you ever really want to be a Tribe and have the sovereignty of other Tribes that you need to have a court system and you have to have a police department," Leno said.
"I just want to make sure that people understand that is not a police station, it is actually a sovereignty issue, just like we regained our ceremonial hunting and fishing rights. The police department, courts … those are all sovereignty issues that a lot of Tribes don't get to have. When you recover them, that's a big thing. This is not a police station, it is a recovery of sovereignty."
Leno recalled that the Tribe used to have its own police force that included his great-grandfather, David Leno, as one of the deputies.
"It has gone full circle," Leno said.
McKnight said the new Police Station will save the department money and time in that Evidence Clerk Egypt Leno will no longer have to transport and retrieve evidence to and from Independence, which the Tribe paid to store its evidence because there was no secure evidence room in the modular, or travel to Dallas to conduct interviews in other departments' facilities.
The new Police Station includes an interview room with one-way glass in case a witness needs to identify a suspect, secure evidence room, exercise room, locker facilities for male and female officers, and a Sallyport that allows patrol cars to be brought in out of inclement weather for maintenance.
McKnight, Lt. Tim Hernandez, Sgt. Rod McAllister and Officer James Wolfer gave tours of the facility.
The Police Station was funded by a $500,000 Indian Community Development Block Grant through the Department of Housing and Urban Development and matched by Tribal Housing with a $167,000 Indian Housing Block Grant. In addition, the Tribe received $237,594 from the U.S. Department of Justice to build the facility. The Tribe funded the balance on the $1.185 million structure.
People needing Grand Ronde Police Department assistant should call 503-879-2123 for non-emergencies and 911 in case of emergencies.