Health & Education
Poster campaign encourages Native youth to stay in school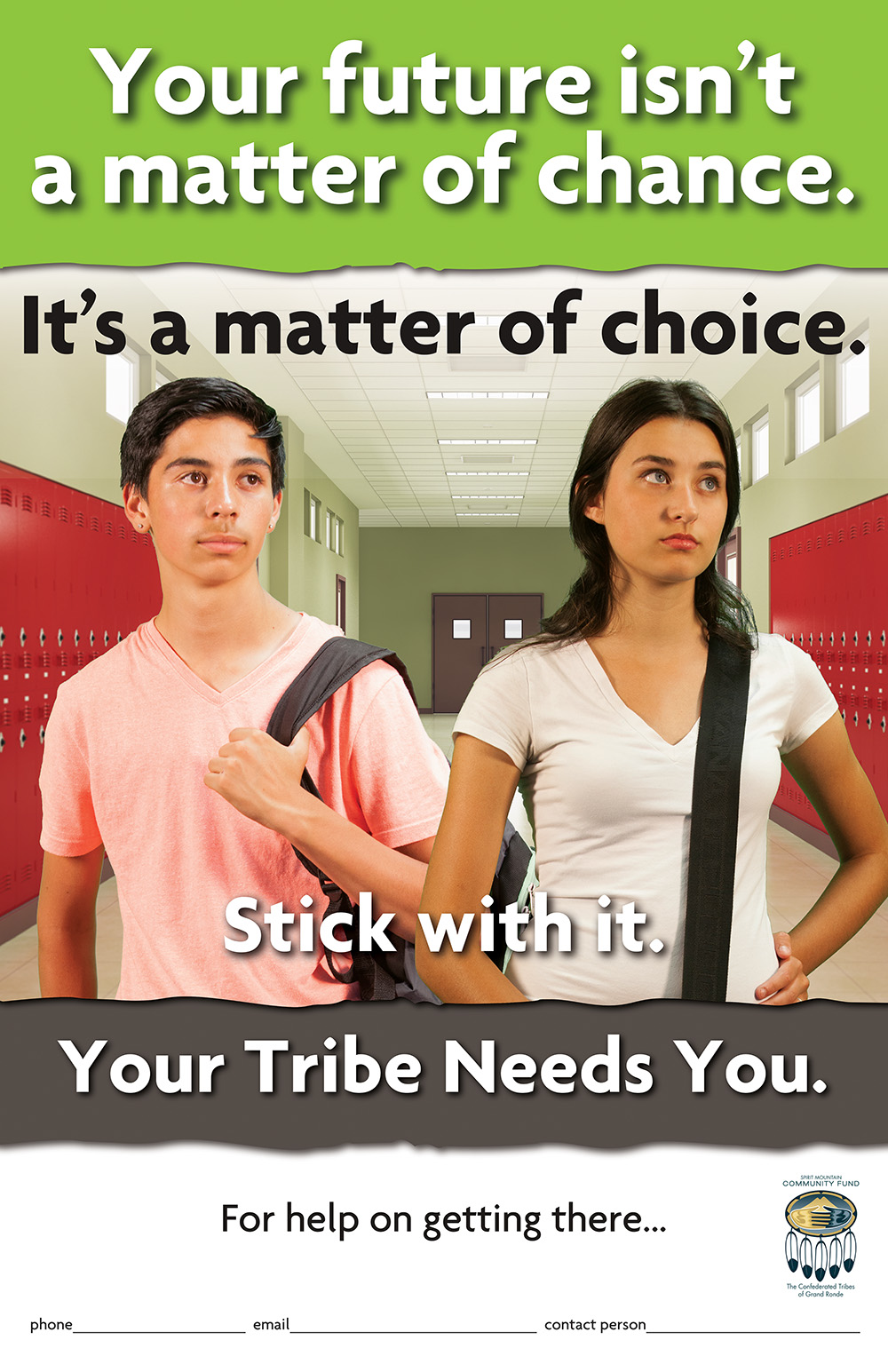 Spirit Mountain Community Fund's work with ECONorthwest to respond to results of a decade-long study into Oregon public schools now includes a series of posters encouraging Tribal students to stay in school.
The study was part of the Chalkboard Project that was established in 2004. According to Community Fund Director Kathleen George, seven of nine Oregon Tribes, including the Grand Ronde Tribe, participated in the Chalkboard Project.
The study's results, published in 2014, from the Tribal perspective are that Indian students are not doing as well as they could be, especially when it comes to attendance.
The fund helped pay for the study conducted by ECONorthwest, a consulting firm established in 1974.
"The results of the report were not a surprise to people who work in Indian Country in that it found that our Tribal students, generally speaking, are doing poorly in the Oregon education system," said George.
George said that the study found that only 55 percent of Native students are graduating from high school in the state and that one-third of Tribal students were chronically absent – missing 10 percent or more of school days – with the highest rate at the high school level.
The results prompted Tribal leaders to start thinking and strategizing about the future of Tribal children.
"It is a tremendous concern," said George.
George said that although educators of Tribal children knew they had a problem, they did not have comprehensive data to support their concerns and often struggled to get the data they needed from the state.
The Chalkboard Project changed all that when the results of the study were published last year.
"Tribes never had a comprehensive data set," said George. "This study was their (Oregon Department of Education) data."
George said it was ECONorthwest staff members who reached out to all the participating Tribal enrollment offices in Oregon to obtain the information they needed to anonymously track Tribal students in their classrooms. She said ECONorthwest looked at several key indicators of how those students were doing in the school system.
The report led Tribal leaders to use the results to address the current state of Oregon Tribal students.
"The Tribes used that data to re-engage the Oregon Department of Education and say we have a very serious problem here. We need you to engage in a new and more powerful way with us," said George.
George said the Tribes agreed that one of the first areas they could address is the attendance of Native children in school.
"At our end, having funded the study, we saw that work and said 'That's great'," said George. "That's exactly the kind of work we hoped the study would spawn. Is there anything else we can do in the meantime to be helpful?"
George said it was determined that one thing all participating Tribes would want is to distribute messaging to Tribal members that would stress the importance of school and of staying in school.
George said it was decided to create a series of posters that would deliver the message directly to students in their schools that said "School is important. Go every healthy day."
She said it was determined that if the message was going to be effective it had to be targeted at parents, grandparents and/or adult caretakers of Tribal students as well.
"We wanted to produce some well-designed, professionally prepared outreach materials that we could make available to Tribes for free that would feature Oregon Tribal members," said George. "A child looks at the wall and they see a positive message about staying in school and the person they see up there looks like them and so that was the idea."
George tapped Smoke Signals photographer Michelle Alaimo to take pictures of Grand Ronde Tribal members and sought the services of Bill Lovato's team at OMAC Advertising in Salem to get the poster project off the ground and on to the Tribal campuses and into Oregon public schools.
Alaimo photographed Kim Contreras and her granddaughter Jenevieve Davis, Halona Butler and Hawk Squetimkin, Kaelynn Simmons, Tynan George and Andrea Grijalva, Dyami Eastman, Miguel Adams and Kaylene Barry for the posters.
There are six posters in the series and each one features a positive message, such as "Every school day matters," "Graduate: You are so worth it," "Your dreams depend on an education," "Your future isn't a matter of chance. It's a matter of choice" and "It's your journey."
The theme throughout the poster series is that the best way for Native students to empower their dreams is to get an education.
"I feel so proud to look at the posters and see our fantastic Tribal members reflected in a positive way," said George.
"I was excited to participate in something that will bring awareness to people about education," said Contreras. "I think it is important for grandparents to be a big part of their grandchildren's lives and especially when it comes to education. We, as grandparents, can teach our grandchildren about life out of the school setting. Sitting with them and doing their homework with them is not only good for them, but I believe it is a treat for us, a learning experience for us as well."
Lovato said he was proud of the work done by his advertising company for the posters.
"When we did the photo session, they came out just the way we wanted," said Lovato. "We were able to get the message out. Our focus to those posters was if we can get the message out to just one child that then stays in school, if one parent says 'my child means more,' if we can get that message across then we will be successful."
George said there is larger effort to save Tribal children and this project is aimed at those children and their parents.
"In the big picture, the message is that in 2015 the future success of our Tribes and our Tribal people depend on our youth completing their education and that we, as adult members of the Tribe today, realize that it is our first responsibility to step up and actively support them in accomplishing these goals," said George.
"We can't just say 'Stay in school,' it's not that easy. We need to be behind them. We need to be with them. We need to be cheering them on. We need to be letting them know that they can do it even when they themselves are not sure.
"That's why across the bottom of every poster it says 'Your Tribe needs you'. Stick with it."