Culture
Yesteryears -- Jan. 1, 2015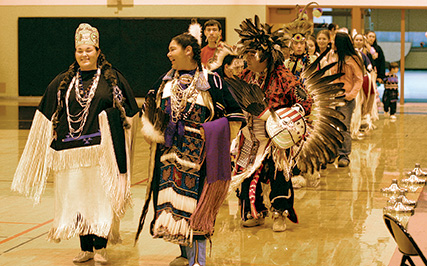 2010 – The Tribe started doing something that had been suspended most of the previous two years – selling timber from the Reservation. Natural Resources Department Manager Michael Wilson said the timber market was slowly showing improvement, which makes it worthwhile again for the Tribe to once again sell timber.
2005 – The first annual Native Youth Leadership Powwow was held at Willamina High School gym. The powwow was coordinated by Tribal youth in the NYL program, along with the Tribal Education Department. The Youth Social Services Prevention Program funded the celebration.
2000 – The Elders Committee held a surprise recognition ceremony for Tribal Council Chair Kathryn Harrison, who was recently named one of three Oregon Women of the Year by the Oregon Commission for Women. "Kathryn was both surprised and speechless," said Committee Chair Sharon Hanson.
1995 – Spirit Mountain Development Corp. Director Bruce Thomas reported that construction, planning and training arrangements for the gaming center were progressing and on schedule. The Tribe established a training program with Chemeketa Community College for Tribal members who want jobs at the gaming center. Some of the service and floor personnel working on the games and in food services will be paid $4.75 minimum wage. "However," Thomas said, "they can make good pay because of the tips they will be receiving."
1990 – Smoke Signals and Tribal archives do not have a copy of the January 1990 edition.
1985 – Tribal Council authorized the general manager to develop and submit a proposal to Housing and Urban Development for construction of a 4,000-square-foot Social Services facility. The Tribe's $250,000 proposal must compete for funding with all other Tribes in the Northwest.
Yesteryears is a look back at Tribal history in five-year increments through the pages of Smoke Signals.