Tribal Government & News
Reward offered to catch those who vandalized Early Education building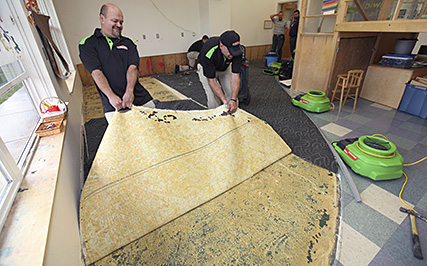 The Tribe is seeking the community's help in catching the person or persons responsible for flooding the Early Childhood Education building with a garden hose on the evening of Sunday, Sept. 28, causing an estimated $35,000 to $40,000 in damage.
Tribal Council is offering a $500 reward for information leading to the arrest and conviction of those responsible.
Education Department Manager Eirik Thorsgard said that someone opened a window in the back of the building, slit the screen and placed a garden hose turned on full blast in the window.
The water, which was anywhere from a half-inch to an inch deep, was discovered later that evening by the Tribe's security officers.
"There is an ongoing investigation and any leads that come in will be followed up by officers from the department," said Grand Ronde Police Chief Al LaChance.
Thorsgard said the water damage forced the relocation of five classrooms - the Mawich, Chak Chak, Kwis Kwis, K-3 Immersion and Lilu classes were forced to move to temporary facilities. In addition, the K-5 After School program also was relocated.
Thorsgard said that classes were canceled on Monday, Sept. 29, to relocate classes and that it may be three to four weeks before restoration work is complete and the classes will be able to move back, which also will likely result in an educational day being lost.
"Overall, I would say the hardest part was for the preschool kids to adjust to a rapid relocation and keeping them happy and focused on school readiness," Thorsgard said.
"I would like to thank everyone who had a hand in helping us make it through the day," said Early Childhood Education Program Manager Vikki Bishop on Monday, Sept. 29, in a staffwide e-mail. "Moving our classrooms, offices, computers, to name just a portion of the work. Tyson (Mercier) and his staff worked all day doing whatever was needed. And a special thanks to the Housekeeping staff that came in Sunday night and prevented more damage from occurring."
Servpro, which specializes in water and fire damage, was hired to perform the cleanup.
The vandalism was addressed by Tribal Council at the Tuesday, Sept. 30, Legislative Action Committee meeting.
Tribal Council Vice Chair Jack Giffen Jr. thanked staff members for their quick response to the emergency on Sunday night and for creating a plan to move the classes to other locations.
"I don't know who did the damage," said Tribal Council member Cheryle A. Kennedy, "but I just think it is terrible. It's just awful that someone would … deliberately flood their building and cause all the damage and displacement of the children; that is just a very horrible, terrible thing to do. I just hope that whoever did it would own up to their responsibility and to try to make amends for what was done."
Acting General Manager Chris Leno called on the community to help solve this crime against Tribal members.
"This act of vandalism at our school comes with a high dollar cost to the Tribe and affects our youngest children," Leno said. "We want and need the help of the community to solve this crime."
Anyone with information about the incident should call the Grand Ronde Police Department at 503-879-2123.