Culture
New recruit joins Grand Ronde Police Department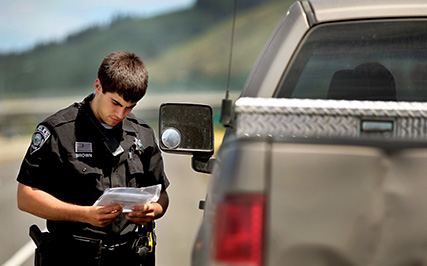 Tribal member Tyler Brown, 22, has been a police officer since June 13, the day he finished 16 weeks of training at the Salem-based Oregon Public Safety Academy, where he won the health and fitness award in his class.
"I am a big fitness nut," Brown says. "I work out about two hours a day or more. That was a huge deal for me, because three years ago that would have never happened."
"Tyler takes his physical fitness very seriously," says Field Training coordinator and Grand Ronde Police Officer Patrick McConnell, "which shows determination and a good mindset."
Successfully finishing the academy training, Brown says, "was a big accomplishment for me. A dream come true."
The five-phase training lasts an additional 14 to 17 weeks or more. It includes everything from paperwork requirements to the operation of police radios and computers to making arrests and booking the arrested into jail.
Brown also is graded on his appearance and dress, attitude, communication abilities and problem-solving skills.
During these five phases, Brown rides with McConnell and fellow Grand Ronde Officers Tim Hernandez and Ron Wellborn, and Sgt. Jake McKnight. He starts by watching the others work, and does more and more work under the supervision of his training officer.
"We have a great group of officers here from the Chief (Al LaChance) all the way down to Tyler," McConnell says. "We have each other's back 24/7 and trust our lives to each other. Tyler is learning though that cops are never truly off duty, from training on your days off or having to go to court."
Brown was about to begin his fourth week riding with McKnight during the second week in July.
"He's been teaching me the ropes. It's a blessing to have his help," Brown says.
Brown is the latest addition to Grand Ronde Police Department and he says he couldn't be happier. He has wanted to be a police officer his whole life.
"I know it sounds corny," he says, "but growing up, all I wanted to do was protect people and make them feel safe. So, this is a perfect fit for me. You have to be able to give up a lot of things you want for (the benefit of) other people in this job."
Learning the job has taken Brown into some uncharted territory. Of course, he is learning how things are done in the department, but the curve of his people skills is going up fast.
Brown has been learning "how to treat people with respect, the same respect you would want," he says. "I'll have to deal with people a lot, so I'm learning how to take calls, how to handle different people with their issues. Jake's been really good to teach me."
Together, McKnight says, they have been "making traffic stops, taking people to jail, finding people with drugs, taking them to jail, going through the booking process at the Polk County Jail. In cases from Yamhill County, he'll be taking the arrested to McMinnville and the Yamhill County Jail, though he hasn't had to deal with a Yamhill County resident yet."
"It's a lot to take in," Brown says, "but it's a good experience. There's always more to learn. I've learned a lot but there are situations you get into and I don't want to mess up. I don't know how to react sometimes. Everyone wants you to have answers. I'm young and haven't really had this experience before. People older than me are looking to me for answers. That's tough, but nothing I can't handle. I've always liked challenges."
"Tyler is smart, energetic and eager to learn," says McConnell.
When not at work or in the gym, Brown says, "I love sports: football, basketball and mixed martial arts are my favorites." He never saw McKnight compete in the mixed martial arts arena, but he notes, "We train hitting the pads together after work some days."
Brown also has a lot of experience working in other Tribal departments, including jobs at Culture, cutting trails at Natural Resources and as a pre-school aide.
Brown is the son of Wayne and Phyllis Brown. He graduated from Perrydale High School in 2010 and attended Chemeketa Community College for three years studying personal training, health and fitness, and criminology.
"I also mixed in a few nutrition classes for my own personal benefit," he says.
"My goal," says McConnell, "and the goal of this department is to produce the best officers to serve this community to the highest potential possible. Field training is very stressful for a recruit but it teaches them to be able to work on their own."
That's the next challenge for Brown. When training is done, he says, "I'll be on my own; making my own decisions."