Culture
Yesteryears -- April 15, 2014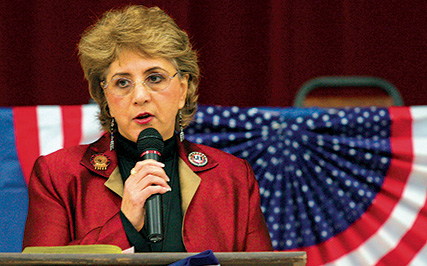 2009 - In the midst of the Great Recession, Planning and Grants Manager Kim Rogers discussed Tribal efforts to secure federal stimulus money through the American Recovery Investment Act.
2004 - Tribal Council Secretary June Sherer, an Army veteran, welcomed more than 300 female veterans to the Tribal gym for a daylong conference emphasizing rights and services available for female veterans.
1999 - Roger Harrison, who created the Tribe's logo after Restoration, received the first Pendleton blanket created with the Tribe's logo printed on it at the General Council meeting. Tribal Council ordered 500 logo blankets that will be available for sale to Tribal members.
1994 - The first Molar Roller Skating Party and Dental Health Fair was held. More than 70 children aged 6 through 12 participated. Brody Collins and Leia Mercier were winners of the Year of Oral Health Poster Contest.
1989 - Smoke Signals editor and Fish and Wildlife Coordinator Greg Archuleta was selected to become the Program Operations manager. He will oversee all contract programs at the Tribe.
1984 - The Tribe was organizing its administration to follow federal statutes and audit guidelines. It required the establishment of a full set of books and accounting procedures, as well as a management manual. Accountant Allan Wilkerson and Tribal Council members Kathryn Harrison and Merle Leno attended a workshop in San Francisco to review accounting requirements.
Yesteryears is a look back at Tribal history in five-year increments through the pages of Smoke Signals.