Culture
Eirik Thorsgard takes over at Education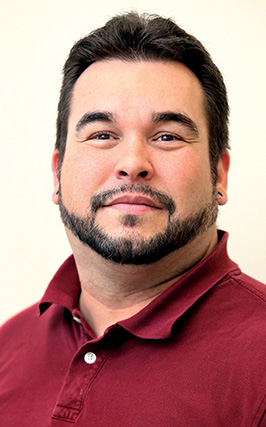 Cultural Protection Program Manager Eirik Thorsgard, as a member of the Land and Culture Department, recently moved his office from the second floor of the Education Building to the new Chachalu Cultural Center and Museum off Grand Ronde Road.
Now, he's moving back.
Thorsgard has been named the Tribe's new Education Department manager and will occupy an office on the Education Building's first floor.
The position had been filled on an interim basis by Higher Education Manager Bryan Langley since September when former Education Manager April Campbell left for a position as Indian Education specialist with the Oregon Department of Education in Salem.
"I felt I could contribute to my community and Tribe even more fully in this position," Thorsgard, 37, says. "The Education Department has an overwhelming amount of influence on helping Tribal members become and stay self-sufficient. Being part of that was very appealing."
With the benefit of seeing his five children interact with the department, Thorsgard said, "It is filled with passionate and professional people, and I doubt I can improve on the successes they have already built, but definitely want to be part of."
Still, Thorsgard says that he has a personal goal of developing a paid internship program where Tribal members who are finishing degrees can work for the Tribe for a short time and "develop useful skills to take out into the world, or bring home."
He calls it "a transition program for college graduates going into the professional world."
Thorsgard has served the Tribe as Cultural Protection specialist and Cultural Protection coordinator before his most recent work as Cultural Protection Program manager. He was appointed Tribal Historic Preservation Officer by Tribal Council in June 2009 and holds that title today.
He includes among his accomplishments at the Land and Culture Department "the work I did to help the Tribe obtain the Tribal Historic Preservation Office designation and associated funding agreements with the National Parks Service."
Also under Thorsgard, the department started conducting on-reservation archaeological work.
He sees the work and planning required in the Cultural Protection Program as having "adequately trained me for this new position."
His previous work also required innovative thinking and partnership development. Both are useful tools, he says, in the educational field.
"We are excited to have Eirik on board as the new Education manager and see him as moving the education programs forward, including the development of a new strategic plan for the education programs," Langley said. "Eirik has strong leadership abilities and has a vested interest in the Tribe and the community. Eirik and his children have participated in the education programs, which gives him a personal and well-rounded view of the programs we offer and where the programs are headed."
Thorsgard lives with his wife, Misty, and their children in Grand Ronde. Misty works for the Tribe's Early Childhood Education program as a home-based visitor.
Thorsgard earned a bachelor's degree in anthropology with a certificate in Native American studies from Southern Oregon University. His master's degree is in applied anthropology (archaeology), anthropology and ethnic studies from Oregon State. His Ph.D work in archaeology, focused on sacred sites in western Oregon, is ongoing from a program at Flinders University in Adelaide, Australia.
His first day on the job was Monday, March 24.