Culture
Langleys create elk calling app for Apple products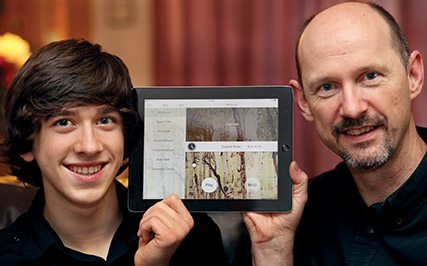 "It's not just a passion - It's a way of life!" says the tagline for Umpqua Outdoors, a new Internet-based business developed by Bryan Langley, the Tribe's Higher Education manager, and his 15-year-old son, Brayden.
The Langleys sell apps for Apple phones and tablets through the iTunes store. They sell elk calls, offer elk calling lessons - both private and through seminars and webinars - and website design.
Brayden programmed the Umpqua Outdoors website, www.umpquaoutdoors.com, the first of many planned apps, iCallElk, and designed the banner on the Facebook page, his first Web and app language designs.
"I've wanted to program for quite a while, a year or so," says Brayden.
The Umpqua Outdoors title comes in part because Bryan is partly descended from Umpqua Indians.
Bryan, for his part, says he has been dreaming about the idea for as long as eight years. When Brayden learned to program last year, his father knew it was time to begin.
"I wrote down things we'd do for an elk calling app," says Bryan, "and he ran with it."
Last summer, Brayden's journey into programming began from scratch. The ultimate result, opening to the public on Sept. 11, came from the 15-year-old, who learned the coding not only for the app, but also for the website design in less than a year.
A family programming friend pointed Brayden to Lynda.com, an online learning company that helps anyone learn software, design and business skills. Brayden got some ideas there on how to start.
"The site taught me how to submit our app to the app store," he says.
The website opened for business on Feb. 11. By Feb. 19, customers had purchased 36 apps at $3.99 each. The app for Apple iPhones, iPads and iTouch is at the iTunes store at itunes.apple.com/us/app/icallelk-instructional-elk/id814067094?mt=8.
The duo has plans for new apps, including one with elk recipes, a specialty of Rhonda, Bryan's wife and Brayden's mother. They already have a name for it: iEatElk.
Bryan is selling elk calls from Point Blank Hunting owned by Willy Rogers, a Grand Ronde descendant; Bryan reps for the company. As a world-leading elk caller, Bryan teaches the art through the website.
Credentials for father and son involvement in the elk-calling world include their top finishes at the annual Rocky Mountain Elk Calling competition. In the professional class, Bryan has competed six times. In the last four, he placed fourth, third and first for the last two years. Brayden has been competing in the pee-wee division since 2009. He won the first year and has placed second in the three years since.
Also, Brayden has been hunting with his father since he was 9. He hunts with both bow and arrow and rifle. He participated in the Tribal mentor hunting program, and used to face off against elk and deer on his father's tag. Today, he has his own.
Bryan also has been hunting since he was a child.
"I grew up in a hunting family and we relied on hunting to help provide meals for the table," Bryan says. "That still happens today, and now it is being passed down to yet another generation."
The subtitle of the website, "It's not just a passion - It's a way of life!" comes from family experience, Bryan says.
"It is a way of life! It is our passion and it is our way of life. It is what we love to do!"