Culture
Tribal member Torey Wakeland heading to Montana to study wildlife biology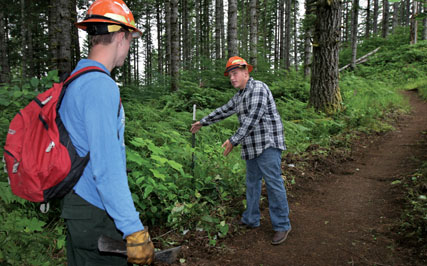 By Peter Nelson
Summer Youth Program employee
Tribal member Torey Wakeland, 25, will soon be heading to the University of Montana in mid-August to study wildlife biology with a terrestrial focus.
Wakeland, who grew up mostly in Salem, has had interest in wildlife for some time.
"I have always had a passion for the outdoors," Wakeland said. "I'm not the type of person that likes to sit behind a desk. I just like being outside."
Wakeland has been working near or for the Tribe for about three and a half years and has been the Youth Crew manager at Natural Resources for about two years.
"It's very fulfilling, being able to watch them grow and adapt," he said about the Youth Crew workers. "It's just great to have them out here and be able to give them the opportunity to have a job."'
Last year, the Tribe's Natural Resources Department hired 36 Youth Crew workers, Wakeland said.
"When you're supervising that many people, there are situations every single day where they need help with something," he said. "We just try and keep 'em as safe as possible."
"Torey has a very positive attitude and is a great leader," said Tribal Biologist Rebecca McCoun. "He leads by example. We are very lucky to have him as a crew supervisor."
Wakeland's original idea for getting to his new school was to ride his bicycle more than 600 miles to Missoula, Mont., with Fish and Wildlife Coordinator Kelly Dirksen.
"Kelly and I were going to ride the bikes over to Missoula, but there just wasn't enough time between when the youth crew term was up and when school started," Wakeland said.
Wakeland said he is excited to be attending the University of Montana and looks forward to giving back to the Tribe shortly after college is complete.
"It would be nice to go through some grad school and then maybe come back and work for the Tribe again," he said. "I don't plan on taking any time off in between school and work. I like hard work, long days and good pay."