Culture
Yesteryears -- Sept. 1, 2013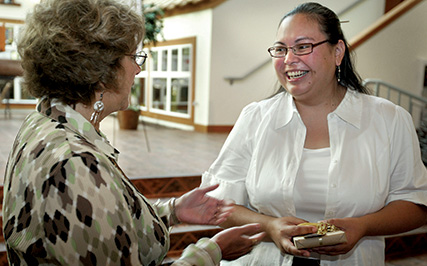 2008 - Francene Ambrose was welcomed during a reception as the 2008-09 Mark O. Hatfield Fellowship recipient in the Atrium of the Governance Center. Ambrose was the 10th Hatfield Fellowship recipient and succeeded Rebecca Knight, who was off to the University of Hawaii to obtain her master's degree in public health.
2003 - The Grand Ronde Hall of Legends - 53 feet linking Spirit Mountain Casino with the Lodge next door - was dedicated. The story of the Tribe became accessible, in Elders' own words, to the vast numbers of people who pass through the hallway each day.
1998 - Smoke Signals changes its name to The Grand Ronde Review. "For the past year, we have tried to develop a new, more polished look to the Tribal newspaper," wrote Editor Tracy Dugan. "Because the Grand Ronde Tribe has emerged as a serious social and financial entity in Oregon and the Oregon economy, I felt that the newspaper should have a more serious name."
1993 - Smoke Signals does not have a copy of the September 1993 issue.
1988 - The first annual Spirit Mountain Fun Run/Walk was held. More than 100 men, women and children participated. Special trophies were given to the youngest and oldest participants. They were Ali Holsclaw and Frances Ring, respectively.
Yesteryears is a look back at Tribal history in five-year increments through the pages of Smoke Signals.