Culture
Salmon Celebration set for Dec. 7 at fish weir, gym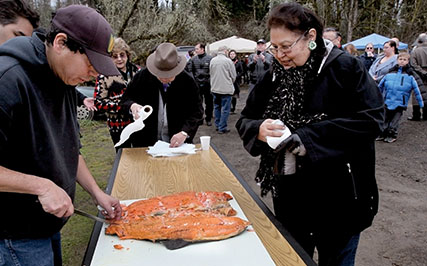 By Kendra Kuust
Natural Resources & Public Affairs intern
Everyone is welcome to attend the second annual Salmon Celebration set for Friday, Dec. 7, on the Tribal campus in Grand Ronde.
Celebration events will begin at 10 a.m. at the Agency Creek fish weir, which is located behind the Education Department. A Community Dinner will be held in the Tribal gym following the events at the fish weir. Tribal members are encouraged to attend both events.
The Tribal Canoe Family will provide entertainment. Tribal Media Production Specialist Travis Stewart will be the master of ceremonies and share stories. Tribal Fish and Wildlife Coordinator Kelly Dirksen will give a presentation about salmon restoration and the animal's life cycle.
Raffle prizes for all ages will be awarded during the Community Dinner. A craft table will be set up for children to enjoy. There also will be a video presentation about preserving traditions and protecting the environment.
For more information about the Salmon Celebration, contact Tribal Public Affairs Director Siobhan Taylor at 503-879-1920 or Siobhan.taylor@grandronde.org.