Culture
Human Resources award named in memory of Sam Henny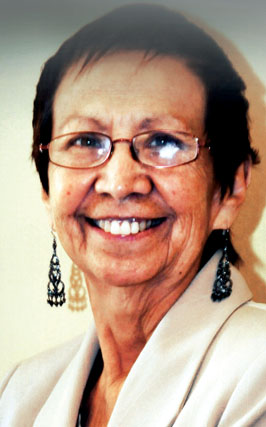 Sam Henny, Tribal Elder and longtime Tribal Development manager for Spirit Mountain Casino who walked on in March, was honored with the establishment of the Sam Henny Mentor Award at the 2012 Native American Human Resources Association conference held in San Diego on Sept. 22-24.
Henny had been a conference leader, serving on the board, mentoring colleagues with training programs she had established in Grand Ronde, leading classes and helping other Tribes get programs going, said Connie Holmes, Senior Human Resources Generalist for the Tribe.
Holmes attended the Native American Human Resources Association's conference where the new award was unveiled. Attending with Holmes were Spirit Mountain Casino Tribal Developmentors Misty Carl and David DeHart, who worked under Henny at the casino,
"She contributed so much," said Carl and DeHart in a joint e-mail. "Honestly, we don't even know where to start. …
"For us, Sam's visions and values can be seen in her commitment and loyalty to people with a particular burning passion for Tribal members in their efforts to attain self-sufficiency, success and overall fulfillment and happiness. Sam was fearless with a competitive nature, yet always a 'classy' professional and losing to her was easy to swallow because one would at least walk away with seeing her gorgeous smile and experience the wit that came along with it."
Carl and DeHart said her strongest qualities included "persistence, perseverance and dedication." And through her vision, they said, came the Tribal Career Development Department.
"It was most apparent that Tribal Career Development is responsible for enhancing the self-sufficiency opportunities for Tribal members.
"Sam liked to move quickly on things!
"Sam's ability to mentor Tribal members went effortlessly. … She shared so much of herself, her experience and knowledge beyond just the workplace - into areas of traditions, cultures and values.
"Sam has helped us to learn more about what is most important to us individually and has helped to shape who we are today.
"She is truly one of a kind whose desire to contribute to the overall success of the Tribe and its members has made a difference and words cannot express enough gratitude to her for all that she gave and contributed. Sam is greatly missed each and every day."
Holmes was asked to hand out the first award that went to the Wildhorse Resort and Casino owned by the Confederated Tribes of the Umatilla Indian Reservation in Pendleton.
Human Resources Director Lorena Thompson spoke about Henny's influence on the program, but was unable to attend this year's conference. Human Resources Trainer Susanne Clem accepted the award for the casino.
"Wildhorse submitted its Pride Program that works with members of the Tribe from youth to retirement," Thompson said, on issues of training and career development.
"Early on, we were very impressed with her developmentor role at Grand Ronde. We had visited and observed her training and met her mentees."
Wildhorse's Pride Program took elements from Henny's program - the way she worked with interns, her outreach efforts, recruitment on boarding and her "assessment-type" of orientation.
"We liked her holistic approach," said Thompson.
"She's such a caring individual. I've known her personally for 13 years. She's very genuine and sharing of her values. She is just wonderful."
"A lot of people went to Sam's classes," said Holmes. "She gained a lot of respect over the years."
Among Tribal members, maybe none take as much pride in her efforts than her family.
"We were just really proud that the association offered this mentorship award," said Henny's daughter, Sarah Harvey. "It was very touching. My mom was very passionate about the mentorship in the Indian communities and now they're going to live on in her name.
"I saw my mother as a pioneer. She did some very innovative development programming that I know will be remembered now annually by having this award. It's been a rough 2012, but moments like this make it so much easier."
"She was an amazing woman," said Holmes.