Culture
Canoe Family completes Paddle to Squaxin 2012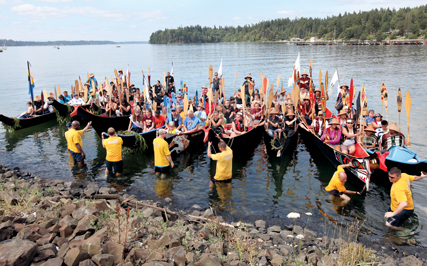 The Paddle to Squaxin Island began on Saturday, July 21, at Wallace Marine Park in Salem for the Grand Ronde Canoe Family.
The family's canoe, Stankiya ("coyote") next stopped at Willamette Mission in Gervais and then Champoeg Park in St. Paul for two days of protocol - drumming, singing and a gift exchange.
Along the way, Stankiya was joined by Ponto ("slow and easy"), a Coquille Tribal canoe for the long paddle to Olympia, Wash., where 103 canoes would meet as this year's journey climaxed.
Late in the day on Tuesday, July 24, the sun sparkled off the Willamette River as the weathered faces of Tribal polers walked up the dock ramp in West Linn to again join friends and family who come every year and to every location along the way in support of the journey.
"Physically, it's pretty rough," said Cristina Lara, 28, a Youth Prevention staff member and one of the polers. "You definitely have to have some endurance. It can get really painful, but when you get to your destination, it's well worth it. The physical stuff goes away. Your heart's lifted."
"It gets tough," said Kyoni Mercier, 14, "but I keep praying and thinking about what our ancestors went through. There are Elders nowadays (to remember) who are in wheelchairs, and they can't experience it."
A Grand Ronde crew of about 75 came together on shore. They included those from the canoe and support boat, the shore-bound support crew, many staying the night in a tent, Elders and children, and a delegation of three from the 30,000-member Maori nation of Te Aupouri from the far north of New Zealand.
The festivities also included West Linn, a city that normally does not allow overnight camping in this park. The city made an exception for the Tribe to make a larger point.
"One of the things we're really trying to do," said West Linn Councilor Jody Carson, "is to get people aware of our history. This river goes by this town. Here's this huge natural phenomenon, a gathering place for Tribes back to time immemorial; an integral part of our history; and half the people in town don't even know there's a falls here."
Poler Heyaza Brien, 15, had an eagle feather he found in the water "two or three corners down." He was planning to put it in the back of a cedar headband.
"It feels nice and peaceful out when you are paddling," Brien said. "You hear the fish and the birds jumping out of the water. You see a deer sometimes; eagles, turkey buzzards, a whole bunch of turkey buzzards."
Brien has participated in two previous canoe journeys. "Year after year, I feel a little more connected with the water and the birds."
"I think it's cool we're in the Willamette, in one of our waterways," said Tribal Council member Chris Mercier, who was out to welcome the Canoe Family.
"Sometimes, we grow up not knowing where we belong," said Lara, "but when I first did the journey, I was hooked. I saw all the canoes coming in at Suquamish, and I was immediately … I felt this is where I need to be. This is where I know I belong."
"They say that us teens are a reflection of our ancestors," said Kyoni Mercier, also poling that day.
Lara and Mercier each have participated in previous Grand Ronde Canoe Family journeys; Lara for seven years and Mercier for all eight that the Tribe has participated in.
"Each year is different," Lara said, "even though it's the same. You're traveling with different people. The kids are growing up and now they have a role. We have to take care of the Elders and take care of the children in the best way we know. Everyone has to help. Everyone has a role."
"It's good seeing the little ones come in," said Kyoni. "It feels amazing."
This year, six were on hand who have participated in every previous canoe journey: Dave Fullerton, the Tribe's Social Services manager; Travis Mercier, a Tribal Education staff member, and Canoe skipper Bobby Mercier, a Cultural Resources staff member; Bobby's daughter, Kyoni; Pam McDaniel; and Raven Harmon, Fullerton's stepdaughter and daughter of Crystal Szczepanski, who is head teacher in the Tribal Chinuk Wawa Immersion program.
"We're still brand new to it," Lara said. The Grand Ronde Tribe first participated in the northwest Tribal canoe journey in 2005. The event has been ongoing for 21 years.
The cultural exchange with the Maoris, an exchange in its fourth year, has brought the two aboriginal peoples closer with the sharing of gifts and lifeways.
"A lot of what is happening here is happening where we live, too," said Chappy Harrison, a Maori visiting Grand Ronde for the first time. "The same spirituality and the same connection to our ancestors."
"When you're paddling, you feel like your ancestors have come with you," said Rotchal Kite, also in his first year from New Zealand. "Listening to Bobby at the longhouse, it seems your culture is very much like ours."
Joe Conrad, who is back for the second year and leads the cultural exchange for the Maoris, said that the wakas in New Zealand and canoe journeys here have this in common: they are part of the process of "maintaining the links that our ancestors have given us."
Those links also include establishing relationships with all the other aboriginal groups that live on the Pacific Ocean, he said.
Wakas, in New Zealand, and canoe journeys here, he said, "go a way to fulfilling the responsibilities to our children. I've seen the benefits of changed lives; I've seen some of our children who have been thrown on the trash heap by our justice system become leaders in their communities.
"Why can't our system give these children a second chance? This (canoe journey) is their second chance."
Elder Dolores Parmenter "started going on journeys to honor my grandmother, Mary Esther Jones LaBonte. When I was a child, she helped raise me in a log house 20 miles up Little River on Thunder Mountain, near the town of Glide.
"A lot of our culture is lost, so I'd go to other territories to learn maybe how we were, and how we did." The canoe journeys, with the joining of many Tribal cultures, are part of that. "The Maoris have been coming and it's good to learn about their culture.
"Every year, we try to make something from our culture to give to them."
Last year, Parmenter made a dentalium hat as a gift. She also gifted a texturing adze. Brian Krehbiel, she remembered, made a miniature paddle out of bone as part of a necklace which he gifted.
"Everybody has their own cultural gift," Parmenter said.
"I would like to raise my hand and give thanks to the people that take us on this journey: Dave Fullerton, Lisa Leno, Kristi Petite and many, many that are not mentioned. It is because of that support and their sacrifices that we can all go on this journey. This is for everybody, but most important for our youth. Completing a long journey takes a lot of strength and teaches lessons from beginning to end. It's important to know these things in this life. In doing that, they're honoring our ancestors," said Parmenter.
"As an Elder on the journey," she said, "maybe I can show them how to walk in life. How to carry yourself. Have respect. Honor other people and listen to them."
Shannon Stanton, 44, has been one of the Canoe Journey's regular cooks. "I just wanted to be more active in the community," she explained, "and the culture."
"It's hard to explain unless you go and do it," said Jade Unger, 34. This was Unger's first year as a poler, although he has come in support of polers before. "It's healing. From the daily grind, everything going so fast, here, you're singing songs, enjoying nature. It's the best therapy I can think of. Makes you feel connected with everyone."
"I love canoe journey," said Raven Harmon, who at 12 is already one of the old-timers with the canoe journeys. "I get to be around all my friends and family. They make me happy. It's a huge campout, but better."
She acknowledged, however, that Canoe Journey is not as easy for her as it once was.
"It gets harder every year because I'm getting older," she said. This year, she did a little paddling but "mostly hung out in the support boat."
On Wednesday, July 25, the Canoe Family stopped at Kelly Point Park in Portland on their way northward across the Columbia River.
In four more days, on Sunday, July 29, the canoes landed at Olympia, Wash., and traveled several miles to Kamilche where days of protocol awaited.
On Wednesday, Aug. 1, with songs and gifts, the Grand Ronde Canoe Family renewed connections in the traditional ways during protocol.