Gaming
Stampede returns to Rodeo Grounds on July 21-22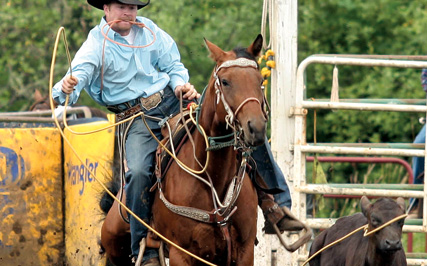 If you go
Spirit Mountain Stampede
When: 1 p.m. Saturday and Sunday, July 21-22; "slack events" will be held 5 p.m. Friday, July 20.
Where: Spirit Mountain Rodeo Grounds, 9615 Grand Ronde Road.
Cost: $10 for adults, $5 for children and free for children 3 and younger; "slack events" are free.
More information: www.spiritmountain.com
Northwest Professional Rodeo Association competitors will return to Grand Ronde on Saturday and Sunday, July 20-21, to compete in the annual Spirit Mountain Stampede at the Spirit Mountain Rodeo Grounds on the Tribal campus.
Competition is scheduled to start at 1 p.m. both days as cowboys and cowgirls will compete in bull riding, steer wrestling, saddle and bareback bronc riding, tie-down roping, breakaway roping, barrel racing and team roping.
Winners of the rough stock bronc and bull riding events will win $2,000 in addition to a portion of the entry fees while winners of the timed events will receive $1,500 and a portion of the entry fees.
"Slack events'' - for contestants who did not qualify for the Saturday and Sunday competitions - will be held at 5 p.m. Friday, July 20. Admission on Friday is free.
The Confederated Tribes of Grand Ronde has been hosting the NPRA-sanctioned event since 1996 through 2008. Because of the nationwide recession, the Stampede was not held in 2009 or 2010. Starting in 2011, the Stampede has been supported by Spirit Mountain Casino with additional personnel and financing backing to help keep the tradition continuing for years to come.
Tickets are $10 for adults and $5 for children. Children younger than 4 are admitted free. Tickets can be purchased in advance at spiritmountain.com, at the casino box office or at the gate, which will be cash only.
Free parking will be available at the casino with shuttle buses running between the casino and rodeo grounds.