Culture
Tribal Court swears in first three CASA graduates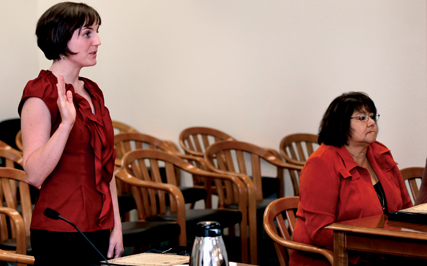 Grand Ronde Tribal Court Chief Judge Suzanne Ojibway Townsend (Ojibway) swore in the court's first CASA volunteers on Wednesday, May 30.
Sarah Cline, 25, an Oregon State University Public Policy student from Corvallis; Debra Jones, 55, a medical transcriptionist from Willamina; and Sylvia Schindele, 64, a mother and grandmother from Lafayette each recited the oath for the open-ended appointment in Tribal Court a little after 10 in the morning.
Court Appointed Special Advocates is a national volunteer group known by its acronym, CASA. Its volunteers serve Tribal and county courts as advocates for children made wards of the Tribe or state. The Grand Ronde Tribal CASA program, the only Tribal program of its kind in Oregon, serves only Grand Ronde Tribal children who have been made wards of the Tribal Court.
Forty-eight Grand Ronde Tribal children are currently wards of the Tribal Court. Thirty-two are wards of different states, though the majority are wards of Oregon.
One of the most important jobs for Tribal CASA volunteers, said Angela Fasana, Tribal Court administrator, is to make sure that Tribal wards are able to maintain a connection with Tribal culture.
"The role for CASA here," Fasana said, "will be largely to connect kids with the Tribe's culture and history, and really enhance that connection."
Most of the children who have been made wards of the Tribe and state are represented by attorneys, Fasana said.
CASA volunteers serve as secondary advocates for these children; first ensuring the cultural connection and, more generally, being a voice for the child's best interest.
"How I view CASA," said Kristi Petite, Foster Care supervisor, "is as another caring adult in a child's life. Kids in foster care need as many supportive people in their lives as they can have. CASA volunteers bring a fresh perspective about how to meet those needs."
The Tribe's Indian Child Welfare program intercedes in troubled families when necessary and recommends treatment programs for Tribal families and youth in trouble. The program sees to the day-to-day needs of a child.
The Tribal CASA program was initiated in 2008 "out of concern that the kids' only Tribal contact was with ICW," said Fasana. "That contact comes in a difficult situation. Children were leaving the foster care program and feeling like they didn't want to have anything more to do with the Tribe.
"The ICW program began taking steps to expose kids to a lot more cultural activities and Tribal events and the court's response was the development of the CASA program."
Today, said Petite, the Indian Child Welfare program pays for transportation to powwows and other cultural events, along with lodging and meals for a child and their foster family to ease the cost of attending.
Cline, who has lived and worked with Tribes in Montana and has volunteered to work with teens in prisons and homeless shelters, has long had as her goal "to help kids in need."
The challenge for her, she said, is "how to properly support cultural values." Part of that, she added, "is getting to know the community, and helping the kids feel connected."
Schindele saw this position as "a great way to help and contribute." She experienced family difficulties as a child, "and support was not there," she said. "I've always wanted to help kids who need it."
Jones, a long-time supporter of animal rights and environmental causes, first responded to an advertisement for the Tribal Court's Peacemakers program, but she was ineligible because those positions are reserved for Tribal members.
"They said they were also looking for CASA volunteers and that sounded right for me," Jones said. "It sounded real right."
She thought to herself, "Let's see if we can help a child go down the right road. I felt it would be pretty worthwhile if we could do that."
Volunteers, in short supply here and in CASA programs across the country, have been recruited since the Tribe began the CASA program in Grand Ronde. The effort, which was taken up by Tribal Court Programs Specialist Adrea Korthase in January, has sought volunteers with advertisements in Smoke Signals, with displays at powwows and "every possible community event in the area," said Korthase.
Potential volunteers complete 40 hours of training, 10 in cultural awareness issues. Their time commitment is "case specific," said Fasana, but "10 hours a month at the most."
"The court or the ICW program can recommend that a certain child needs a volunteer," said Petite. "We try to get the best fit between location and age, or maybe the amount of time needed on the case."
Each volunteer will be assigned one or more cases by the Tribal Court judge.
Korthase said she is hopeful that a second group of volunteers may be ready to begin another round of training by July. Although none of the first group is Native American, the Tribal Court also has two other volunteer programs where every position is filled by a member of the Grand Ronde Tribe.
Five volunteers currently are signed up for the Tribal Member Review Board. Of the five, three are chosen to hear each case. These volunteers impartially review each case, consider the perspectives of all of the parties involved and make findings and recommendations about the case to Tribal Court and the Indian Child Welfare program.
Four volunteers are currently involved in the Tribal Peacemaker program, designed to provide a non-adversarial way to resolve disputes for both Tribal and non-Tribal members of the community.
"One thing that has intrigued me about starting the CASA program is that it gives Tribal members the opportunity to give back to the Tribe and to help Tribal children who need it the most," Fasana said.
For more information about becoming a volunteer for any of the Tribal Court programs, contact Adrea Korthase at 503-879-4623 or adrea.korthase@grandronde.org.
"The benefits you will bring are just enormous," Townsend told the volunteers at the swearing in.