Culture
Funds raised to add pillars to West Valley Veterans Memorial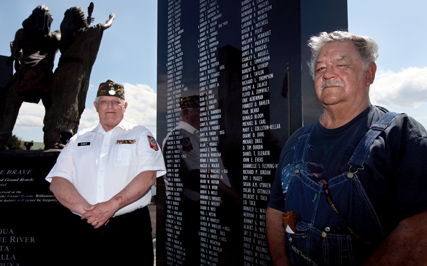 Willamina VFW Post 4211 and DOA Pro Wrestling, based in Portland, hosted a professional wrestling event and fundraiser for the West Valley Veterans Memorial on Saturday, April 21, at the VFW Hall in Willamina.
The Willamina Post has hosted DOA wrestling events monthly since 2010, said Ken Rober, past-president of the post. On May 19, he will become District 16 commander, supervising six posts in the Willamette Valley.
More than 100 attended the event that raised $400 for two new black granite pillars needed to continue adding names of Army and Navy veterans to the memorial. New names are added to the pillars each Memorial Day.
"This was a great way of giving back to the veterans that gave so much for our country," said Terry Farness, owner and promoter for DOA Pro Wrestling.
It was a group effort, said Tribal Elder and Northwest Indian Veterans Association member Gene LaBonte, who also served as chairman of the Governor's Task Force on Veterans Affairs in 2009-10.
"I made the suggestion," he said. "Ken took it up and took off with it. Those guys really believe in the veterans and we want to give a big thank you to the vets for all they've done for the U.S. It was a very entertaining night. The crowds are fun to watch."
There is no date yet for the anticipated installation of the new pillars, said Tribal Elder Dakota Whitecloud, chair of the Tribe's Veterans Special Events Board, which is tasked with seeing the project through.