Culture
Exhibit focuses on the leadership skills of Grand Ronde women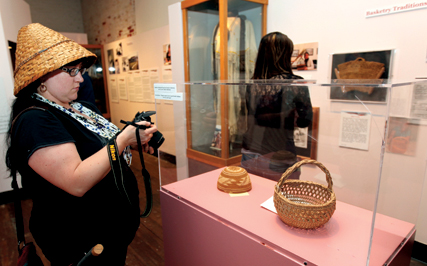 SALEM -- A celebration of western Oregon Native women opened with an invitation-only sneak peak at the exhibit for Grand Ronde Tribal members at Willamette Heritage Center at The Mill in Salem on April 5.
Along with the exhibit, "shawash-ili?i luchmən - ntsayka ikanum: Grand Ronde Women - Our Story," some 200 Tribal members, museum members and guests enjoyed a meal that included salmon and chicken and steak kabobs prepared by Spirit Mountain Casino staff.
But what the crowd really chewed on was in the exhibit, put together over three months by the Tribe's Cultural Resources Department with Tribal member and Cultural Interpretive Specialist Julie Brown taking on the lead role.
The exhibit covers Native women in the fur trade, women weavers of clothes and baskets, women contributing to our knowledge today of Native language, powwows and royalty, Restoration efforts, present and former women in Tribal government, and "The Missing Generation," telling the stories of Native women held in prisons and mental institutions, some used like test animals for so-called scientific research.
"A lot of this information has never been collected before," said Tribal member and Cultural Resources Department Manager David Lewis. "The stories we are telling are stories that have gone untold for a century and a half. It is important that we get them out there."
And yet, it still doesn't tell the whole story.
"Halfway through, I realized I can't do justice to my family," Brown said. "It would take more months and more space, but I want to capture the stories and the lives, not just of the women, but the men also before they are gone."
"For me," said Millie Harmon of Salem, "the main thing is there is so much information here that we don't know and hasn't been gathered before. I'm really pleased that someone has captured this before the people have died."
Among the exhibits, Brown developed a basket map tying together different styles of weaving with different Native areas. She worked more than two months with master weaver Margaret Mathewson, who also advises other Tribes interested in local weaving methods.
The exhibit features many of the raw materials from which baskets are made and a sign encouraged viewers to "Please touch."
"You don't see this kind of map," said Lewis. "And most of these styles are from people who came through Grand Ronde."
"It makes me so mad that we gave them $35 for all their land," said Salem resident and Willamette Heritage Center member Karen Bender, referring to one section of the exhibit. At Termination, allotments of Tribal people were sold as community property and each Tribal member received $35. "That's just unreal."
"Because of reading the stories, it puts a face on Indian culture and their heritage in the area," said her husband, Ed. "We lived in Oregon all our life, but we never heard this."
If the information was new to some, for Tribal Elder Kathryn Harrison the exhibit brought on another reaction. "It takes me back to some wonderful Elders,' she said. "They really showed us the way. They're the glue that held us together. I'm proud of our women."
Tribal Council Chairwoman Cheryle A. Kennedy said the big thing was the attendance of so many youth.
"Thank you to all the families who brought children," Kennedy said. "This is what it is all about: to teach our children."
In fact, some 35 members - many of them youth - of the Grand Ronde Canoe Family attended for drumming and singing at the dinner. And many others were on hand with their parents on the third floor of the Mission Mill, where dinner and drumming were held.
"The Canoe Family," said Harrison, "they make you proud over and over."
Among the youth was Tribal member Dakota Ross, 10, who came with his family. He had already seen the exhibit.
"Really interesting," he said.
Kennedy also said that her own grandmother and mother "raised us to be strong women. As Grand Ronde women, we stand. We hold our family close. We encourage them."
Then, Kennedy spoke about pioneer women. "These women that came west on the Oregon Trail, they are the hardiest of all human beings. Now, we're all here together forging forward in partnership."
"There isn't anyone here who doesn't have a woman in their life who made a difference," said Tribal Council member Kathleen Tom.
"We very much value the partnership and friendship (of the Grand Ronde people)," said Ross Stout, president of the Willamette Heritage Center Board of Directors. Noting four exhibits on which the Heritage Center and the Tribe have participated, Stout said, "We're better telling the story of the Willamette Valley's first inhabitants."
Among their descendants was Tribal member Mike Colton, who came with his family to see the credit that went to his late mother, former Tribal Elder Jackie Whisler, featured prominently in the section on Tribal Restoration.
"This is something that is long overdue," said Tribal Elder Gladys Hobbs. "It's also nice to see that we're letting everybody know we're bringing our language and basket weaving to the forefront. It's very heartwarming."
"We should do more of these," said Tribal member and Culture Committee member Perri McDaniel.
At the same time, Brown was thinking about the recent days when she was working day and night without much, if any, sleep getting the exhibit ready.
"I was tired," she said. "I wanted to snuggle up in my jammies. And I thought, 'What if I had to do the Trail of Tears?' "
Brown led a group that included Cultural Resources Program Manager Kathy Cole, Secretary Veronica Montano and Hermila Chavez, as well as University of Oregon graduate student Stephanie Wood (all are members of the Tribe) in putting the project together.
In addition, master weaver Margaret Matthewson, and Tribal members Eirik Thorsgard, Travis Mercier, Brian Krehbiel, Bobby Mercier, David Harrelson and Melisa Chandler participated. Krehbiel is Cultural Education specialist, Mercier is Cultural Language specialist, Harrelson is Cultural Protection specialist and Chandler is a Cultural Site monitor.
The exhibition runs at Willamette Heritage Center through Monday, May 28.