Health & Education
Class helps make parenting a pleasure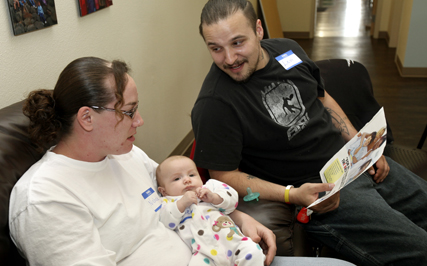 Ten Tribal and community members who attended the first "Make Parenting a Pleasure" course at the Youth Education building on Tuesday, April 3, have many dreams for their children.
Among them are being kind to others, honest, confident, law-abiding, a friend of God, happy with themselves, possess a good work ethic and have knowledge of the outdoors.
Other dreams included knowing their culture and heritage, receiving a good education and having a sense of responsibility.
"To watch (children's) firsts is a reminder to see them through a new set of eyes," said Angela Gonzales, Parent Resource and Education Coordinator for Polk County Health & Human Services, who, with Tribal member and Tribal Prevention Caseworker Carmen Mercier, are leading the class.
Tribal member Nichole Liebelt looks forward to "making memories with my kids."
Washie Squetimkin (Colville) said that he is most taken with his son's "optimism, how he sees things so simply."
"Children are just amazing at how fast they learn," said another participant.
As a parent of six and a foster parent of one, Tribal member Shannon Stanton said that her children are "totally different; the oldest is very unique; every day she surprises me about something."
Vince Fagundes said his 5-year-old daughter has "the ability to keep me on my toes."
The class mixed lessons with exercises. In one, Gonzales passed out magazine pictures of families. Some were examples of ideals not normally found in the real world and others were examples of modeling good behavior. Individuals in the group focused on the meaning of these photos in their lives.
"There are lots of great ways to be a good parent," said Gonzales.
"There is no such thing as a perfect family," said Mercier, who organized the class, and the lesson led to the dreams of class members for their children. "This is a way of allowing parents to define what their values are."
Here are the basic assumptions on which the lessons rest:
Parenting is the most challenging and most important job there is.
Parents care deeply about their children.
There is no one right way to be a parent or a child.
Parents are the experts about their children.
Parents are the foundation of the family.
Parents who come to parenting class are special.
This was the first class of a six-week pilot course developed in conjunction with the Polk County Commission for Children & Families. The focus was on "Nurturing: Taking Care of Ourselves."
The second class - stress and anger management - also will be completed before this article comes out, and to maintain a tight group, the class will be limited to those already enrolled, said Gonzales.
The remaining classes will cover communication, both verbal and non-verbal and listening skills; the basics of child development; and discipline, including challenging behaviors.
In addition, the Tribe will continue working with Polk County to present a range of parenting courses in the months ahead, said Mercier.
"Unrealistic expectations," said Mercier, "make it harder for parents to appreciate what they do have."
Parenting resources also are available at the Parent Resource & Education site www.preppc.org.