Culture
Sacred Hoop visits Grand Ronde to encourage healing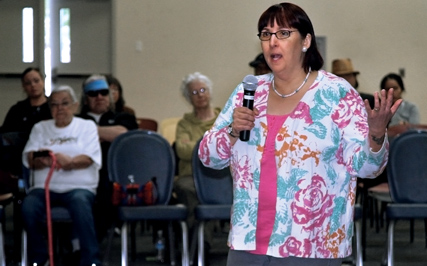 Intergenerational tragedy met the Sacred Hoop at the Tribal gym in Grand Ronde on Friday, March 9.
Sponsored by the Behavioral Health and Youth Prevention arms of the Tribe, the ceremony brought hope to many in Grand Ronde who have long fought despair.
The Sacred Hoop, with its eagle feathers, has "the power to forgive the unforgiveable," said Marlin Farley, a White Bison master trainer and leader of the ceremony.
The aim of the ceremony, Farley said, is "to wake up the communities. Our communities have fallen asleep through alcohol and drugs, and a failure to communicate with other people."
"Healing action will start today," said Tribal member Jon George, master of ceremony for the program. "Today is that day. In your healing is something that can heal somebody else."
Harking back to the foster care and boarding school experiences of earlier generations, Farley said that since those generations many Native Americans have grown up without love.
"We knew what harsh punishment was. We knew what separation was, but my mother raised her children afraid that if she taught the ceremonies, (she and her children) might be punished."
"How sad for my children to be raised without love," said Tribal Elder Margo Ordaz. "I didn't know how to give love."
Farley cited a book, "The Grieving Indian: An Ojibwe Elder Shares His Discovery of Health and Hope," that says that 100 percent of clients with drug and alcohol problems suffer from "unresolved grief."
"If you face the grief," he said, "you can end it. By not facing grief, it becomes a revolving door."
"It's a way for us to show that we need to be more humble in life," said Tribal member Frank Quenelle, who attended with his family. "It's a good thing for us to be able to reach out to each other. There's a lot of strength in knowing who we are and where we come from. The power of seeing all those eagle feathers and the strength of everyone's prayers. It's good healing for our people."
Tribal member Kevin Simmons focused on the foster care piece of the experience.
"The story of foster care played a huge part in our community," he said. "It touched me. I just cried when I heard it."
"I hope the people here will take something away and interpret it into their lives," said Tribal member Leslie Riggs, supervisor of the Tribe's Employment and Training and 477/Vocational Rehabilitation programs. "It's a nice awareness piece, but there are many who may not think they have a problem."
Tribal member Michele Chrestensen told her story that included abandonment and adoption, addiction and sobriety, jail and prison, family and children, and the importance of staying connected with the local community.
"I remember feeling like I never fit in, anywhere," she said. "I remember feeling abandoned and didn't trust anybody," when at 14, she was introduced to alcohol and drugs. "I liked the way I felt accepted in that circle of people, and the way I didn't have to feel feelings.
"When I was in prison and I reached out via the Smoke Signals paper, Steve and Connie Bobb began to support me and write to me; then they began to come to the meetings in the prison regarding my release and they said I would parole to their home, to my family where I belonged. That in and of itself meant SO much to me, gave me a sense of being loved unconditionally. I didn't grow up knowing them, or even much of them, nor they I. So that was such a big deal that they would open their home to me as I was leaving prison, and they have been such a huge part of my success and have done more than words could even express."
She told the story of addiction and sobriety, how as a young adult she connected with her brother, Tribal member Marty George, and how the two of them had both achieved sobriety in 2005, and were working for the Tribe (Marty in the Smoke Signals office) before Marty's death at the hands of police at the end of October 2005.
Throughout the ceremony, Tribal members and brothers Brian Krehbiel and Bobby Mercier kept a fire going outside, as is traditional for many Tribal ceremonies.
"Every piece of wood you put on the fire is a prayer for your community, your people and yourselves," said Krehbiel. "It's the way we take care of each other."
Tribal Elder and former Culture Committee Chair Kathleen Provost and her husband, Don Hendricks, along with Tribal member and Food Service coordinator Kristy DeLoe and her crew prepared the ceremonial dinner with ceremonial deer for stew, wild rice, salmon and potluck side dishes brought by many.
Tribal Elder and Tribal Council member Steve Bobb Sr. gave the invocation. Suffering with a particularly harsh regimen of cancer therapies at the time, Bobb left the ceremony soon after it began.
"Nothing can replace family and honor," said Quenelle.
"Anyone who seeks healing is blessed," said Ordaz.
"As healing happens here, we can hope that the next generation will no longer need this kind of ceremony," said Jon George.
"The switch has to go off in them," said Riggs. "You can't give it to them."