Tribal Government & News
Tom shares personal history with packed Race Talk in Portland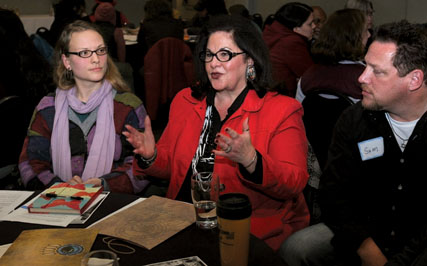 PORTLAND - Tribal Council member Kathleen Tom's personal story of being a half-Irish and half-Native urban Indian, experiencing discrimination, moving from Grand Ronde because of the federal government's relocation policies of the 1950s and, ultimately, personal and Tribal Restoration highlighted the Jan. 10 Race Talk held at McMenamin's Kennedy School gym in northwest Portland.
The monthly meetings, which received a $5,000 Spirit Mountain Community Fund grant in 2011, are put on by Uniting to Understand Racism and designed to encourage interracial community dialogue.
Tom spoke to the packed gym at the Kennedy School about "The Experience of Native Americans in Oregon Today" along with Richard Twiss (Rosebud Lakota/Sioux).
After being introduced by Race Talk founder Donna Maxey, Tom educated the more than 100 people in the audience, informing them that there are nine federally recognized Tribes in Oregon and that attendees were sitting in the ceded homelands of one of those Tribes -- the Confederated Tribes of Grand Ronde.
"Ceded lands are the lands that we used to have," Tom said as she held up a map showing the land ceded by the Grand Ronde Tribes to the federal government through seven ratified treaties in the 1850s. "This whole Willamette Valley is the ceded lands of the Grand Ronde. So you are sitting here today in our homelands and we welcome you."
Tom then told her personal story of being a mixed race Native American. Her father, Leon "Chip" Tom, is full-blooded Indian while her mother, Marianne, was full-blooded Irish.
"I was raised in a house with different values from different sides of my family," Tom said, "which I'm very thankful for."
When the Grand Ronde Tribe was terminated in 1954, the Tom family moved to Denver, Colo., as part of the federal government's relocation policy. Her father, who was trained as a logger, was expected to move to a new community and start anew.
"It didn't take long for my family to figure out that we didn't belong in Colorado and that my dad was not going to be a drafter," Tom said. "He had never drafted, but that was the plan the federal government had for our family. Without any funding, we were just put there."
After returning to Oregon, the Tom family moved to Dallas, where Tom remembered one of the times she faced discrimination because she was half-Indian.
"There were water fountains for blacks and Indians, and then water fountains for the non-Native people," Tom recalled. "I think that was the first time I realized that I was Indian when I went to grade school in Dallas."
But, she added, the close-knit confines of her family helped her brush off any scars from being discriminated against.
"I've been able to live in an assimilated family and flourish," Tom said. "Growing up in my family was just like any normal kid. In high school, we made friends."
Tom then segued into telling the Tribe's history of being terminated in 1954, the 29 years of hard work by Tribal members to get restored in 1983 and the subsequent economic and cultural resurrection of the Tribe.
"It was one of the happiest days of our lives," Tom said about Restoration on Nov. 22, 1983. "For a long time, we weren't Indian. People said we were terminated, but you can't terminate people who were still there, living and still walking and practicing their culture."
Since then, Tom said, Restoration and the economic success of Spirit Mountain Casino has enabled the Tribe to get back on its feet and provide health care, social services, education and housing to Tribal members.
"In the short time since we've been restored, we've come a long way," Tom said, adding that the Tribe is also rediscovering its cultural traditions as exemplified by the recent construction of a plankhouse.
"We're still here, we're still a Tribe and we're still telling our story," Tom added.
After the presentation, Race Talk attendees broke into discussion groups. Tom sat at a table with 10 other people and found out almost immediately that her talk touched and educated some in the audience.
"Ceded lands … termination … these are all new terms for me," said Glenna Ashley from Wilsonville, who was attending her first Race Talk event. "I thought I was educated, but that really surprised me."
Tom said education is one of the current focuses of the Grand Ronde Tribe, which is still lobbying for a Native American education specialist in the Oregon Department of Education.
"Our textbooks don't teach about Oregon's Tribes," Tom said. "It is like we're invisible, not here. That is part of discrimination. Why would Oregon schools not want to tell that story?"