Culture
Tribe holds first Salmon Celebration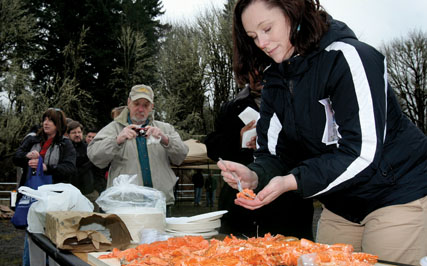 The first ever Grand Ronde Salmon Celebration on Friday, Dec. 16, provided an opportunity to say thanks to many state and federal partners for their support, to show off the results of Tribal rehabilitation efforts and to use the teachable moment to show how important salmon are in Tribal life.
The celebration started at the Tribal fish weir mid-morning on a chilly, overcast day. It was better weather for fish than for celebrating them.
Still, almost all of Tribal Council attended and shared fishing stories and some nonfishing tales with staff and guests.
Staff members from Natural Resources and Cultural Resources described their roles in Agency Creek's rebirth. Tribal members Greg Archuleta and David Lewis grilled ceremonial salmon at the side of an alder fire. They spoiled everybody's appetite for a lunch that was to follow at the Tribal gym with fresh salmon grilled right on the spot. More than 50 met at the weir for the occasion.
"Part of our culture," said Tribal Council member Steve Bobb Sr., "is to share the abundance."
Salmon aren't what you would call abundant yet in Agency Creek, but the day's events trumpeted Tribal improvements to habitat because the fish are definitely making a comeback.
"We are three one-thousandths of the Willamette Basin," said Fish and Wildlife Program Manager Kelly Dirksen, "but we get 4 to 4.5 percent of all the Coho in the basin."
Factors that led to this dramatic habitat improvement included installing 13 new culverts, re-opening 20 miles of stream, and placing hundreds of logs and fish carcasses into the creek.
"One of the things that gets lost is the relationship between us and the fish," said Tribal member Eirik Thorsgard, Tribal Cultural Protection coordinator.
Driving home the point, Thorsgard told traditional Native stories that place salmon at the heart of Indian culture.
"Grand Ronde has always been a fishing Tribe," said Tribal Council Chairwoman Cheryle A. Kennedy in welcoming a crowd that included government representatives, advocacy group leaders, historians, educators and the public. "There used to be drying racks in all the houses around here, and there were always newspapers on the floor because of the rich oil the came out.
"The 28 years going without this kind of celebration - (now that it's here) it's well worth the wait."
Those 28 years mark the time since Restoration, when the Tribe began the long process of restoring federal recognition and regaining as many traditional rights as the state would allow. Along the way, the Tribe also began the process of reclaiming the local environment and addressing drastic needs, such as health care and social services. The Tribe has been re-kindling its culture lost during the Termination years.
Tribal Council Vice Chair Reyn Leno said he sees the return of gathering and ceremonial hunting rights and the salmon celebration as part of one effort.
"It all fits together," Leno said. "It amazes me to see things coming back."
The memories of fishing during those years showed how families viewed that part of the culture during Termination.
"I grew up here," said Tribal Council member June Sherer, "and we never had these types of ceremonies."
"The ceremony has always been here," said Tribal Council Secretary Jack Giffen Jr., "but we didn't have fish to celebrate."
"Small, family-centered celebrations have taken place," said Thorsgard.
There were no shades of difference about the common goal.
"It was clear from the start that Tribal Council and the Tribal membership wanted to see the fish restored to Agency Creek," said Dirksen.
With Tribal Council on board, Natural Resources had all the support the department needed, Dirksen said, to improve habitat and lure the salmon back.
The Tribe won a grant to build the fish weir that Natural Resources uses to count, assess, record and mark fish coming back upstream, all in the service of evaluating fish run numbers, which in turn validate the success of the Tribe's habitat improvement.
Thorsgard retold traditional stories at the weir and in the gym, where Spirit Mountain Casino served a traditional meal.
One story, involving a bet between salmon and lamprey, explains why salmon have so many bones while lamprey have none. Another talked about the tradition of returning the first caught fish as skeletons, and sometimes as whole fish, to the river or creek where they were caught as a sign of appreciation for the fish giving up their lives.
"We return the bodies of the fish so they can go back out to sea, resurrect and come back to help us again," Thorsgard said. "Traditional culture has a different explanation, but just as big a punch."
And the meal prepared for the event brought back some of the best in traditional foods, including cedar plank salmon, fall mushroom crusted beef tenderloin, roasted root vegetables, finished with rolls and butter, cookies and dessert bars.
"The neat thing about it," said Executive Chef Richard Burr, "is we were able to get line-caught wild Chinook salmon. They were this beautiful orange red, nothing at all like these pond-raised salmon."
The work over the last 10 to15 years to improve the habitat around and within Agency Creek has been an effort of partners.
"We have a number of cooperative programs with the Tribe," said Dan Edge, chair of the Oregon Fish and Wildlife Commission that in 2008 returned ceremonial big game hunting rights to the Grand Ronde Tribe and also invested with the Tribe in lamprey research. "It is just a kick after all these efforts that the fish are back in the creek. These are real and positive results."
Edge also is department head at Oregon State University's Fish and Wildlife Department.
"(This success) really demonstrates Grand Ronde's leadership," said Kari Rosenfeld, development director of Rural Development Initiatives, Inc.
"We need to let people in rural areas know the good things you are doing," said Jill Rees, Public Affairs specialist with the federal Department of Agriculture.
"Thanks for coming to the table as we try to protect the fish," Giffen told Tribal partners and staff.
"Our people have been taking care of the forests for time immemorial and now we are continuing that here," said Tribal Council member Kathleen Tom.
"Grand Ronde does take its stewardship very seriously," said Tribal Council member Chris Mercier.
"I would like to thank the Elders for keeping these traditions alive and for passing them on to our generation," said Tribal member David Lewis, manager of the Cultural Resources Department.
"This is a very special day to honor the fish that feed our families," said Tribal Council member Toby McClary.
Grand Ronde singers - Tribal members Thorsgard, Marcus Gibbons, Brian Krehbiel, Travis Mercier and Greg Leno, as well as Chucky Fryberg (Tulalip and a Tribal spouse) - performed a blessing song for the event.
Help in preparing for the celebration came from Tribal staff and community members, including Tribal Elder Kathy Provost and her husband, Don Hendricks, Tribal Elder Frank Simmons, Tribal Elder Margaret Provost and her daughter, Jackie Many Hides, Tribal members Wendell Olson, Lisa Archuleta, Perri McDaniel, Josephine Ingram and David Harrelson, Tribal Elder Bob Tom and Tribal Council staff member Lauri Smith, as well as Cultural Resources and Public Affairs staff.
"I thought it was a wonderful celebration," said Tribal Elder Kathy Provost, who is chair of the Tribal Culture Committee. "It was attended by a lot of people who can help our Tribe get our rights back."
"I think it was time for it to happen," said her husband, Don Hendricks. "There's no end result, though. This celebration is just going to go on and on."
Among others in attendance were Karen Quigley, director of Oregon's Legislative Office of Indian Affairs; Chip Lazenby, a member of the Spirit Mountain Community Fund Board of Trustees; Peter Booth, director of the Willamette Heritage Center at the Mill in Salem; Roy Elicker, director of the Oregon Department of Fish and Wildlife; Chris Wheaton, manager of the Northwest regional office for ODFW; METRO Councilor Carlotta Collette; and representatives of Ecumenical Ministries of Oregon and the University of Portland.
"This is only the beginning of the great things ahead for us and our partners," said Siobhan Taylor, Public Affairs director for the Tribe.
"To be a fisherman is a gift from our Creator," said Kennedy. "(From some fisherman) you hear about the ones that got away, but our fishermen always came back with a good bounty for family and Tribe. We want to give thanks for this gift the Creator has given."