Culture
First Children's InterTribal Powwow held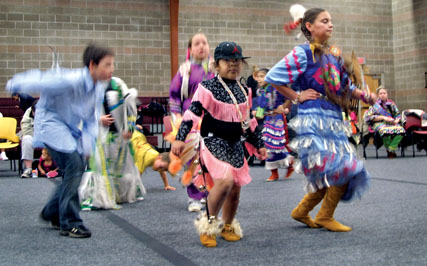 Tribal member and former Royalty member Halona Butler and Washie Squetimkin (Colville), who teach Native dance to Tribal and community children, hosted the first Children's InterTribal Powwow on Monday, Dec. 19, in the Tribal gym.
It seemed to be the logical extension of the Native dance class currently being offered.
"The kids have always been really interested in dancing," said Butler, 19. "They wanted to show their families what they could do."
Everyone wore regalia and everyone danced.
Butler hopes to host one powwow a month.
"To be positive about our culture, I just wanted to do something that they can learn, and that they can teach their family," she said.
For Squetimkin, this was the third powwow he has had a hand in producing.
"My special input is on the dancing and drumming," he said. "Halona took on getting the venue together, and getting word out there."
They also taught children how the flags come in.
Tribal Elder Bob Tom, in his invocation, honored grandparents and parents who had come to support the young people.
"This is theirs," said Tribal member and Language & Culture Specialist Bobby Mercier. "If they want to have InterTribals all night, that's what we'll have. Parents, feel free to come out and dance with your kids."
That's what Tribal member Ferrell Degarmo did with his son, also a Tribal member, Mahiashlok, 3.
Tribal member Perri McDaniel, who chairs the Tribe's Cultural Trust Board, also was out on the floor with her granddaughters, Tribal descendants Arianna Nava, KiiUsh Kimbol and Kiyh Redhawk.
"It makes me very proud and feel so hopeful for our future generations to see these young people out there dancing and stepping up to put on a powwow," McDaniel said.
"Less people, but more fun," said Little Miss Grand Ronde Iyana Holmes in comparing the children's event with the larger summer powwows.
"This is the type of powwow where kids can show off what they learn," Holmes said.
"It's a little bit smaller," said Grand Ronde Princess Lyssa Watson-Croy, "but it's not rough ground here. It's fun." On the other hand, she said the larger powwows have "so many people from so many Tribes, and they have wonderful jerky. The jerky man is always there."
Although Butler and Squetimkin had been talking about hosting the powwow since summer, planning did not begin in earnest until the beginning of December. In the crush to put all the details together, hosting a dinner for families fell in favor of a table with chips and cookies.
Next time, there will be dinner, Butler said.
She also thanked parents and staff, including Tribal members Bobby Mercier, Brian Krehbiel and Sarah Ross, along with community members Glenda Watson-Croy and Squetimkin for helping to get the powwow off the ground.