Culture
Tribe hosts NCAI conference in ceded homelands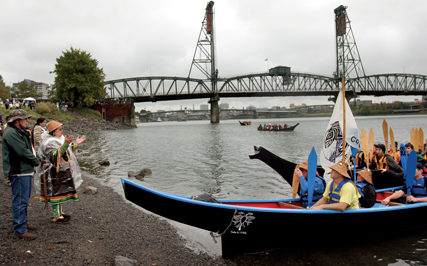 PORTLAND -- On Sunday, Oct. 30, the Grand Ronde Canoe Family paddled a canoe across the Willamette River while the Warm Springs, Coquille and Cowlitz Tribes joined them to open the National Congress of American Indians 68th annual conference.
Horses and riders from the Warm Springs, Colville and Nez Perce Tribes joined hundreds of Native Americans from all over in meeting the canoes in the bowl area of Portland's Riverfront Park before joining the parade up Naito Parkway and across the Steel Bridge to the Oregon Convention Center, where more than 1,500 participated in "Footprints into the Future," a week of culture, education and networking.
As the Native group arrived at the outside of the Convention Center, Grand Ronde Tribal Council Chairwoman Cheryle A. Kennedy welcomed all to the Grand Ronde homelands.
"It's a wonderful time to celebrate being Native American," Kennedy said. "We are here to stay."
For the youth, she added, "It is in your heart, in your blood, in your mind to carry on."
"The building behind us is what we do," said NCAI President Jefferson Keel (Chickasaw) in front of the Convention Center. "People in traditional dress is who we are."
Keel was unanimously re-elected as president of NCAI during the conference.
The Umatilla Tribe's Hawtmi Singers drummed as the parade arrived.
"The river nations are the heart of our community," Portland City Commissioner Amanda Fritz told the group. Like Oregon Congressman Earl Blumenauer, who spoke inside the huge Oregon Ballroom, she promised to work with Tribes in the environmental arena, mentioning the cleanup of Portland Harbor, long a project for Northwest Tribes and city, state and federal agencies.
Blumenauer also promised to work with Tribes to prevent off-shore gaming.
Addressing the General Assembly later in the week, Ernie Stevens Jr. (Oneida Nation of Wisconsin), chairman of the National Indian Gaming Association, said, "Indian Country is opposed until we are included. Indian Country must be prepared to engage in this issue, and let's hope they move with respect to Tribal sovereignty."
Presently, said NIGA Executive Director Mark Van Norman (Cheyenne River Sioux), "They'd like Nevada (casinos) out there first, for two, three, four years" while Tribes wait for the Department of Commerce to set up rules for Tribes.
"We can't wait for that," Van Norman said. "It's about fairness for Indian Tribes, respect for sovereignty."
On a related track, Van Norman noted that the Internal Revenue Service must distinguish between taxable per capita income and a Native government providing services the federal government should be providing that are not taxable.
Tribal Staff Attorney Deneen Aubertin Keller participated in a panel discussing important consultation issues regarding federal taxation.
"The good news," she said, "is that we're discussing the General Welfare Doctrine. Tribes hope to play a role in the development."
The General Welfare Doctrine, long the practice of not taxing federal payments for general welfare programs - education, health care and other social programs - has "morphed into funding purely based on economic or financial need. Economic need should not be the only criteria," she said.
"There's been a definite change with the current administration and Tribal government section of the IRS. Part of that is what we're seeing today."
Convention themes included youth participation and getting out the Native vote. NCAI held a "Scary Halloween, if you don't vote" party.
No subject of interest to Native Americans was left untouched as leading administration officials, including White House Senior Policy Adviser for Native American Affairs Kimberly TeeHee, Indian Health Service Director Dr. Yvette Roubideaux, Homeland Security Secretary Janet Napolitano, Department of Interior Deputy Secretary David Hayes and Assistant Secretary for Indian Affairs Larry Echo Hawk updated attendees on cabinet level efforts.
Native leaders, including NIGA's Stevens; Stacy Bohlen, executive director of the National Indian Health Board; John Echohawk, executive director of the Native American Rights Fund; and Myrna Cunningham Kain (Mistika from Nicaragua), a member of the United Nations Permanent Forum on Indigenous Issues, also appeared.
An oft-repeated message from federal agencies, noted by Interior's David Hayes, said, "Where we can, we want to get out of your way."
"We celebrate Tribal self-governance," Hayes said. "And Tribes do this better than the federal government."
"The budget principle," said Echo Hawk, "is to confer with Tribes."
However, with more than $1 trillion in spending cuts expected, the federal budget also will put limits on what can be accomplished, said Roubideaux.
"The budget is the biggest issue," she said. "I wouldn't assume that IHS will be OK, but we're OK, so far. We have incredible support in Congress."
By video, Democratic Hawaiian Sen. Daniel K. Akaka, chair of the Senate Committee on Indian Affairs, announced introduction on Nov. 1 of the Save Native Women Act. Loretta Tuell (Nez Perce) also was named new Director/Chief Counsel for the U.S. Indian Affairs Committee.
Native food issues
Native food issues opened the conference on Sunday with discussion of many Tribal Native food projects, including ones run through the Muckleshoot, Suquamish and Lummi Tribes.
Partnerships with the federal Department of Natural Resources, National Park Service, Forest Service and the Department of Agriculture are moving the discussion forward to bring about food security for Native Americans and to build Native food systems.
For Cultural Night on Tuesday, Nov. 1, a large group from the Grand Ronde Canoe Family sang and danced to an audience of more than 1,000. The evening included Native foods from a variety of Tribes, along with Tribal youths participating from around the country.
Coeur d'Alene Tribal Elder Philomena Nomee, leader of the Shooting Star Dancers, which included some of the youngest to dance that night, said, "Sometimes our tots dance right out of their diapers."
Dee Davis, chair of the National Rural Assembly Steering Committee, focused on creating policy "in this time of polarization, when people are questioning the need for government itself."
Fifty percent of rural America is not connected to sewers, Davis said, and 17 percent lack telephones. Rural areas have the highest number of children living in poverty while 85 percent of innovation takes place in urban centers.
"We need a new narrative," Davis said. "If you have your story, you have power." An example of that narrative is the strength of rural communities. "In small towns, everybody is needed. No one can be left behind. We're in the business of building a more inclusive society, and this time, we've got to get it right."
Youth received lessons in leadership, running meetings and networking throughout the conference. Although no Grand Ronde youth participated in the youth agenda, Tribal Council member Val Sheker hoped Tribal youth would participate in the future.
"This is really useful for youth," she said between sessions. "You want the youth, instead of telling them what they need, it's better to hear from them what their needs are. If we're serious about being good partners in Indian Country as a whole, we should send our youth to work with youth from all over. They'll grow up working together. Think of how empowered they'll be."
Tribal police forces
Tribal member Justin Martin, the Tribe's lobbyist in Salem, addressed a meeting of the Indian Law and Order Commission. As the Tribe works toward building its own police force, Martin said, Tribes have "several decent relationships" with local sheriffs, but the underlying problem is Sheriff's Offices "believing in the validity of Tribal police, Tribal courts and Tribal government."
At the same time, Martin said, "Oregon Tribes and Grand Ronde have worked very hard on government-to-government relations," but asked, "How do we break down barriers and work to educate all of law enforcement?"
After the session with the Indian Law and Order Commission, where Tribal police forces were front and center of the discussion, Tribal member and Tribal Director of Development Peter Wakeland - charged with building the Grand Ronde Tribal police force from scratch - focused not only on Tribal relationships with Polk and Yamhill counties, but also the requirements of Senate Bill 412.
SB 412, passed this year in Salem, requires that the Tribe meet standards of other state-sanctioned police units, and that Tribal police receive state police training before being recognized by the state as a police force.
"There are a handful of things we need to do," Wakeland said. He named development of policies, insurability and agreements with Polk and Yamhill counties.
"I've taken an aggressive approach," Wakeland said. "We'll have basic operating policies adopted by the end of November. I'd like to have intergovernmental agreements by the first quarter of 2012 (end of March).
"We have a grant for new officers, so the question there is do we hire two new officers, and put them through the academy, or do we hire officers that already have experience."
He said he expects it will be "a couple of years" before the Tribe has the system "up and running and fine-tuned."
The Tribe is hosting a conference in January 2012 with Oregon law enforcement groups. "It is important to continue this dialogue, to show that Tribal police are a true benefit for the Tribes, for the law enforcement community and for the state of Oregon," said Martin.
Veterans affairs
With Veterans Day in sight, a session on Veterans' Affairs brought good and bad news that most in attendance already knew.
"County vet offices are for the good 'ole boys who also are given other posts to handle, and don't really care about the vets," said Larry Townsend (Lumbee/North Carolina), who is a Tribal Veterans Service Officer. "The VA has always been in Washington, D.C., and always will be. Veterans out of D.C. are not being served and they won't be. That's the reality. The vets know it and are not even coming in."
The other reality, Townsend said, is that when you find a veterans representative who cares, cases are filed and Veterans' Affairs delivers.
He related the story of an 84-year-old veteran who was told he had no case. "I submitted the paperwork and he was shocked when he got all the back pay he had coming," said Townsend.
One veteran so distrusted the agency that "he was afraid to cash his check because he thought he'd be arrested," Townsend said.
Probably the most unsung benefit of such conferences is the possibilities for networking.
"The marketplace is really great," said Tribal member Bryan Mercier, who among his many hats is a board member of the Oregon Native American Business and Entrepreneurial Network founded 10 years ago with the help of four Tribes, including Grand Ronde. Mercier was particularly impressed, he said, by "the number of universities looking to recruit Native graduates."
Behind the scenes, he said, he was able to hook up ONABEN with Chris James, assistant administrator for the Office of Native American Affairs at the U.S. Small Business Administration, to help with development of entrepreneurs in Indian Country, and with Ernie Stevens, NIGA president.
"We're trying to get Native American-owned businesses into casinos' supply chains, and as service providers," said Mercier.
Tribal Council member Chris Mercier said he had been to two previous NCAI conferences, but "I don't remember the others being this intense. It's information overload, but in a good way. You won't see more networking opportunities at any other conference.
"It is always good to meet with members from other Tribes and swap stories. We are all unique, but face many of the same challenges."
A session for Tribal leaders helped with preparations for the Dec. 2 White House Tribal Nations Conference to be held in Washington, D.C. Tribal Chairwoman Cheryle A. Kennedy and Tribal Council Secretary Jack Giffen Jr. are scheduled to attend.
In the marketplace, Tribal member Brenda Tuomi, Tribal Elder Evelyn Seidel and Tribal spouse Sally Pettit sold Grand Ronde Tribal crafts. "We did very well," said Tuomi, despite the $1,500 booth fee.
In 2008, the Grand Ronde Tribe signed onto the United League of Indigenous Nations, an international political and economic alliance to advance common indigenous interests regarding climate change, to promote trade and commerce among indigenous nations, to bring their cultural properties under the protection of the laws of indigenous nations, to protect the human rights of indigenous peoples and to assert traditional rights to cross international borders. The group's members include indigenous peoples from Australia, New Zealand, Canada and the United States.
At the NCAI conference, founders Frank Ettawageshik and Alan Parker signed in their 90th member, the Sauk-Suiattle Tribe in Washington.
Myrna Kain, member of the U.N. Permanent Forum on Indigenous Issues, discussed the possibilities for applying the U.N. Declaration on the Rights of Indigenous People when it comes to health, education, social development, human rights, culture and the environment.
"It's an opportunity to engage governments," she said. "We are facing so many crises - climate change, the financial crisis - that we cannot do things alone.
"Indigenous law must be recognized by nation states. It's challenging. Things happen so slowly."
It did not seem like it at NCAI's 68th conference.