Culture
Tribal Elder Dean Mercier walks on at the age of 81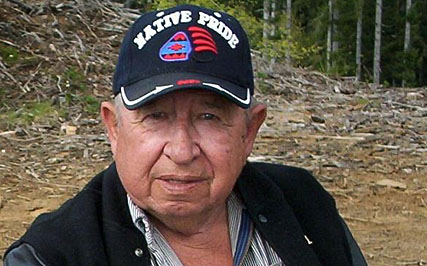 Harold Dean Mercier
April 18, 1930 - July 6, 2011
Tribal Elder Harold Dean Mercier walked on peacefully on Wednesday, July 6, 2011, at his home in Grand Ronde with his family around him.
He was born on April 18, 1930, at the home of his parents, Harold and Velma (Hudson) Mercier, in Grand Ronde. As a child at the age of 9, he began helping his dad with various logging responsibilities. He also enjoyed boxing until a broken arm that occurred when he was 15 ended his aspirations of becoming a professional boxer. He purchased his first logging truck when he was 16. After completing his education, he devoted his life to the logging industry.
Dean was very involved with the Confederated Tribes of Grand Ronde. He served as a Tribal Council member and was the chairman during the Restoration of the Confederated Tribes of Grand Ronde in 1983. He was proud of his service to his people.
Dean is the great-grandson of Martha Jane Sands, whose statue stands at Spirit Mountain Casino in honor of her and for the journey she made on the Trail of Tears. Dean's aunt Gertrude also is displayed sitting next to Martha Jane Sands.
Dean also served as intake personnel with Social Services in Salem. He loved working with children and enjoyed spending time with youth. Dean enjoyed the time he spent coaching baseball, hunting and fishing, and was known to be the life of the party and to have a good time. In 1966, Dean was the champion at the Dory Derby Days in Pacific City. He won the various competitions and has a plaque with his name, as a previous champion, mounted in Pacific City.
Dean is survived by his wife, Christina Mercier; son, Harold Dean Jr.,; daughter, Cheryl (Bill) Carl, and stepdaughter, Janice (Patrick) Croskey. He also is survived by eight grandchildren, six step-grandchildren, 14 great-grandchildren, four step-great-grandchildren, one ste-great-granddaughter and former brother-in-law Pete Mooney. He was preceded in death by his first wife, Jerry Dorland; daughter, Jackie Whisler; stepson, Keoki Santos; sister, Beverly Ann; and brother, Eldon Mercier. He also is survived by his blood brother, Richard Shannon.
Recitation of the Rosary will be held at St. Michael's Catholic Church in Grand Ronde at 7 p.m. Thursday, July 14. The funeral service will be held in the Tribal gym at 11 a.m. Friday, July 15, followed by interment at the Tribal Cemetery. Arrangements are being handled by Dallas Mortuary Tribute Center. Online condolences can be left at www.dallastribute.com.